'American Idol' Recap: Karen Rodriguez Says Goodbye And Adios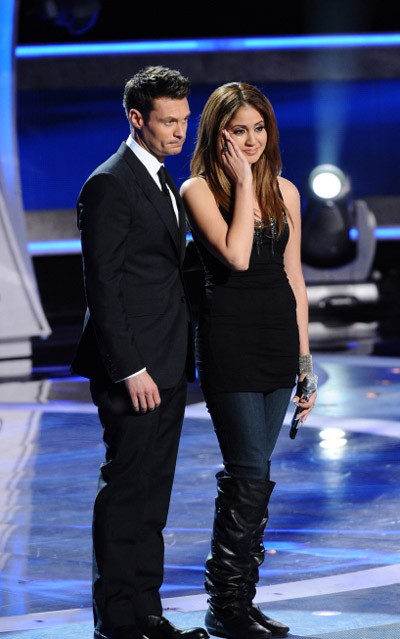 I'll say this for America: They continue to get it right.
One week after America took down one of the few with absolutely no chance of winning, they repeat the feat with the ouster of Karen Rodriguez. I was worried about Karen. Worried that she'd found a way to ingratiate herself to voters with her unique way of switching to Spanish (Ya gotta have a gimmick, right, Ethel?) and her middle-of-the-road song choices. I was worried those voters would put her past some of the more deserving contestants like they've done with the Kristy Lee Cooks of the past who had a gimmick (super-overt patriotism) of her own.
Those worries were allayed last night when America sent Karen on her merry way while filling the rest of the bottom three with the two other girls that I can't possibly see winning. (Retroactive spoiler alert: They're in the bottom 2 of the power rankings). I have a sneaking suspicion that somehow either Naima or Haley (probably Haley, sadly) will hang around a bit too long and knock out some of the more deserving contestants.
It happens every year, and I thought Karen would be the stick in the mud, but now that she's gone we may finally have the first 'Idol' season ever that's going to come down to a shootout between seven top performers that all have a chance to win. And that would be a lot of fun. Even if it doesn't include Molly DeWolf Swenson.
The Rest of the Show:
Hey, Lee Dewyze is back! Kinda forgot what he looked like. I can't say much for this song. His voice sounds like Josh Kelley and the song sounds like a pop music yawn. Maybe these Idols would be more successful if they cobbled together a song writing team that had any idea how to write a hook. Kelly Clarkson got Max Martin, and from what I can tell Lee Dewyze got someone named "Tawgs" who doesn't even have his own Wikipedia page. Doesn't take much to figure out how his career is a non-starter thus far.
It was nice of Fergie and Will.I.Am to let Taboo rap by himself on camera for a little bit after they shared the stage by themselves for the large portion of this song. And after about four minutes with get an apl.de.ap appearance! I'm beginning to believe these guys (formerly excellent independent hip hop artists) are just so embarrassed by the music they're making and that's why they hide in the shadows for the most part. And after that musical travesty, who can blame them?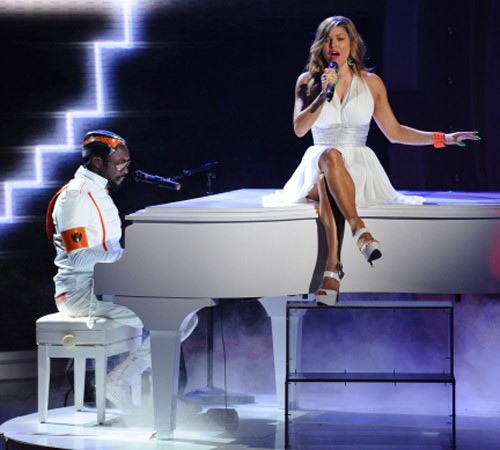 Power Rankings:
Programming Note: Before we get to the power rankings, I'd like to remind everyone that I'm now officially the 47 millionth person to join Twitter (unofficially). If you like the idea of hearing every awful thought that streams between my ears, you can follow me @paynehumor.
And now, the Power Rankings…
1 (Rank Last Week: 6)  Stefano Langone
I'm a believer again in Stefano after he topped everybody this week. I'm telling you, in a year with no guitar playing rock guys – this is going to be the crush that rallies the screaming Facebook voters. I foresee it.
2 (3)  James Durbin
I'm still not sure what to make of his chances. He seems like he's potentially a cross between Adam Lambert and the rock guys that won for three years straight, but I just can't figure out if he's quite got what it takes. Maybe he needs a guitar.
3 (1)  Casey Abrams
I thought he was the guitar guy. He felt like the guitar guy. He seemed like he had the chops to be the guitar guy. Then he actually used a guitar (albeit a bass) in his performance and scared America. I don't know that I'm a believer anymore.
4 (2)  Jacob Lusk
There's no good reason that Lusk should be this low. It's just that he doesn't really fit the mold of people who've won before. I don't know that he's very crush-worth for the tweens. But I could be wrong.
5 (4)  Pia Toscano
A girl hasn't won since Jordin Sparks, but if Pia continues to consistently hit every notes in her songs perfectly, she's going to be a force that runs deep.
6 (5)  Scotty McCreery
Clearly the most helped by the move away from really restrictive theme nights. Scotty can now stay in his country lane and continue to pick up voters. I don't know if he quite has the chops to do it week-in-and-week-out yet.
7 (11)  Paul McDonald
Is Paul actually the guitar-dream crush? Is he too quirky? I just can't figure him out.
8 (10)  Lauren Alaina
I've been writing off Lauren for awhile now, but she was quite good this week, and clearly has more chops than I'd given her credit for. Young, cute girls like her have traditionally been the females that find themselves running deep, so she could do it again.
9 (9)  Thia Megia
Of course, the young girl vote is going to get split this year with two strong contenders. They may both get picked off early as a result or one's ouster will make the other stronger. I'm not sure which yet, or whom to choose as the last youngun standing.
10 (7)  Naima Adedapo
She tried to handle pop music and…didn't do so well. She's out of her element in this type of show. She'll do great on "Avant Garde Jazz Idol". Coming Fall 2011 to IFC!
11 (11)  Haley Reinhart
She keeps hanging around. I don't know how, but she just keeps on keepin' on. Can't last much longer though.