'American Idol' Recap: Joshua Ledet Stuns Again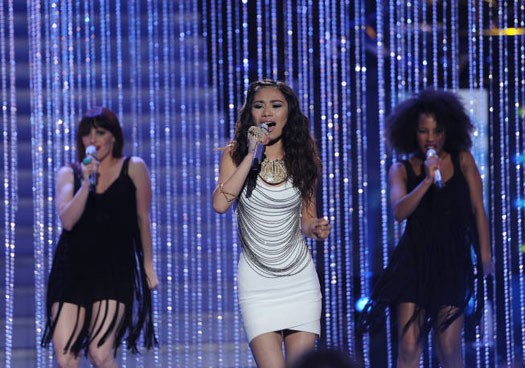 Jessica Sanchez's First Song: "Proud Mary" by Creedence Clearwater Revival
Steven Said: The only thing that gives experience a run for its money is a sixteen-year-old.
J-Lo Said: You're so grown up up there!
Randy Said: This performance was barely okay. It didn't quite sit with me.
The Verdict:
After a weird and awkward opening with some questionable vocals and questionable dance moves, this performance came alive and suddenly we saw fun Jessica finally work.
Previously, she didn't quite connect with upbeat songs – particularly her 'Turn the Beat Around' debacle. Here she had all the raw fire and soul she needed to really dig into this number and turn back the clock a bit to some 60s soul.
This really worked because it was an old school performance with that modern vocal. A perfect way to rock out on 60s night.
Grade: B+
Jessica Sanchez's Second Song: "You Are So Beautiful" by Joe Cocker
Steven Said: You once again showed America just how great your voice is.
J-Lo Said: You just captivated the whole audience.
Randy Said: Round 2? This girl's at the top of the leaderboard.
The Verdict:
Wow. That was just sincerely flawless. Not a single thing wrong with that at all. She re-worked the song. She killed the vocal. She was connected the whole time. Just…perfect. I can't believe the judges didn't give her a standing O.
Grade: A+
Prediction: Jessica's second performance should carry her through as long she doesn't get wiped out both times by Joshua's lead-out.

Joshua Ledet's First Song: "Ain't Too Proud to Beg" by The Temptations
Steven Said: You gotta be one of the top two Idols of all time.
J-Lo Said: You are so sickening. I don't even know what to say to you.
Randy Said: You can bring R&B back in a different sort of way. You have the power to do that.
The Verdict:
The crazy thing about Joshua's performances is how they just build and build to greatness.
At the start I was thinking, "Okay, this is pretty good Joshua – but not really the full thing."
But by the end, he's worked out all his tricks, shown you the full breadth of his voice and created about five sick moments, capped with an insane run at the end.
This guy's just the best on this show. But still, this wasn't the greatest Joshua ever. But he's still better than everyone else.
Grade: A-
Joshua Ledet's Second Song: "To Love Somebody" by The Bee Gees
Steven Said: Very entertaining. Very off-the-wall.
J-Lo Said: There's so few people who can perform that way. I think you're one of the best singers I've seen in fifty years.
Randy Said: You have to be born to do that. Nobody could do that better.
The Verdict:
Look. Joshua is just the best. He shows here that he's in another class. Yes, Jessica matched him for a second tonight, but he consistently just blows songs away like he did here.
He takes a pretty simple pop song and injects so much blues and country soul into it that it becomes newer, more meaningful and almost heartbreaking.
And that was before he delivered the most insane finish we've ever seen on this show.
Grade: A+
Prediction: I say it every week, always with a bit of trepidation, but he's gotta be safe after that, right? 
Final Thoughts:
It's tough to say tonight because everybody was pretty solid in the eyes of the judges. Phillip is going to win so he's always safe in my book and I don't see how Joshua gets voted off unless there's that crazy thing where voters don't vote for who they think is best because they think he's already safe.
That leaves the three girls, and I'm sorry to say I think it's Hollie's week. All seem about equal, but Hollie's going first seems like too much to overcome.
What did everybody else think of last night's show?
Follow me on Twitter: @Paynehumor