'American Idol' Recap: Joshua Ledet Stuns Again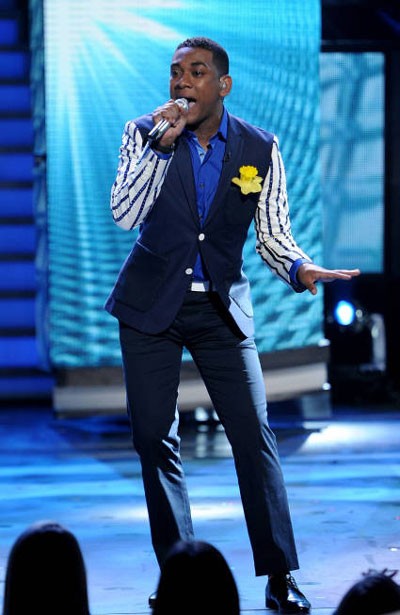 Until they stop with these ridiculous duets and trios and whatevers that I will not mention any further, I am protesting by not writing an intro. I'm sure you're heartbroken.
And…on with the show!
Hollie Cavanagh's First Song: "River Deep, Mountain High" by Ike and Tina Turner
Steven Said: The first time I heard you step out and use your blues.
J-Lo Said: It was a different type of Hollie tonight.
Randy Said: You guys loved it? I loved it too!
The Verdict:
Here's just a miserable song choice. Hollie decided to go with something upbeat and soulful. Something that requires energy and verve. This despite the fact that Hollie has proven continuously that she possesses none of those traits.
Those shortcomings were egregiously exposed with this performance. She sounded off. Like she was singing another song despite singing all the right words.
Even the notes weren't there. The normally flawless singer was pitchy, flat and just uninteresting vocally. The spots where I was expecting big notes just didn't happen.
A thoroughly poor effort for the pixie.
Grade: D
Hollie Cavanagh's Second Song: "Bleeding Love" by Leona Lewis
Steven Said: I loved it. You nailed it. I don't know that song.
J-Lo Said: That was amazing.
Randy Said: You're two-for-two tonight. That was unbelievable.
The Verdict:
Just as the last song exposed her weaknesses, this song showcased her strengths.
Hollie can just kill a ballad. We've seen it a dozen times and this may be the best one.
The vocal was predictably flawless. This girl was made to sing ballads on the radio. She can just hit all the right notes.
The reason that this might have been her best, though, is because of the way she delivered the vocal. There was a tenderness there that we don't usually here. A vulnerability. An emotional connection that she hasn't shown.
That was more than just technical perfection. It was a complete performance.
Grade: A-
Prediction: Hollie's gotta get through the leadoff curse, and while she has the raves to do it, I don't think that's anything close to a guarantee.

Phillip Phillips' First Song: "The Letter" by The Box Tops
Steven Said: I missed the melody, but you get away with it.
J-Lo Said: I didn't know the original song. (All comments now invalid)
Randy Said: You made it new for me. I loved it, dude.
The Verdict:
"I wasn't crazy about the original version, so I changed it up."
This was how Phillip described one of the most iconic pop/rock songs of all times. Sung by the immortal Alex Chilton. This was his opinion. His dilemma.
His solution? Well, turn it into a crappy Dave Matthews song of course, complete with unnecessary horns and his ridiculously angled guitar.
Yes, Phillip sounded fine here. I liked his bluesy vocal, but the arrangement was just so misguided and the end result so familiarly boring that I can't give him high marks.
Grade: C+
Phillip Phillips' Second Song: "Time of the Season" by The Zombies
Steven Said: You sang the melody and you sang it well.
J-Lo Said: You did a good job with it.
Randy Said: Yo! He really can sing the melody. It was nice. Don't know if I'm jumping up and down about it.
The Verdict:
Oh my God. I'm not even sure what that was. It almost seemed like a joke. The weird high notes. The Dave Matthews vocals. It was like a parody of Phillip and Phillip doing a parody of other singers at the same time.
It's bad when it's mostly boring and Another great performance, man the only interesting parts are those worth mocking. Like his weird expressions and inability to sing a falsetto.
Grade: D
Prediction: He was better than last week and he was super safe then. He's super safe again.


Skylar Laine's First Song: "Fortunate Son" by Creedence Clearwater Revival
Steven Said: I love it when you boot-scoot out there.
J-Lo Said: You give us all this energy. It's like you attack a song.
Randy Said: You are born to be on the stage.
The Verdict:
Skylar is clearly regressing. This sounds like a Kidz Bop version of this song. More likely a Kidz Kountry version. Do they have those CDs? I don't know.
At no point did she find the rock, the rawness, the blues in this song. It's an angry protest song and she sung with a smile like she was bobbing her head in pigtails.
It made it all seem like a sing-a-long rather than a performance. Nothing fortunate about this one.
Grade: D-
Skylar Laine's Second Song: "You Don't Have to Say You Love Me"
Steven Said: Just more proof that it works when you work it.
J-Lo Said: You just might win.
Randy Said: That was like flawless.
The Verdict:
This was a weird performance for me. I really liked the beginning. I thought the Skylar that we saw flashes of recently was back in form – a completely connected vocal without any of the amateurish qualities that had been weighing her down.
Then the chorus hit and it seemed like she regressed back to that mode all at once. She lost a bit of what she had. Her voice got a little funky and didn't quite work there.
It wasn't bad, it just seemed like she was about to create a big moment and instead it just kind of went slightly stray.
Grade: C+
Prediction: The country girl got herself some raves. She hasn't been totally safe recently, but I think she'll squeak through again this week.