'American Idol' Recap: Joshua Ledet Is Out As The Best Contestant Loses Again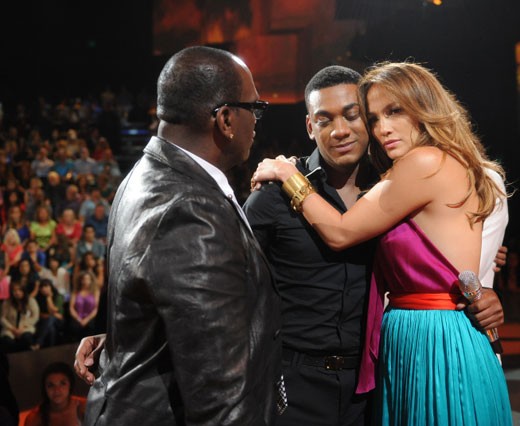 If there's one thing we've learned about 'Idol' it's that the best doesn't usually win. Last night, the clear standout of this year's season, Joshua Ledet, was unceremoniously shown the door while waiting on the doorstep of the finale. This after delivering a stellar rendition of 'No More Drama' and winning the night last night by leaps and bounds.
Blame going first. Blame the voters' apparent detest for soul music. Blame Joshua's being too old school for the show's demographic. Whatever the reason, Joshua won't compete in the finale and join the long line of 'Idol' losers who were actually the best on their respective seasons.
It's only fitting that Adam Lambert (who was much better than Kris Allen) would appear as the guest on a show where Joshua gets ousted as he's one of the most egregious best contestants who didn't win. But he wasn't alone. Here are the other seasons where the best contestant didn't win:
Season 2 – Clay Aiken
This is a very close call, but I always thought Aiken was slightly better than Ruben. Amazingly, a soul guy won that year. A soul guy much worse than Joshua Ledet and a bit worse than Clay Aiken.
Season 3 – Jennifer Hudson
This has been well-chronicled since her stint on 'Idol'.
Season 5 – Chris Daughtry
The original "shocker-of-all-shockers" eliminations, future platinum-selling Daughtry went home before Katharine McPhee, Elliot Yamin and (gulp) eventual winner Taylor Hicks. Somehow the gray wonder never quite matched Daughtry's post-'Idol' fame.
Season 6 – Melinda Doolittle
You may have forgotten about her (which is probably why she ultimately went home early), but Melinda delivered flawless soul performances week-after-week. Working against her were her stage presence, age and the fact that she already basically a pro singer, but none of that should have meant she went home before Blake Lewis. Yes, Jordin Sparks is good, but Melinda was better.
Season 9 – Lilly Scott
This is cheating a bit since she never even made the top 12, but this multi-instrumentalist with the serious indie voice may have been the most complete musical talent ever to grace this show's stages. Somehow voters preferred singers like Katie Stevens and Didi Benami over Ms. Lilly.
Season 10 – Not sure, but it wasn't Scotty
There's a few candidates for this spot. The poor-man's Joshua Ledet that was Jacob Lusk. The poor-man's Adam Lambert that was James Durbin. The poor-woman's Elise Testone that was Haley Reinhart. Hell, maybe Scotty was the best. No…wait. I forgot! This season included the inimitable Molly Dewolf Swenson. She was the best of Season 10. That's for sure.
So if you're scoring at home, that means only three seasons have seen the best contestant actually win: Seasons 1, 4, and 7 which were won by Kelly Clarkson, Carrie Underwood and David Cook, respectively.
That feat won't be repeated this year, but who will end up winning?
In the battle of the big-voiced young girl and the cute guy with a guitar, I think it's no contest: Phillip Phillips keeps the trend alive that was started by the last truly deserving winner, David Cook.
Phillip Phillips in a walk.