'American Idol' Recap: Joshua Ledet Brings His 'A' Game On Queen Night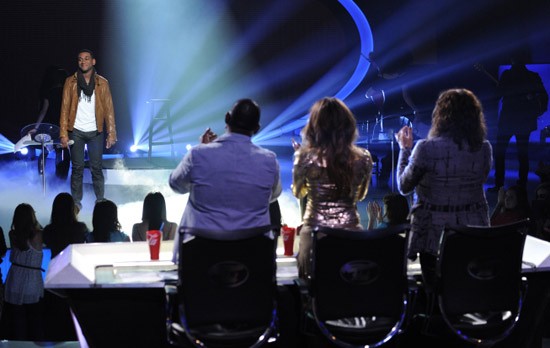 Joshua Ledet's First Song: "Crazy Little Thing Called Love" by Queen
Steven Said: You have such a classic style that sound like nobody else.
J-Lo Said: Joshua's part of the show is my favorite part of the show.
Randy Said: That was unbelievable. (Then he gave everything "4 checks" – huh?)
The Verdict:
Very smart song choice here by Joshua. It's a rockabilly tune to be sure, but he reworked to make it sound like early Motown. Almost a 'Rockin' Robin' vibe here. Straight out of the early 60's for the 70's soul man.
But the arrangement is only half the battle here. The vocals were typical Joshua – meaning they were phenomenal. The performance was even better. He looked every bit of a soul man taking over a stage at a pop festival. I half-expected somebody to come out and drape him in a cape halfway through he was that authentic and good.
Vintage Joshua giving a vintage performance.
Grade: A
Joshua Ledet's Second Song: "Ready For Love" by India.Arie
Steven Said: When I hear you sing, I go off into another place.
J-Lo Said: That was transcendent.
Randy Said: I don't know what to say anymore, I'm so speechless.
The Verdict:
Unreal. Just unreal.
Joshua has been playing the upbeat soul guy for the past few weeks and now he goes all raw and bluesy on us. And you know what? He was actually better. Better than normal. Better than Joshua. How is that possible?
Not only possible, but easy. Really easy. It's amazing how effortless he makes pouring so much emotion into a song feel. And how simply he hits notes that nobody else can hit.
With this performance, Joshua made a strong case for best 'Idol' contestant ever.
Grade: A
Prediction: Please tell me he's safe after those two gems.

Elise Testone's First Song: "I Want it All" by Queen
Steven Said: I really enjoyed that. That was over-the-top.
J-Lo Said: The whole thing came together.
Randy Said: That style of song is so right for you.
The Verdict:
Unfortunately for Elise, she could never match the brilliance of her initial note.
Man, it was a good note. So pure. Made Elise seem like a credible rock singer.
Well, that all faded as the song wore on. She doesn't have the passion, the fire, or the size of voice to really dominate a rock song the way she should. There are moments where it seems possible, but they're undermined bar-after-bar of boring and a stage presence that's wooden at its least laconic.
A capable performance, but not a believable one.
Grade: C+
Elise Testone's Second Song: "Bold As Love" by Jimi Hendrix
Steven Said: You gotta do songs that people know.
J-Lo Said: You slayed that song so hard that it didn't matter.
Randy Said: It wasn't the right song for this time in the competition.
The Verdict:
I have no idea why somebody would pick a Jimi Hendrix song to sing on 'American Idol'. Jimi Hendrix may as well not have been singing. It was all his guitar. What's the point?
Elise showed why it's a bad decision here as she just sort of swirled her vocal around the three blues notes Jimi Hendrix ever sang. Not having the transcendent guitar god out there just made this all seem boring, pretentious, self-indulgent and forced.
And it all started with an insane song choice.
Grade: D
Prediction: I think Elise may finally be done after this.

Phillip Phillips' First Song: "Fat Bottomed Girls" by Queen
Steven Said: I love watching you sing. I love watching you run out of breath.
J-Lo Said: What I love about you is that I feel like we get different flavors.
Randy Said: I liked it. Did I love it? No.
The Verdict:
Wow. So that was terrible.
I mean did Phillip ever come anywhere above drunk guy at the end of the bar singing along to the jukebox with this performance? I don't think so. I half expected him to pass out in a puddle of his own sick afterwards while the bartender tried to wipe him up with a slop rag.
At no point did he connect with the song. At no point did he seem like a real performer. At no point did he sound particularly good. Just a sing-a-long.
Grade: D-
Phillip Phillips' Second Song: "The Stone" by Dave Matthews Band
Steven Said: Very entertaining. Very off-the-wall.
J-Lo Said: It was a pretty song and a little bit obscure and too artsy.
Randy Said: Phil Phillips will always be Phil Phillips.
The Verdict:
Phillip Phillips singing a Dave Matthews song. Congratulations.
Grade: C
Prediction: He's always so safe, but this may have been his most questionable night. 
Hollie Cavanagh's First Song: "Save Me" by Queen
Steven Said: I think you did a really good job with it.
J-Lo Said: I really felt like you got emotional in the middle, but it went off a little bit. I want to see you enjoy it more.
Randy Said: I thought this was solid for you, but you don't have to pull back as much. You could take more chances.
The Verdict:
So I've never heard this song before. After that performance, I'm willing to believe this is a Hollie Cavanagh record. It was right in her wheelhouse and she really rocked it out.
Say what you will about the Hollie-bot, but her voice is undeniable. Here she sounded like an adult-contempo siren ready for the radio. That song would fit perfect on any soft rock station, and I swear I meant that as a compliment.
Yes, it wasn't perfect – she hit one particularly raw note near the end – but this definitely showed how much of a pro Hollie can be.
Grade: B
Hollie Cavanagh's Second Song: "The Climb" by Miley Cyrus
Steven Said: It doesn't matter what kinda accent you got, you sing a song like it's going out of style.
J-Lo Said: That was stepping it up. It was perfect.
Randy Said: That's the Hollie Cavanagh that we love.
The Verdict:
This is a bad song choice for Hollie for one simple reason: It's actually a very emotional song.
This sort of unmasked all of Hollie's faults from the word go. She's just too technical here. For a song begging for a connection, Hollie could not have been more distant. She just singing notes again here. Notes that form words, but there's no meaning behind it.
Again, she sounds great. She always sounds great, but the Hollie-bot was her usual emotionless self here.
Grade: C+
Prediction: Big time raves to close the show. I think she's safe.
Final Thoughts:
To me, this is the easiest prediction ever: Elise is going home. Elise is going home. Elise is going home! I don't think there's anything else worth writing.
What did everybody else think of last night's show?
Follow me on Twitter: @Paynehumor