'American Idol' Recap: Joshua Ledet Brings His 'A' Game On Queen Night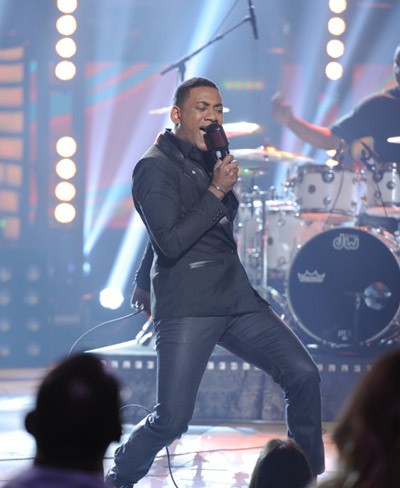 Wither Jimmy? If there's one thing about this 'Idol' season that's been universally great, it's been anything involving Jimmy Iovine. He may have been getting his sealegs ready last year, but this year he can almost walk on water with his insightful criticisms, the boffo mentoring segments and his ability to make everybody better.
So why take him out? Why leave him off the show in favor of the 'Idols' cracking on each other? I don't understand it at all. Maybe we'll find out tomorrow that he was previously committed. And if not, I think the producers need to be committed for taking him off the show.
Random Thoughts Waiting for the Show To Start:
I don't know what was more awkward, Seacrest's bungling of the Teleprompter on the Queen introduction or the fact that he said that the winner of 'American Idol' would instantly become rock royalty like Queen. Y'know, one of the most legendary bands of all time. Wait. I know what the answer is. Choosing Randy Jackson to do the voiceover on the video package. He's not exactly Jim Forbes.
Speaking of Queen being awesome and that video package. Do yourself a favor and take a few minutes to watch Freddie Mercury take over an entire stadium at Live Aid. Any argument over who the greatest frontman of all time ends with this clip.
If I'm not mistaken, Roger Taylor was there to wear sunglasses and say an awkward "Good luck." Right? That's about all I noticed.
And, of course, there's no way I'm going to acknowledge the fact that we got subjected to a results-show medley on a performance night. Nope. No way at all.
And…On with the show!
Jessica Sanchez's First Song: "Bohemian Rhapsody" by Queen
Steven Said: I think Freddie Mercury would be proud to hear that.
J-Lo Said: You sounded beautiful, but when it went into the rock, I thought I'd get more.
Randy Said: I actually loved it.
The Verdict:
I wasn't sure how Jessica would handle a rock anthem. Especially after the medley we shall not mention, and after seeing her actually perform, I'm still not quite sure.
She did well with the slower portions. The intro particularly seemed well-realized, but the actual rocking parts of the song – when the guitars came in – seemed incredibly forced and out-of-character for her. Yes, she was clearly stretching, but just because she was doesn't mean it worked.
Instead, she was just kind of shouty, sounding like somebody trying to sing rock music than actually singing rock music. Still, I liked what she did with the more delicate portions of the song. Hits and misses in one performance.
Grade: C
Jessica Sanchez's Second Song: "Dance With My Father" by Luther Vandross
Steven Said: I don't think you can sing a song bad.
J-Lo Said: That may have been the best I've ever heard that song sang.
Randy Said: You are truly amazing to me.
The Verdict:
Devastating. Just devastating from the absolute beginning.
Jessica felt every inch of this song. The emotion poured out. The vocals were almost secondary because she was so beautifully connected to the song – telling the story of it with a mastery that belies her age. Unbelievable really.
Of course, there were also the vocals. And they were, as we've come to expect, completely flawless and so easy. There was no forcing, no thinking, just an effortless stream of R & B honey that gave us this bittersweet song.
In fact, she almost took it away from Luther.
Grade: A
Prediction: She's gotta overcome the lead-off spot, so she's definitely not completely safe, but that last performance should be enough to get it done.
Skylar Laine's First Song: "The Show Must Go On" by Queen
Steven Said: That was over-the-top.
J-Lo Said: I definitely got goosies on that one.
Randy Said: That was incredible, dude.
The Verdict:
Talk about saving yourself at the end.
For the first 90 seconds or so of her performance, Skylar seemed completely lost. Almost terrified as she tried to remember the words, the notes, and even (it seemed) how to sing. No confidence. No poise. And a whole lotta bland.
Then, without any real warning whatsoever, something rose out of her at the end as she breathed fire with her vocals and suddenly found the emotional core of the song and her voice all at once.
The end was so good, that I'm almost willing to grade solely on it alone and forget the first part even happened. I always look for singers to find a moment in their performance and she definitely did here. I just can't completely dismiss what happened at first.
Grade: B
Skylar Laine's Second Song: "Tattoos on this Town" by Jason Aldean
Steven Said: I kind of missed the flair. You didn't take that song where you've taken other songs.
J-Lo Said: By the end you took us there again.
Randy Said: Another great performance, man.
The Verdict:
I recognize the ability that Skylar shows with this performance, but I just can't get that excited about it. It's just a typical country performance. It's good. There's no doubting its quality, but there's nothing really unique or exciting about it. Just country all the way.
Yes, I've never heard this song before, and I must assume she's done nothing with it, and I'm not the biggest country fan, but I feel like she could have done something more here.
I don't know. I don't really feel qualified to judge this twanger.
Grade: C+
Prediction: This country crooner feels safe once more. Mostly on the end of that first performance.