'American Idol' Recap: Jessica Sanchez Gets The Judges' Save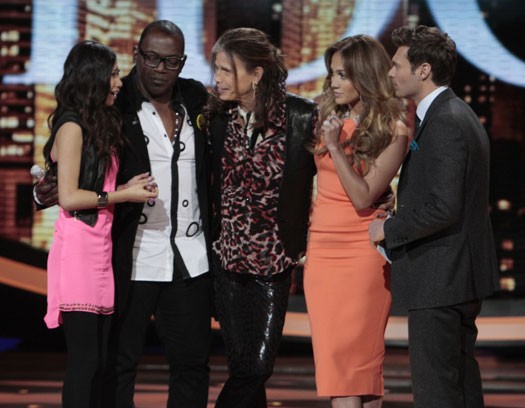 This is the reason the judges' save was invented. I've been piping all year that big-voiced singers like Jessica Sanchez always go home in a "shocker." Every single year we have some major contender who ostensibly steals most shows only to go home early. It always happens and Jessica was the prime candidate in this age of young texting girls not voting for young singing girls.
She was spared though. Gloriously spared. She barely had to sing a note. Now we all get to wait for that moment where she goes home too early again, thanks to the texting girls.
Yes, Jessica's unfair ouster was the reason for the judges' save, but it also showed its limitations: It always delays the inevitable. Jessica may get a boost from the notoriety this gives her, but she's not going to win. If she were going to win, she'd never get voted out with seven contestants left.
Still, I actually like her chances better than I did last week. To wit…
Power Rankings:
1 (Rank Last Week: 1) - Phillip Phillips
In Phillips worst week he still skated by without any trouble. There's nothing that's going to stop this guy from winning at this point. He seems to have all the voting bases covered.
2 (3) - Skylar Laine
With her two best performances coming in the last two weeks, the country girl has emerged as the leading contender to unseat Phillip from the top. Country does so well on this show, especially when there are no other country artists to vote for. She looks like she's cruising for a showdown against Phillip in the finale.
3 (5) – Jessica Sanchez
Internet buzz would have Jessica as the leader at this point, and then she goes down this week only to be saved by the judges. I think that will actually spur voters and get her greater support in the next few weeks, but I still don't buy the concept of a big-voiced girl winning a competition where big-voiced girls have routinely been beaten late since the addition of text voting.
4 (2) - Colton Dixon
It's clear at this point that the "cute guy with an instrument vote" is going 100% in Phillip's direction. Colton doesn't really have anywhere else to hang his hat and is starting to feel a bit like an also-ran.
5 (4) - Joshua Ledet
Unfortunately, so is Joshua. The most talented performer on this show, he just doesn't have the hook for younger voters like those above him do. He's even lost his chance at the judge's save. He doesn't feel like a threat to win.
6 (7) – Elise Testone
Another week. Another pimp spot. Another case of Elise just barely squeaking by. She's beaten all the pretenders, but now she's up against the contenders. Just surviving another few weeks will seem like a surprise for her.
7 (6) – Hollie Cavanagh
And here we are at the bottom. Hollie is clearly the most detested contestant left from the point of view of the judges and seems to be wasting away on this show. I was shocked she got through this week, and I'll be even more shocked if she sticks around for another one or two.