'American Idol' Recap: Jeremy Goes Home + Power Rankings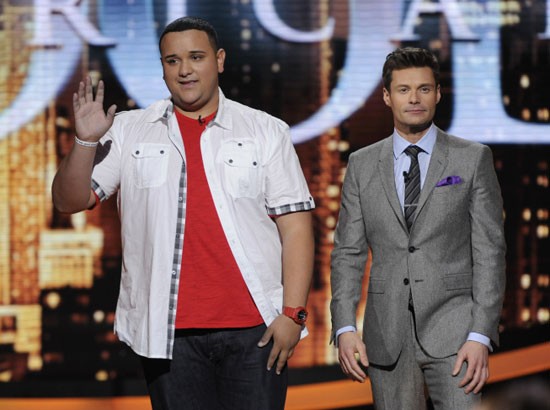 Through one show, I'm just about spot on. Maybe I'm good, or maybe it was just an easy week, but, for once, I completely called the bottom two and even this week's castoff. Jeremy Rosado became the first finalist voted out, and it almost seemed like a mercy killing. This kid was way out of his depth here and appeared to be a nervous mess on stage. There was no reason to prolong the inevitable and America, and the judges, got this one right.
The rest of the results show was pretty much the standard results show. We got a mediocre performance from Lauren Alaina that once again underscored why nobody from this show ever seems to go on to anything big despite having such a massive platform to launch their career. We also got to see Mary J. Blige. At least some did, I decided that was a good moment for a fast forward.
The one addition this year, that I never skip, is seeing Jimmy Iovine dissect the contestants. Some might wonder why they don't make him a judge, but I think I like him even better in this role. Nobody to talk to directly, no worry about hurt feelings, just unfiltered honesty about each performance. Finally, they've found a way to make the results show compelling in parts. I hope they don't muzzle him.
And now, without further ado, this week's power rankings:
Power Rankings:
1 (Rank Last Week: 1) – Phillip Phillips
With such a rich history, I can never put a cute guy with a guitar below the one spot. Unfortunately he's had some health issues, but that's really the only thing that can derail him from winning from my point of view.
2 (2) – Colton Dixon
Unless it's Colton. The other cute guy. This guy has a piano and the emo look. It all plays well with the young girl voters that dominate this show, but not quite as well as what Phillip's rocking.
3 (4) – Skylar Laine
After a very strong performance last night, I'm ready to call Skylar a threat. She's going to corner the country vote and showed she has chops to transcend that. I've call her the poor man's Lauren Alaina, but maybe she's actually the rich man's version.
4 (3) – Joshua Ledet
Dropping him a spot just because soul singers have never done well on this show. There was Ruben, but that was a time before the instruments and guitar guys swept through this show. He also showed last night that he's not going to simply dominate every single night. He needs to in order to win, and I'm now not sure he has it in him.
5 (5) – Heejun Han
This guy's fast becoming the social media star of the show and wins votes every week simply by being funny. His singing will catch up with him eventually, but I think people really want to see him stick around. Maybe enough that he could actually win. OK. That was wishful thinking.
6 (9) – Jessica Sanchez
She's the fast riser here after another big-time performance, this time taking on an iconic song. I'm still not so sure though. These types of singers always end up going out in a shocker. I think it happens to her, but she's become a major threat.
7 (10) – Hollie Cavanagh
Another big-voiced girl, but she just doesn't quite have the charisma you'd want to see in a winner. She can absolutely blow through a song though. It's going to be hard to justify voting against her, but I think many will forget to vote for her.
8 (12) – Erika Van Pelt
Three big-voiced girls in-a-row. I think Erika is the weakest of the three because Hollie and Jessica each have better voices and are more memorable. Still, a nice upswing for Erika this week who I previously thought was going to be gone before the top ten.
9 (11) – Jermaine Jones
Despite last night, I still think he's the second-best soul singer in this competition. He's kind of limited and is going to get swallowed once the pool gets shallower. He definitely is going to have his fans based on his personality, but that can only go so far.
10 (6) – Shannon Magrane
I had a lot of hope for her, but the nervous and uncomfortable performance of last night has moved her into also-ran status. She's got some game, but is another example of why kids should just wait a few years before they try to go on this show.
11 (8) – Elise Testone
It was hard to even recall what she did on the first night, and that's never a good sign for anyone in a completion requiring people to vote for them. I don't think she has any particular means of standing out on this show and is likely to fade away soon.
12 (13) – DeAndre Brackensick
The judges just absolutely adore this kid, but I'm pretty certain America does not agree. He's talented for sure, but he's too offbeat for voters on this show. He really doesn't have a chance of winning.
13 (7) – Jeremy Rosado (Eliminated)
I thought this guy's big voice and big personality would help him win a lot of voters, especially if he kept improving. After last night, it's clear that he's just going to be nervous the whole time and doesn't really have the chops to win.