'American Idol' Recap: James Durbin Goes Home In Another Shocker + Power Rankings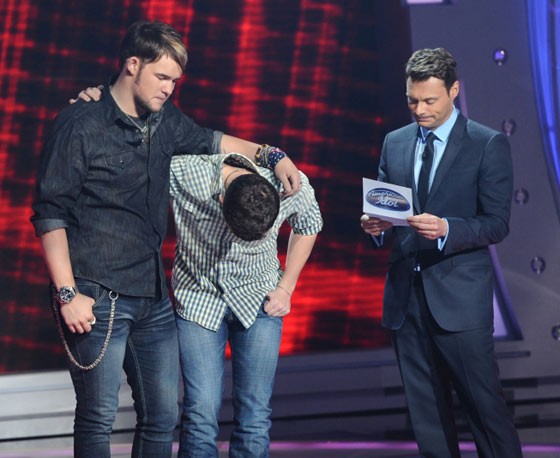 Now this one I just can't figure out.
To me, there were three major talents on the show this year. Three performers that transcended the confines of this karaoke competition show and actually seemed like they could be recording artists. Those three were Pia, Jacob and James. And now none of them have made it to the top three.
I can understand what happened to the first two. Pia, for some reason, was overly criticized by the judges to the point that America was being told she was the worst contestant. Jacob just never seemed to connect with the audience. But James…I just didn't get James.
James was probably the most consistent performer ever on this show. There wasn't a single night that he wasn't at least a 'B' overall. Even Adam Lambert laid a few eggs and Kelly Clarkson must've had an off night in there somewhere, but James always brought it every week and was certainly more entertaining than everyone else.
That's what makes his ouster so hard to figure. He was great every single week. The judges were behind him every step of the way. His performances were as memorable as any in the show's history. He was a true showman, but somehow that wasn't enough to get him through to the finale. It's a bit puzzling.
I think what happened was James' being victimized by his own success. We've seen it in the past with people like Tamyra and Daughtry: a contestant seems like such a sure thing that voting for him no longer seems necessary, and they just drift away.
Whatever the case, it's too bad that we won't get to see him blow up all of L.A. Live in the finale.
Quick Thoughts on the Rest of the Show:
That song Haley sang wasn't any more interesting when Lady Gaga sang it. It sounded like something Joni Mitchell would have crumpled up and thrown out on a weird blues kick. I think it's just a dud.
I can't tell whose peak was longer ago: Usher's or Enrique Iglesias'. That's always been a Sophie's Choice of irrelevance for me. It was nice to see them on the same stage so I could finally decide that the weak-voice Iglesias is undoubtedly the more washed up of the two. Between the live AutoTune and his inability to hit any of his notes this seemed clips from his future stint in Reno.
I always thought Jordin Sparks deserved to be a bigger star coming out of this show. She's got a pop voice, she's a pretty girl and was always a decent performer. It was always confusing as to why she didn't even approach Kelly Clarkson status. About fifteen seconds of this obnoxious, trite and repetitive tune put all that confusion to rest: Hard to make it big when you're given terrible songs.
And, finally, I'd like to thank Steven Tyler for reminding me that they still make music videos. Now let's get to the power rankings…
Power Rankings:
1 (Rank Last Week: 1)  Scotty McCreery
With James gone Scotty went from a pretty good lock to a dead solid certainty. I don't see how either of the girls can upset him.
2 (3)  Lauren Alaina
The judges are so in the tank for Lauren and the producers seem so dead set on having a girl win that there is a possibility that overwhelming praise and some Gerry-rigging of the song choices/performance order gives Lauren enough of a boost to upset Scotty. It's a very small possibility though.
3 (4)  Haley Reinhart
Haley's only hope is somehow going heads up against Lauren in the final. There's just no way in the world she beats Scotty and I don't see how Scotty doesn't make the final. Ipso facto her chances are almost nil.