'American Idol' Recap: Jacob Lusk Exits And J-Lo Takes The Stage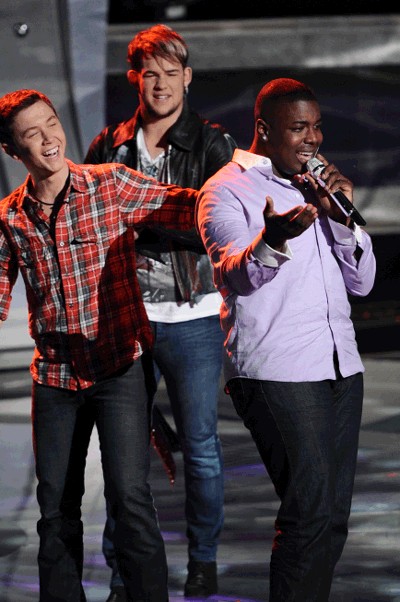 After weeks of making the same prediction, I'm finally right.
It was easy to feel it coming. For some reason the audience never quite connected with Jacob. He was always in and around the bottom three, never quite got the cheers, and the judges were always very restrained in their praising him.
I've never understood any of this. To me, Jacob was the best contestant this year by a long shot, and the best since Adam Lambert – maybe even better. Yes, he had a tendency to veer into oversinging territory on more than one occasion and he may have been a bit too ostentatious for some people's taste, but if you need someone to absolutely murder an R & B song, I can't think of few I'd rather have to bat than Jacob.
Like Pia, I imagine Jacob will be one of the few to have life after 'Idol'. Getting him into the studio with Babyface or another standout R & B songwriter/producer has the potential to make magic.
Or at least a good Gospel Christmas Album.
Thoughts on the Rest of the Show:
This was one of the greatest time-fill performances in the history of the show. With an egregiously long and poorly choreographed medley, the standard Ford music video and a segment sponsored by Bing that still mystifies me as to what happened during it.
All that may have been a bit ridiculous, but it was worth it to also have the contestants enter 'Hell's Kitchen'. The omelet competition was boffo and watching Gordon Ramsay talk down to them was the closest we'll get to Simon. Too bad he didn't call any of them a donkey or a cow.
I think it's time we officially tag Lady Antebellum as a one-good-song-wonder. I know they're bound to have dozens more hits with the easy-to-top country charts and all, but I've yet to hear anything that compares to "Need You Now". I've yet to hear anything that isn't stupefyingly boring.
Speaking of stupefying. It's Pitbull! I swear I've read this guy's Wikipedia page fifteen times and I still don't know who he is. And I definitely don't know why he was picked to be this decade's Ja Rule to J-Lo. I thought J-Lo acquitted herself nicely. For somebody who had completely vanished a few years ago, she came back with a booty-shaking performance like nothing had changed. Unfortunately, her songs are still just as bad as ever.
But enough ragging on a poor results show, let's get to the power rankings!
Power Rankings:
1 (Rank Last Week: 1)  Scotty McCreery
It's becoming conventional wisdom that James is actually the one to beat here, but I just don't see it. Scotty is like the perfect blend of David Archuleta and Lee Dewyze. I still say he's the clear favorite.
2 (2)  James Durbin
Now that isn't to say James doesn't have a chance here, but he's going to need some really overwhelming love from the judges and for Scotty to completely drop the ball on the finale in order to take the title. It's not impossible, but he's got his work cut out for him.
3 (3)  Lauren Alaina
The judges love her more than all the others it seems, but it's very well-known at this point how hard it is for a girl to win this competition. With two big-time guys ahead of her, I don't see how she makes the finale.
4 (5)  Haley Reinhart
The judges have somehow gone totally in the tank for her (Methinks there's a directive from the producers to help out the female contestants afoot), but I still maintain she's the only contestant with absolutely no chance of winning. In fact, I'd be shocked to see her stick around after next week no matter how well she does.