'American Idol' Recap: It's Twice As Nice As The Contestants Sing Two Songs Each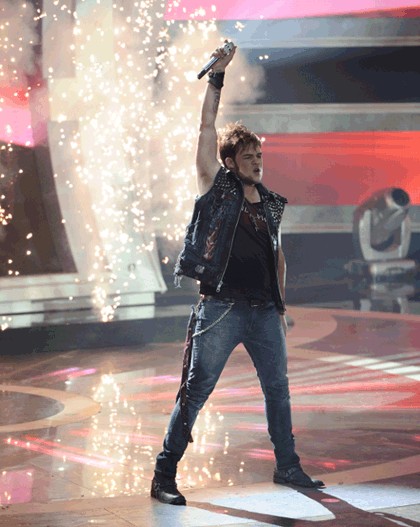 This is where the real competition finally begins.
I've long been an advocate of a different voting format than the one employed on this show: Make the voting cumulative for the first half-dozen performance shows and once we get down to the two-a-nights, make it a straight up elimination round where you vote contestants off.
That system is much more fair because now the contestants are afforded the chance to make a mistake with either a song choice or a bad few bars and still recover due to their singing two songs each night.
It also means that if a contestant is significantly better than the rest of the contestants, then he or she is allowed to lay two vocal beat downs on the challengers, proving their dominance twice in one night.
The two-performance nights are when we get to see week-in and week-out who actually has the goods, and the range, to become a recording artist and who can't face the heat. That's why I think this is where the show moves from just being rounds of performances to a real competitive singing match.
So who was up to the challenge? Read on to find out…
Random Thoughts Waiting for the Actual Show to Start:
Look, I like Sheryl Crow as much as the next guy (not named Lance Armstrong) but the hyperbole got a little out of control on Ryan Seacrest's intro to her video package. First he calls her "musical royalty" then he hits her with an "in a class all by herself" tag. Isn't Sheryl Crow just a harder-edged Jewel with a little more staying power or am I missing something?
I don't know if you knew this, but Randy is looking for a contestant who is "in it to win it". Not only is that a completely original little couplet, but Randy has never once said it before on this show! Wow. I am completely blown away by his original wordplay.
And now, here we go…
James Durbin's First Performance: "Closer to the Edge" by 30 Seconds to Mars
Jimmy Said: A voice like yours doesn't always get an opportunity to be heard on a big stage. This is really promising. There's nothing between him and greatness tonight.
Steven Said: I think you kicked that songs ass.
J-Lo Said: America is feeling it.
Randy Said: You're showing us the type of record you can make. James is in it to win it.
The Verdict:
James shows once again that he is simply a much better performer than anybody else in the competition. Yes, he relies on a lot of lighting effects and pyrotechnics to highlight his performances, but the way he commands the stage almost make those feel like small accessories to the larger whole. He doesn't need them to be compelling, but they just work.
I wasn't wild about the vocal here. It sounded a bit messy at times and somewhat overwhelmed by the track – which is weird for somebody as powerful as James. Even with those few blemishes, he still managed to deliver a solid vocal on a very hard song to sing.
Not his best, but, of course, his best is as good as it gets on this show. This was simply very good.
Grade: B
James Durbin's Second Performance "Without You" by Harry Nilsson
Jimmy Said: This song really got to James.
Steven Said: That was just as beautiful as is gets.
J-Lo Said: Just amazing amazing amazing.
Randy Said: It wasn't perfect, but it was emotionally perfect. This competition is yours to lose.
The Verdict:
It's not just that James is a better performer than everyone else, he just picks better songs than anybody else. This song was the absolute perfect choice for him. It allowed him to show the full breadth of his range down to the quiet soul at the bottom and go on that slow build up to his powerful scream. It's almost like this song was written for a singer just like James.
And he didn't waste the opportunity at all. He connected with this song in a tremendous way, seemingly before it even started. There wasn't a wasted note or a wasted moment as the raw emotion just poured from him when the song began to build.
He didn't do anything original with it, but he certainly crushed that vocal.
Grade: A-
Prediction: His first performance was memorable enough to overcome the first spot and the emotional outpouring of his second performance was enough to overcome anything.

Jacob Lusk's First Performance: "No Air" by Jordin Sparks and Chris Brown
Jimmy Said: Jacob's singing both parts which is very hard, but he's going for it.
Steven Said: We've loved your voice, but we're waiting for you to find your niche.
J-Lo Said: It's now important for you to pick songs you want to sing so you can cultivate yourself as an artist.
Randy Said: I don't think that's the direction for you. It was all a little corny for me.
The Verdict:
Jacob shows here his ability to simply sing the guts out of any song you put in front of him. This is a pretty typical pop song – a good one, but pretty typical nonetheless – and Jacob injects an incredible amount of soul and fire into it. He digs in right from the beginning with a stunning falsetto and then goes down a bit lower for the meat of the song.
It's here where Jacob finds his sweet spot. It's so nice that bad Jacob has been permanently vanquished and he's learned to wield his powerful instrument like an archer rather than somebody loose on the machine gun range. He picks his spots here wonderfully, showing his full power without the need for his old flourishes. This allows him to deliver a searing rendition of this song. One much better than the actual record. Probably because he's a much better singer than either Sparks or Brown.
I don't know why he chose to dress like a castmember of "Anchors Aweigh", but that's kind of immaterial here. Kind of.
Grade: A-
Jacob Lusk's Second Performance: "Love Hurts" by The Everly Brothers
Jimmy Said: He needed to step out of his comfort zone so he wouldn't get in trouble.
Steven Said: I dug your passion, but you kind of got lost.
J-Lo Said: A little bobble, but you brought it home at the end.
Randy Said: You redeemed yourself on the second song.
The Verdict:
Seriously? A harp? Why didn't you just put James in a white suit and bring up the back lights for a halo effect?
This performance had more corn than a bad of Orville Redenbacher. From the ridiculous opening of the falsetto to the amusement park ride arrangement to the (dreaded) return of bad Jacob over-singing all over the place, I'm not sure how the people on stage kept from laughing in the middle of this.
And all that capped off by a completely unnecessary scream. At least Anthony Hopkins seemed to enjoy it.
Grade: D
Prediction: I've predicted his ouster for the last several weeks, and he didn't show me anything tonight to make me think any differently.

Lauren Alaina's First Performance: "Flat on the Floor" by Carrie Underwood
Jimmy Said: She's coming to fight tonight.
Steven Said: It's simply as good as it gets.
J-Lo Said: That's what you have to do. Just like that every time.
Randy Said: Lauren, that is the direction for you. I thought it was amazing.
The Verdict:
This is the type of song Lauren should be doing every single time. The slight twang in her voice is absolutely perfect for pop-flavored country. She could have a career there, and should have been singing those songs the entire time she's been on this show.
But while this is one of Lauren's better performances, there's still an issue: her unwillingness to really dig her voice into a song. I think she has the instrument to be power-voiced diva but she never wants to go to there. Instead, she remains happy to sing along with the track and have her vocal slightly overwhelmed by the music. It all causes her to get a bit lost.
Tonight she did bring more fire to the vocal and it was definitely more interesting than what we've heard from her recently, but I'd still like to see that raw power from her.
Grade: B-
Lauren Alaina's Second Performance: "Unchained Melody" by The Righteous Brothers
Jimmy Said: Lauren can take this song and re-translate to what it means to her.
Steven Said: I could listen to you all night.
J-Lo Said: Beautiful song sang beautifully.
Randy Said: This girl can sing like a bird and that's what you proved tonight.
The Verdict:
Talk about taking the air out of a room. Lauren just drained all the passion and heart from this song with an insanely dull vocal and an expression on her face that looked either like she was waiting for a bus or that she'd been up for fifty straight hours and was about to fall asleep.
There was simply no passion anywhere in this song. There were small moment where she tried to belt and reach for those larger notes, but those were undone by a weird swaying performance and a muddling vocal that was uncomfortable the entire time.
There's no other way to describe this performance than one word: Boring.
Grade: D-
Prediction: The judges have this insane and irrational love of her that I think keeps her in the fight. And may do it again this week.

Scotty McCreery's First Performance: "She's Gone" by Montgomery Gentry
Jimmy Said: I think people are gonna get really moved tonight.
Steven Said: I saw you dance with the devil tonight, and that's good for you.
J-Lo Said: I lost it there for a minute.
Randy Said: I thought we were sitting at concert Scotty [sic?]
The Verdict:
I can respect what Scotty tried to do with this performance, but I don't think he really pulled it off very well.
The problem is that his voice is so specific that it's hard for him to adapt it to a song filled with all this anger. It's like watching your kindly old grandfather screaming the most heinous curses at the judges of a figure skating match – it's just completely out of context.
And it makes it hard to analyze this performance. On one hand, Scotty's voice was as good as ever. Just that butter-smooth country bass that he kills so often. But on the other hand, he just felt so disconnected from this song and he was trying so hard to make an impression with his performance – running around the stage like a maniac – that it just seemed like a complete mess.
A tough one to grade, so I'll waffle and give him a…
Grade: C
Scotty McCreery's Second Performance: "Always on my Mind" by Willie Nelson
Jimmy Said: Scotty needs to stay true to himself.
Steven Said: I cannot pick that apart. Perfect.
J-Lo Said: You're a true performer.
Randy Said: We call you our youngest veteran, if that makes sense. (Actually, it does! And it's very well put)
The Verdict:
Now this is the type of song Scotty should be singing every single time. After disconnecting from his previous song, Scotty is in sync with this country masterpiece every step of the way.
His voice melts perfectly into this arrangement, which is actually a bit more country than the Willie Nelson version, to its credit, especially as it relates to Scotty's voice which is again as pure as ever here. Except, unlike the previous song, this number was perfect for Scotty. His country basso profundo added so much weight to every heartache of a note, and Scotty is once again in full storytelling mode here. I'm sometimes amazed we're not watching a country Christmas special from the 70s – Scotty just seems like he's been here forever.
And he can simply hammer a country ballad. As well as anyone I've ever seen.
Grade: A-
Prediction: Once again, Scotty is extremely safe.

Haley Reinhart's First Performance: "You and I" by Lady Gaga
Jimmy Said: She just laces this song. It shows you where she could go.
Steven Said: When someone can take a song they don't know and make it work that's a beautiful thing.
J-Lo Said: I'm just not sure it was the best advice to do that song.
Randy Said: I'm not sure it was the best choice of song. I don't think this whole thing did you any favors.
The Verdict:
To paraphrase Simon: Complete utter and total cabaret performance.
Seriously, what was that? Did the show suddenly 'Quantum Leap' to a smoky jazz bar in 1950s France? And where was Scott Bakula?
I didn't understand this performance from the word go. She started off laying on the stairs like it was "The Fabulous Baker Boys" and sang the song like she should have a cigarette holder in between her figures. I half-expected her to stop in the middle and start a line with, "darling", as we got to the book of the musical.
This performance wasn't current. It wasn't interesting. The vocals weren't very compelling. It just kind of lay there, languishing like an old housewife until it mercifully ended.
Grade: D
Haley Reinhart's Second Performance: "The House of the Rising Sun" by The Animals
Jimmy Said: If Haley was a teenager in the 60s, she'd have recorded this song.
Steven Said: I think you sold everybody tonight.
J-Lo Said: That song has never been sang like that before.
Randy Said: Best performance of the night!
The Verdict:
Okay, I can understand and even appreciate to an extent that Haley does have a very good voice. That she does have the ability to deliver a great vocal and, in a vacuum, this might sound really good.
But we don't exist in a vacuum. We exist in 2011, and I have no idea where this fits in the current pop music scene. She waves around the stage like one of those blow-up dummies you see at used car lots and delivers this ridiculously stylized vocal that belongs in a summer stock revival of "42nd Street" and not anywhere near a pop stage.
I can appreciate that she definitely hammered the vocal (for the weird style she was singing) and that she fully lost herself in the song, I just don't understand the motivation to sing in such a theatrical style in this day and age and on this type of show.
Grade: C+
Prediction: With the crazy praise from the judges, Haley may have just saved herself in the pimp spot.
Final Thoughts:
I stated at the beginning and Randy reitierated throughout the night that this was the real beginning of the competition. So I'm totally perplexed with all the steps back we saw tonight.
From Lauren continuing to be vacantly dull, Haley insisting on singing like a character in a Billy Wilder film, and the shocking return of bad Jacob, it's kind of disconcerting to see how far back the contestants went in just one week. Especially after so many good performance shows.
The only two who kept their heads above water were our two favorites: James and Scotty. They're certainly not going home so that leaves Jacob, Haley and Lauren as our de facto bottom three.
And, shockingly, I am once again predicting that…Jacob is going home! I know it's a stunner since I do it every week, but this time I'm almost certain. The judges shower so much love on Lauren that America must surely be brainwashed at this point and Haley got the pimp spot and the praise to match – Jacob just can't compete with that.
Also, isn't it a bit unfair that they didn't jumble the schedule for the second round of performances? Why should Haley get to go at the end twice while Jacob and James had to languish at the beginning both times. It would have been a lot more fair to shuffle it at the end, give a few others a shot.
Either way, once again, I must say, "Good-bye, Jacob."
What did everybody else think of last night's show?