'American Idol' Recap: It's Phillip In A Landslide On Final Performance Night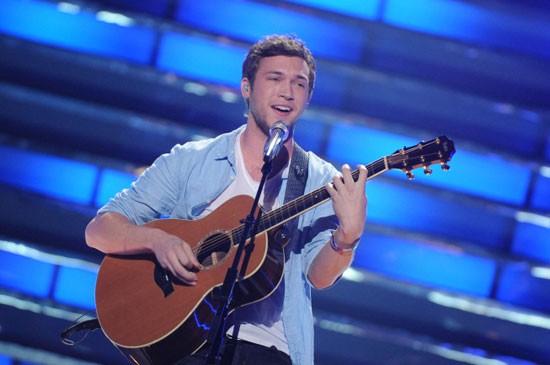 The joke ever since Simon left is, "What do the judges even do anymore?" Well, tonight that concern was apt. Very apt. Because the judges never spoke. They didn't break down individual performances. Instead, they simply offered a few half-finished thoughts at the end of the first two performances before finally swooping in at the end.
I'm not sure why we even needed them until the last minute. They should have been trotted out like wrestlers interrupting a match. That's how useless they were for the first 45 minutes. It's like they weren't there.
So without them, it looks like it's up to me to break down what happened last night. I think I'm up to the task.
Random Thoughts Waiting for the Acutal Show to Start
I've never heard a more confusing opening show cheer for each contestant. Each was equal volume and died down equally quickly. I really think all the fans just screamed for both contestants with equal gusto. Hard to discern any information from that.
Was Phillip's response to Ryan's question him just trying to be silly, or another Dave Matthews impression? I think it was equal parts of both.
Ryan Seacreast's hair is looking like a cross between the Scarlett Pimpernel and a peacock in reverse. I think there may be a bit too much product there.
ROUND ONE:
Jessica Sanchez Sang: "I Have Nothing" by Whitney Houston
The Verdict:
Wow. I excepted Jessica to absolutely kill this song. Instead she just…mildly wounded it.
It was weird. It was almost like she wasn't committed to it. Like she was bored with it. Like she was just tired as she sang it. There was no connection with the song whatsoever. She just kind of went through the vocal motions. Yes, she had the notes. She had the chops. But there was no passion. It was like she just woken up to sing a song for a dictator against her will.
Just an airless performance. Well-sung, but nothing of any real substance there.
Grade: C+
Phillip Phillips Sang: "Stand By Me" by Ben E. King
The Verdict:
So Phillip just picked the perfect time to give his best performance.
I love it. Love it when contestants cover a song by flipping it around and that's just what he did here. He took a soul number and turned it into a cool laid-back Southern Rock ballad and hit every note just about perfectly.
Just a completely cool performance and you could tell he was putting all he had left into this one. This was almost like a brand new song and he looked like an absolute pro.
Grade: A
Winner: Phillip by a knockout.
ROUND TWO: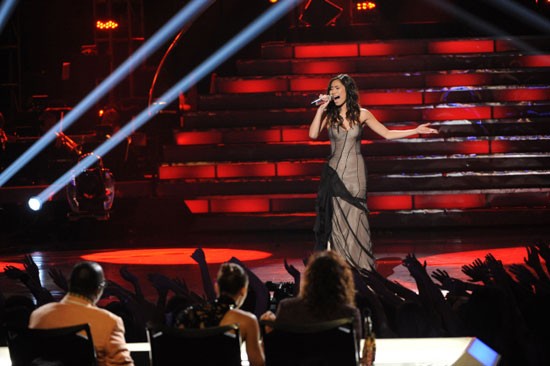 Jessica Sanchez Sang: "The Prayer" by Celine Dion and Andrea Bocelli
The Verdict:
A complete and utter turnaround from her first performance. Here, Jessica is totally committed to the vocal and completely connected to the song and its lyrics.
Her voice lords over the melody. She captures it, seizes it and controls it. She sounds ready for the radio with this vocal. Or on a Grammy stage with a 200-piece orchestra behind her.
This was a professional vocal and a massively brilliant performance.
Grade: A-
Phillip Phillips Sang: "Movin' Out" by Billy Joel
The Verdict:
A really curious choice from Phillip here. I would've thought he'd go with 'Volcano' or simply go back to the 'We've Got Tonight' well from last week. Those were his two best before tonight.
Here he is again with this odd rendition of this song, turning it into a weird Matchbox Twenty/Jam band hybrid that sounds a bit manic albeit original.
I don't really get why he ever did this song like this in the first place and certainly don't understand why he chose to break it back out again here. It's just kind of boring and doesn't really work. It's not bad, it's just not what he needs.
Grade: C+
Winner: Another knockout. This time for Jessica.
ROUND THREE:
Jessica Sanchez Sang: "Change Nothing"
Steven Said: I didn't feel like that song was the proper song for you to sing.
J-Lo Said: I wouldn't do that as your first single because we missed all your soul.
Randy Said: I did not love the song, but you made something more out of the song.
The Verdict:
Normally these winning singles are very cringe-inducing. Pop tarts and half-finished melodies that never quite work.
Well, this isn't one of those songs. The song itself is actually pretty good. No, it's not a hit, but it's at least competent and gives Jessica something to dig her wonderful lungs into.
And dig she did. A really solid vocal and a connection to the song that made it seem like a vet was laying down the title track on her fifth album. Jessica was in mid-career form with this performance and it was a career that seemed enviable at that.
Grade: B+
Phillip Phillips Sang: "Home"
Steven Said: By virtue of your vulnerability and style you have made the world your home.
J-Lo Said: I couldn't think of any singer or band that you sounded like in that moment.
Randy Said: I love the song. I love you. I love the production. I love the marching band. It was perfect.
The Verdict:
Yikes. Yikes yikes yikes yikes yikes. This is a boring song. An absolute dud. A reject from the southern-rock days of yore. An incredibly rudimentary melody and even worse lyrics with a weird attempt at Mumford and Sons as it built. It's like the worst part of about fourteen different genres and types of songs all put together. Boring bland and lame. With a marching band to boot! Yikes again.
And Phillip? What was he supposed to do? The song was such a piece of garbage and I guess he did what he could with it, but I don't think the greatest singer of all time could have done much with this.
Grading him seems a bit unfair, so I'll just give him a…
Grade: C
Winner: I say Jessica, but it seems like I'm in the extreme minority on that one.
Final Prediction: There's been some weird rumbling around the ol' World Wide Web this week about Jessica's being the favorite due to some Social Networking followers and other such nonsense, but I don't believe that for a second. This is, and always has been, Phillip Phillip's competition.
After those huge raves from the judges to end the night, it's as certain as ever: Phillip in a landslide.