'American Idol' Recap: Hollie Cavanagh Goes Home + Final Three Power Rankings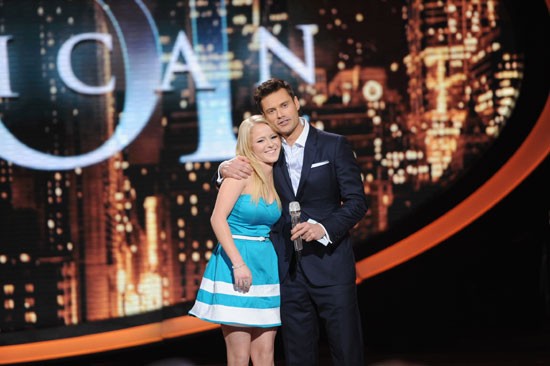 Every year there's a lurker. That one contestant that you think is going home each week but somehow, improbably, outlasts several other potential favorites and ends up around way longer than you ever expected.
This year, it was that little singling pixie, Hollie. Week-after-week she was in the bottom three. We heard her called stiff, wooden, emotionless and overly technical. All cold qualities that usually do a singer in with a voting public. They want somebody they can love through their performances, and Hollie didn't really put off that vibe.
Still, despite that, she hung around. And she actually improved a bit along the way. That made her a bit of underdog. A bit of a fighter, and maybe that's why the audience got behind her the way she did as she vaulted past apparent favorites like Colton and Skylar to make the final four.
But it won't be a trip home to Texas or Liverpool or Lilliput or wherever Hollie hails from. Eventually, the lurker goes home, and we have this year's two best contestants, and Phillip, remaining for what should be a compelling final two shows.
But who's the most likely to win? Let's find out…
Power Rankings:
1 (1) – Phillip Phillips
He doesn't have the best voice. He isn't the best performer. He isn't even all that good. He is, however, the cute guy with the guitar so I have no reason to take him out of the top spot.
2 (2) – Joshua Ledet
He is the best. He does have the best voice. He is the best performer. The problem is, he isn't the cute guy with the guitar and soul artists have never done particularly well on this show. He should win, but, despite all the raves, I don't think he will win.
3 (3) – Jessica Sanchez
A girl hasn't won this song in many many years. Pretty much since voting via text message became available to the audience. Jessica is probably the strongest contender since the female drought started, but she's still not strong enough to overcome the two guys ahead of her.