'American Idol' Recap - Haley Reinhart Finally Goes Home + Special Power Rankings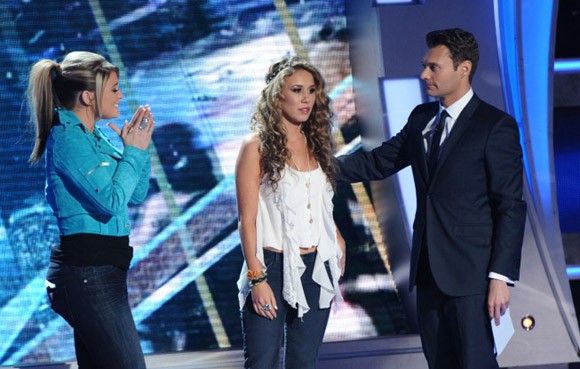 Well, it wasn't for not trying. If there's one contestant this year who really developed and emerged over the course of the season it was Haley Reinhart. Look at where she started. A frizzy-haired oversinging novice who only got through because of the softest judging panel since the OJ Jury.
From there she barely snuck through every step of the way and had me flabbergasted that the judges selected her as a Wild Card. I was surprised she even got the chance to sing a second time.
Somehow, she finagled her way into the top 13 only to sit on the bottom of my power rankings just about every single week. Each night I expected to be her last, and she wasn't doing a whole lot to make me appear incorrect.
Then something strange happened. She took the minimal criticism she was given by the judges and actually used it to improve her performances. She connected more deeply with the songs, broke out of her strange lounge singer mold and picked a few tunes that showcased her.
Haley may not have won this season, but she definitely gets the Most Improved Award. And that's why she, along with Paul McDonald, was my other favorite top-13er this season.
See, I told ya it'd be a surprise when I revealed it. I just expected it to be a long time ago.
Thoughts on the Rest of the Show:
I totally dig the hometown trips and I totally dig JJ Abrams, but involving him in that was a bit awkward. Did any of those kids have any idea who he is? He kept trying to hype them up and ingratiate himself to them but they just seemed freaked out. At least that produced about 4 seconds of Super 8 footage.
Speaking of the hometown trip, can somebody please explain to me the psychology behind 10-year-old girls collapsing in hysterics just by seeing somebody they like from TV drive by them with their torso peeking out of the sunroof? I can't imagine having a reaction nearly that extreme to anything at any point in my life. 
Okay, I lied, if Molly DeWolf Swenson passed by me on the street I'd probably collapse into a complete wreck.
How exactly did 50 Cent become the music smash superstar he is today? Are any of his songs good? Is it just that everybody in the recording industry was scared of him? Actually, I retract everything I just wrote. I'm petrified of Fiddy reading that.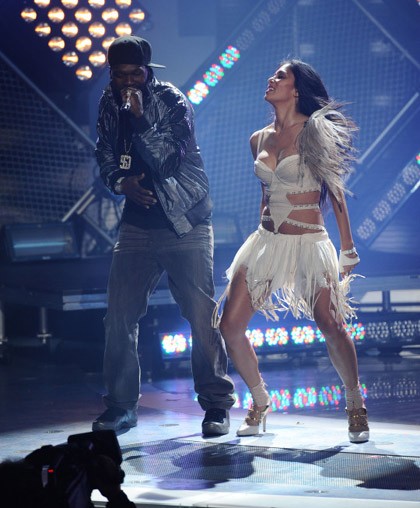 And, finally, that Italian version of Menudo singing opera sounded like a trio of singing housecats from a vintage Disney cartoon.
And with that, on the suggestion of a reader, here is a special edition of the Power Rankings. Where I rank the 'Idols' based on who has the best prospects of a career post-'Idol'…
1 – Scotty McCreery
I feel like Scotty could have gone out at any point in the competition and simply strapped on a guitar, headed for Nashville, and ended up with a record deal. He'll be able to do that win or lose.
2 – Pia Toscano
She has one of the most pop-friendly voices we've ever seen on this show. Hook her up with the right producer/songwriter team and she could deliver a string of hits reminiscent of Celine Dion before she fell off the Titanic. (That's what happened to her, right?)
3 – Jacob Lusk
America may not have seen it, but I felt like he brought the bombastic soul all year with a voice ready to kill a track in the recording studio. Yes, his style of soul may have gone out of style in the early 90s, but I think the radio is ready for a reemergence of Luther Vandross and Keith Sweat.
4 – Lauren Alaina
Like, Scotty Alaina has a voice ready for a strong career in Nashville. Unlike Scotty, Alaina doesn't quite have the season or confidence to hit big right away, and by the time she's ready she could be forgotten. Of course, Kellie Pickler is probably in the 99th percentile of post-'Idol' careers and Alaina is at least as good as her.
5 – James Durbin
Just like judging him in the competition, I don't really know what to make of James. He's definitely talented and he was certainly popular among the viewers, but his skill set is best-suited for fronting a glam rock hair metal band. That's not exactly something that's going to shoot him to the top of the charts in this era. Though I suppose there's always the touring company of "Rock of Ages".
6 – Karen Rodriguez
She wasn't around very long, but she seemed poised to grab her piece of the exploding Spanish-language music scene with her bilingual performances on the show.
7 – Paul McDonald
Paul's in a bit of a precarious position. He seems like the type of guy who could front a successful indie band, except he just lost all his indie cred by appearing on 'Idol'. But at the same time, that indie band wouldn't have nearly as much of a chance had he not been on 'Idol'. What's a hipster supposed to do?
8 – Haley Reinhart
She just barely missed on the finale and I fear that's the last we'll see of Haley. There's just not much call for a washed-up lounge singer who fades into blues rock in today's workaday world.
9 – Thia Megia
If she learns how to Ice Skate she has a big future as a singing Princess in a Disney on Ice show. But  that's about it.
10 – Stefano Langone
His career chances are basically zero unless he runs into some fluke club hit that sees him taking his shirt off in a 'Jersey Shore' spinoff. It's too bad for him that every soap opera got cancelled, because he seemed like a daytime soap hunk in training.
11 – Casey Abrams
A lot of people think this kid has a future and to them I ask this question: What type of record is he going to make? Is there a label out there looking for Jazz poseurs? Are people looking to fill their iPods with somebody growling and making non-sensical sounds? Is it possible to transpose wearing cargo pants and wild animal-filled beard onto the music scene? I don't really think so.
12 – Naima Adedapo
She does have a future as the best multi-cultural studies teacher the Public Learning Annex ever did see.
13 – Ashton Jones
Who?