'American Idol' Recap: Final Cut For The Boys In Hollywood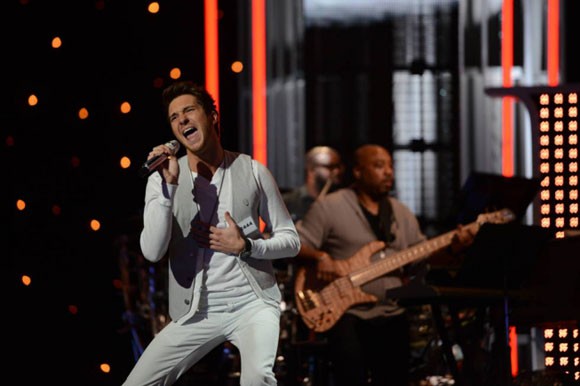 After torpedoing group week, the producers had more changes in store for the final solo elimination for the boys. This time the results weren't quite as decimating.
Normally, this would be a night for the elevator of death. Or the hallway of fire. Or the walk into the weird water room in Vegas. However it was done, this was the most drama the show could ratchet before Seacrest delights in telling people their fates on live television.
Last night, the cuts were much swifter and decisive. A group of eight sings individually and then immediately gets either the good or bad news. It made for a much more efficient program, but I don't know that it made it dramatic at all.
With 40 left on each side, there's still a chance for more drama down the road, but right now, the show has been putting a lot of that aside in favor of the singing.
Speaking of, let's breakdown who performed last night.
Paul Jolley
This was the annoyingly nervous guy who led off the show in a white vest on top of an all-white ensemble that can only really be described as hipster Mormon garb. After remarking to the judges for about 87 seconds about how nervous he was, he flashed a big stadium rock voice that seemed like it could front a band in just about any era. Then Nicki justifiably ripped him apart for his little "I'm Nervous" tirade, sending him to a crying tailspin backstage. He deserved it for that, but not for his performance which was finals-worthy.
My Result: Safe
The Judges' Result: Safe
Lazaro Arbos
Flashing a weird Don Johnson in 'Miami Vice' garb, this is everybody's favorite Cuban-born stutterer. He sang 'Edge of Glory' with all the verve and quality of half-decent karaoke being sung on a party being held on a houseboat. Nothing really to like and without his story he's just shoing he's a half-decent singer at best.
My Result: Gone
The Judges' Result: Safe
Curtis Finch, Jr.
The mega man-diva in the white smoking jacket absolutely seared 'Jar of Hearts' in a way that I had to look it up because I sincerely thought he was covering a Luther Vandross song and didn't recognize the lyrics. The arrangement was that strong and his performance that soulful. He's definitely justifying his own hype.
My Result: Safe
The Judges' Result: Safe
Devin Velez
This was the 18-year-old with the faux-hawk and the soaring soul voice. I hadn't seen Devin yet, and he was certainly a welcome newbie to the 'Idol' roster with an unreal tone and a voice that just seems destined to be in a recording studio. He could cut a hot-AC record tomorrow and sound like a true vet already. That could very well be in his future.
My Result: Safe
The Judges' Result: Safe
The Turbinator
After embarrassing himself early in Hollywood week, The Turbinator whipped out his guitar and sang some dirty soul with 'Georgia on my Mind' in a jazzy rendition complete with some fun improv and scat that just felt completely authentic. Suddenly, I'm excited to see much more of him.
My Result: Safe
The Judges' Result: Safe
Cortez Shaw
Another redemption from early-Hollywood week woes, Cortez brought some old-school R & B pop to his performance in a Stevie Wonder vein that just brought life onto the stage in a fountain of pure vocal joy.
My Result: Safe
The Judges' Result: Safe
Matheus Fernandes
The first outright bad performance of the evening came from the shortest contestant left in the competition. He also went with a vest. Is this becoming a trend? God I hope not. He wobbled through a horribly off-key rendition of "Stronger" by Kelly Clarkson that was as clunky and disconnected as any performance you'll ever see at this stage in the competition. He just wasn't ready.
My Result: Gone
The Judges' Result: Gone
Nicholas Mathis
This is the overgrown Rainier Cherry who I swore was the fat guy from 'Old School' the first half-dozen times I saw him. He absolutely broke apart singing "Locked Out of Heaven", falling out of line with the rhythm, pitch and even the lyrics of the song. Just a raging dumpster fire from second one to second 60.
My Result: Gone
The Judges' Result: Gone
Papa Peachez
Cannot sing. At all.
My Result: Gone
The Judges' Result: Gone
Jimmy Smith
This was the guy with the Golden Doodle for hair and who went sans vest. I like him already. He did a bit of a country spin on "Landslide" that worked the whole way through. His tone was solid, he felt completely connected to the song, and the performance just felt authentic on all levels. Get this guy a guitar and he's a threat to win.
My Result: Safe
The Judges' Result: Safe
Nick Boddington
This is the very smooth man (literally) who looks like a hipster alien. I'd never thought much of him so far, and then he sat down at the piano and just…wow. Nick found himself the voice of soul-pop artist in spades. He burst completely onto not just another level but about fifteen levels above where he was. That may be because I doubted him too much and had him rated so low, but that shouldn't take away from this performance. He's like a better Colton Dixon. And I swear that was a compliment.
My Result: Safe
The Judges' Result: Safe
Charlie Askew
This is this year's super-awkward kid who…had a girlfriend for two years!? Wow. Did not see that little wrinkle coming. Definitely the biggest shock of the show so far. Oh yeah. He also can't sing. Like at all. So many flat notes, so many off-key moments. He really sold the song to the point that I almost wanted to ignore his copious flaws, but they were just too voluminous to overlook. Sorry, Charlie.
My Result: Gone
The Judges Result: Safe
Micah Johnson
After my initial favorite, the singing doctor, had to hit the bricks, I think I have my new favorite right here. I don't understand how it's possible to have such an impeded speaking voice while also having a singing voice that's so effortlessly clear and connected. Micah went for some Randy Travis here. He's more of a soul singer, but this really showed his great in any genre. And, like all my favorites, he gets eliminated as soon as I vote him my favorite. Agh. The search continues.
My Result: Safe
The Judges' Result: Gone