'American Idol' Recap: Erika Van Pelt Goes Home + Power Rankings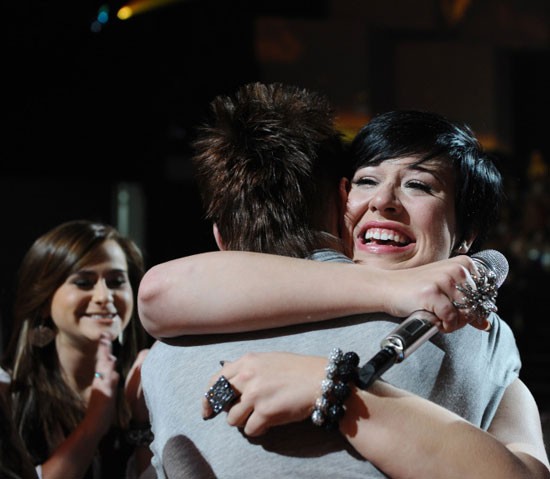 Really, it all comes down to being memorable. Erika was the most non-descript contestant in this competition. Seriously, I didn't realize she was on the show until every time she came up. Her being announced never elicited any sort of a response other than, "Oh, her."
It's tough to make anything last when vague recognition is your only calling card. Her voice was solid, she chose some good songs, she was certainly never bad. None of that matters though. If you don't make an impact you've got no shot in this competition.
Think of all that came before her. The Sanjayas, the Kristy Lee Cooks, the Chicken Littles. They couldn't sing, but it was their badness or their way of presenting themselves that allowed them to stand out and stick around. On this show, just being good is kind of like being the NBA team that's always the 8 seed – there's just nowhere to go and you end up getting stuck and going out much like Erika did.
Speaking of somebody memorable, tonight's guest was Haley Reinhart – somebody who I don't think has the technical chops of even an Erika, but had her own style and a wild delivery that made her stand out. And based on tonight, it definitely wasn't the singing.
See? That's really what matters on this show. Let's see who's most likely to be remembered in this week's power rankings:
Power Rankings:
1 (Rank Last Week: 1) - Phillip Phillips
Hey, even I liked Phillip Phillips this week. If he can melt the heart of a bitter 'Idol' columnist, imagine what he's doing to the texting young girls.
2 (2) - Colton Dixon
This was a statement week for Colton that showed maybe the cute guy with the piano has the ability to beat the cute guy with the guitar. It's not impossible, but I still think he's the pretender to the throne here.
3 (3) - Joshua Ledet
I thought Ledet was going to blow it away every week, but that doesn't seem to be the case. I keep him here because he is the best performer on the show, but he has to bring his 'A' game every week to be able to top contestants one and two. I thought he would, but now I'm unsure.
4 (4) - Skylar Laine
I'm not ready to give up on this country girl. She's going to outlast some better singers, I'm sure of it. You just can't beat having the market cornered on country.
5 (5) – Hollie Cavanagh
She ran into a snag with the judges this week, but I still think she's got what it takes to win. Y'know, other than the whole being a cute guy with a guitar thing.
6 (6) – Jessica Sanchez
She blew them away again on Billy Joel night, but I keep reiterating that these big-voiced girls never win on this show. They always go out early in a "shocker".
7 (8) – Elise Testone
Two great performances in consecutive weeks, but that hasn't left her entirely out of the bottom three. Clearly she has some popularity issues and has to be pitch-perfect each week to stick around. She might have it in her, but she's more likely to get voted out after one suspect performance.
8 (7) – Heejun Han
After this week, it's clear that Heejun's act is going to wear thin at some point and his lack of singing ability will soon overwhelm his sense of humor.
9 (9) – DeAndre Brackensick
He held on this week, but this young singer is bound to lay another egg soon. He's not going to be consistent enough to last much longer.