'American Idol' Recap: Emily Goes Home + Top 11 Power Rankings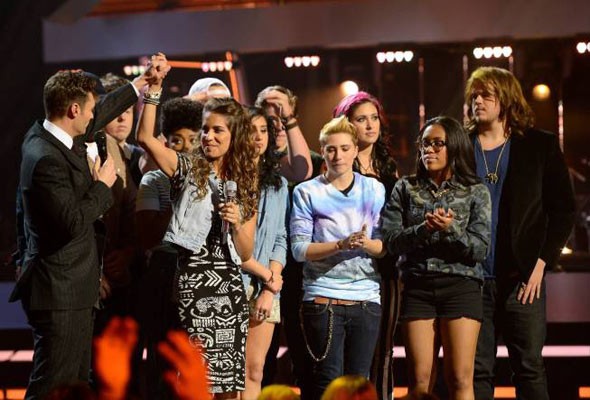 Just like her doppelganger's show 'The Middleman,' Emily Pirize is gone too soon from 'American Idol.'
Emily's early exit is a testament to the importance of song choice. She in no way deserved to go home before several of the contestants still remaining - she's got better pipes that almost all of them and seemed more comfortable onstage than even more of them. She was undone though, by a miserable song choice at the worst time - when the field is crowded you have to wow the voters, and a J-Lo rhythm track isn't going to make you stand out.
Emily's failure to create a moment with her song choice is exactly why she's hitting the road before her time. Others gave worse performances on Wednesday, but they at least did enough to register in voters' minds. Emily just danced her way out of their heads.
The results show is clearly following a formula this year. Stools, a lounge, two bands and we're done.
Phillip Phillips was surprisingly alive with a new song that sounded like all his others and there was also another band that I forgot as quickly as voters forgot Emily. Not the best night for either of the acts, but at least we got to see a lot of a former winner's tongue.
That's a good thing right?
Anyway, here are the power rankings of the top 11...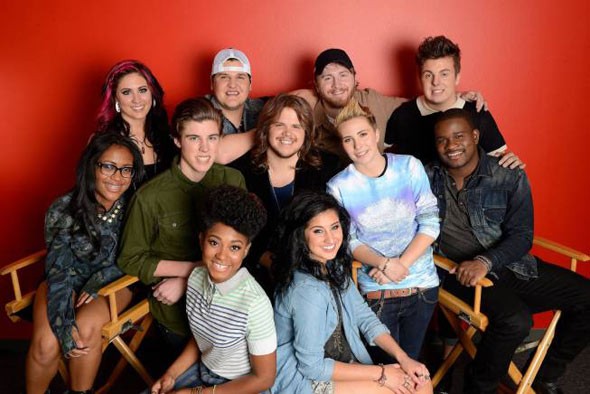 Power Rankings
1 (1) - Sam Woolf
Woolf is really not that good. There's no reason that he should win. But he's going to. The producers ousted this archetype last year, but, beyond that, he's the exact type of contestant that's won every the last several years running.
2 (4) - Dexter Roberts
Jennifer compared him to Scotty McCreery this week and we all know how that turned out.
3 (3) - Ben Briley
Briley has a lot of moves. He's poised to surprise several times as the competition unfolds. He needs to be careful not to go too far out there into torch singer land, but he's definitely got the chops to rise up and win.
4 (2) - Alex Preston
After this week, his ability to wow is certainly in question. A very poor performance from somebody who, for weeks, seemed ready to cut a genuine record. All that, plus he looks kinda funny.
5 (7) - Majesty Rose
She's a great singer and can play the guitar. Like Crystal Bowersox with talent. Bowersox came in second to Lee Dewyze in one of the show's weakest years. This year is looking like it could be on a similar level, so Rose has a shot.
6 (8) - Malaya Watson
Malaya came back very strong after a terrible first week of live shows. She's got the ability to blow out any song, but at her age consistency will be a question - she's always in danger.
7 (5) - Caleb Johnson
It's early, but Caleb looks like he only has one move right now - that always peters out over time like James Durbin or Constantin Maroulis (sp? I don't care). He's going to have to show a few different sides soon to avoid becoming boring. A guitar wouldn't hurt either.
8 (6) - Pink Hair (Jessica Meuse)
Pink Hair is committing self-sabotage on a grand scale thus far. She looked locked into the country chick spot in the final three and has now gone goth and rock on consecutive week. A move back to country should result in a move toward the final rounds, but if she keeps messing around the way she has, she'll be gone very soon.
9 (9) - CJ Harris
CJ's very good, but he's not going to win. He's going to end up outlasting some of the people ranked ahead of him based on his inability to be truly bad, but that's something that gets a contestant in the top six, not the final show.
10 (12) - Jena Irene
I personally don't get Jena. I think she's awful and she keeps ending up in the bottom three. Eventually, she'll be in the bottom one. Probably next week.
11 (10) - MK Nobilette
MK has a great voice, but she seems petrified every second she's up on the stage. If she grows some confidence, she can start to make a run, but right now those nerves are going to send her home earlier than she deserves.