'American Idol' Recap: Elton John Brings Out The Contestants' Best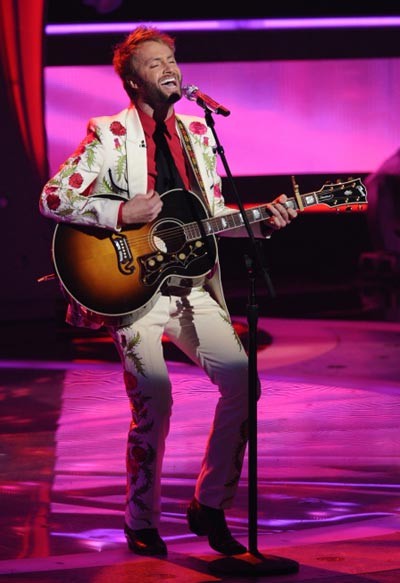 I guess sometimes the music's all that matters.
After promising us no restrictive theme nights this year, the 'Idol' producers follow Motown night with a night devoted to not just one musical style, but one musical artist: Elton John. But unlike Motown, this one worked almost down the line.
I think it's a case of addition by subtraction. The contestants last night were limited to so few songs, but almost all of John's are so good that it didn't matter. No matter which way a contestant went, they'd be able to pick a great tune and work with the producers who really on point this week: The arrangements were definitely the best of the season. The combination of all that gave us an 'Idol' night that bordered on amazing, and was certainly the best so far this season.
Speaking of amazing things involving Elton John, I'd be remiss if I didn't wish my old Second City teacher Matt Craig good luck on his first week writing for "Saturday Night Live" with the great Reg Dwight as host. Of course, you'd have already known about that if you followed me on Twitter – which you can do @paynehumor.
Now let's get on with the recap!
Random Thoughts Waiting for the Actual Show to Start:
By now, everyone knows I'm pretty fed up with Casey, so clearly I wasn't much of a fan of the "In Memoriam" God-ing up of him before the show started. It's pretty clear the producers want him to stick around, and they'll do whatever they can to make that happen.
According to the Elton John retrospective, Elton and Bernie Taupin met, "by chance". If chance is a record executive specifically pairing the two of you because one couldn't write music and the other couldn't write lyrics is considered chance, then their meeting was indeed quite serendipitous. In other words, somebody needs to show the producers of 'Idol' some tapes of VH1 circa 1999.
Ah, the fashion shoot. What a creepy angle with which to go forward throughout the rest of the episode. I also enjoyed Seacrest's saying that this will prepare them for their futures as "Pop Icons". Pop Icons such as Lisa Tucker, Chris Sligh and Camile Valesco, no doubt.
And, here we go…
Scotty McCreery sang "Country Comfort"
Jimmy Said: He's a one-trick pony, but it's one of the best tricks I've ever seen.
Steven Said: You did it again for me, Scotty.
J-Lo Said: You have amazing instincts about performing and what's right for you.
Randy Said: You have seasoned so fast on this show. Very nicely done.
The Verdict:
Just as Scotty's a one-trick pony singing, reviewing has turned into a one-trick pass time. He just comes out, slays a country song like he's been doing it for 20 years, and seems completely comfortable onstage. There's not really much more to say even though this was a bit duller than most of his other performances. Though I did dig the slide guitar.
Grade: B
Prediction: I don't anticipate dropping Scotty from the top of my power rankings this week.

Naima Adedapo sang "I'm Still Standing"
Jimmy Said: It's gonna be difficult to deliver, but if she does it'll be special.
Steven Said: Good for you picking a song that fits you.
J-Lo Said: It was a better idea than it was payoff.
Randy Said: It came off kinda corny.
The Verdict:
I was prepared to hate this, ready to say that nobody's ever done Elton reggae because it's a stupid idea.
Well, I was sorta wrong. Naima did an excellent job of transforming this song to the point that it sounds like every other reggae song. Yes, that's because all reggae songs sound exactly the same, but it's a testament to her ability to cover the song that I wouldn't have even known what she was singing until she hit the chorus – it was that big of a transformation.
I don't know that it worked on every level, and her voice certainly wasn't of the quality it usually was, but I totally dig anyone who wants to reinvent a song on an original level.
Grade: B-
Prediction: It was memorable, but I don't know that it was memorable enough to overcome going so early. With two people going this week, she's in real danger.

Paul McDonald sang "Rocket Man"
Jimmy Said: He's gonna have to bring his charisma and a new intensity.
Steven Said: You sound like a lot of great artists that don't always hit the right note.
J-Lo Said: You need to push yourself vocally.
Randy Said: It still feels like you're holding back.
The Verdict:
This is just great stuff. It has the dreamy feel of 70s Bowie and the heartache of an English singer/songwriter like David Gray. A wonderful way to rework the song, updating it and making it feel timeless at the same time.
And Paul just owns it. Every step of the way he's on point vocally, stays completely connected to the song and owns the stage like he's just sold out Madison Square Garden for 50,000 people there to see just him.
This was a brilliant performance and a stroke of real artistry. Unlike the faux-artistry of the Bowersoxes and Caseys of the world.
Grade: A
Prediction: I totally disagreed with the judges who seemed too obsessed with his vocal quality and not enough on the overall brilliance of his performance and covering of the song. I think America will side with me and Paul will be safe.

Pia Toscano sang "Don't Let the Sun Go Down on Me"
Jimmy Said: Knock Randy's ass out of the chair!
Steven Said: This just goes to prove some people might be wrong when they told you not to sing ballads anymore. Just about as good as it gets.
J-Lo Said: It's crazy what you do with your voice up there.
Randy Said: You've sung a ballad every time and you've slayed them every time.
The Verdict:
Pia's voice is so electric that she could come out, sing a karaoke version of the song, and still be in the top five each week. She just has a searing weapon of a voice.
And what's so great about her, is that she's not content to do that. Here she puts a lovely country-roots-gospel spin on this song and injects some real soul and dirt into a 70s A.C. standard.
This version could top about five different Billboard charts at once including the Hot 100 right now – it's just that good. And Pia's voice is, as always, just about perfect.
Grade: A-
Prediction: Overwhelming praise from the judges should keep her around this week and many more.

Stefano Langone sang "Tiny Dancer"
Jimmy Said: I think it's gonna be a difficult night for him.
Steven Said: Tonight you just connected to the audience.
J-Lo Said: Amazing. Really good.
Randy Said: Very nice job, dude. Very nice.
The Verdict:
I'm not sure how well Stefano's voice was suited to this song. It just never seemed big enough to handle the grandeur that is this pop epic. It almost felt like he was sucking the air out of it by not being able to give us a Baroque vocal.
While all that may be true, there was still plenty that I liked about the performance. I found myself bopping my head along with the contemporary pop spin put on the record and I liked that Stefano was no longer singing with his eyes closed and only worried about the notes.
His vocals kind of suffered for all those improvements in his performance. But I think those changes went to enhance the overall quality of Stefano's night.
Grade: C+
Prediction: I'm not sure, that was a little flat and Stefano did hit the bottom three last week. I think he's in trouble again.

Lauren Alaina sang "Candle in the Wind"
Jimmy Said: Your voice sounds great on this. Your emotion, you did it.
Steven Said: That was just perfect.
J-Lo Said: That was amazing. Best of the night.
Randy Said: Very nice. Very sensitive. Very pro.
The Verdict:
This is a wonderful, soaring version of this song. Jimmy was very right in the intro, when he said this could be interpreted well by a country singer, as Lauren's slight twang sounded excellent on this rendition and helped enhance the emotional quality of her performance.
That's not to say it was perfect. Alaina' immaturity shows through at points in this song where she feels a need to hit some stray notes and embellish her vocal at points where it would be far more impactful to just sing the notes straight on and let the melody do its work.
That's not to say it was bad. It just wasn't as good as it could have been in the throat of a more seasoned singer.
Grade: B+
Prediction: Lauren's been safe so far, and this was her best night. No reason her safety should be in question.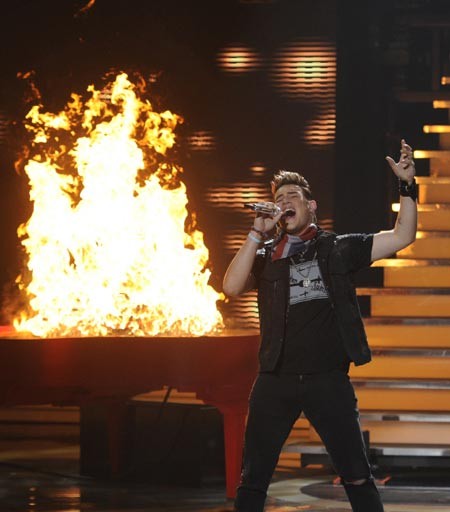 James Durbin sang "Saturday Night's All Right (For Fighting)"
Jimmy Said: He's taking a risk with going through the audience.
Steven Said: That was beautiful. It was a good thing.
J-Lo Said: When you're up there, I forget that I'm at a competition show.
Randy Said: That was a great, great, great performance.
The Verdict:
James definitely took the pro wrestling experience of last week to heart as he ran through the audience like The Ultimate Warrior and worked the crowd like Ric Flair. He's on another level from everyone else when it come down to performing – he's just so free and fearless on stage and makes his performances into a party each week, this time complete with a flaming piano.
While the performance was a lot of fun, I must quibble with the actual singing. Durbin did absolutely nothing with this song other than water it down with a straight karaoke rendition. Yes, he can scream, but that seems like his only trick at this point. It'd be nice to see him do something other than just sing the song like it was recorded and run around the stage.
As fun as that may be.
Grade: B-
Prediction: A flaming piano? Yeah, he's definitely safe.

Thia Megia sang "Daniel"
Jimmy Said: I think you sang a great Elton John song well.
Steven Said: You're gonna go places, man. Really good. Thank you.
J-Lo Said: I think it was a beautiful moment for you.
Randy Said: It was very safe.
The Verdict:
This is reminiscent of her top 24 performance when she stayed still, connected emotionally with the song, and just let her voice do all the talking for itself. She's very well suited to these elegant ballads that allow her to sing a simple melody well rather than attempting to be something she's not or try to do too much vocally.
Here, she's right in that lane. It may be a bit safe, but she does it so well that I don't see anything wrong with that. These steady ballads are what Thia does best.
Plus, she kinda made me dig one of Elton John's worst songs. I didn't think that was possible.
Grade: B-
Prediction: It was a bit sleepy and may not stand out enough for voters. She could hit the bottom three again.

Casey Abrams sang "Your Song"
Jimmy Said: It was humble and exactly the right tone.
Steven Said: One of the finest moments on this show was putting you through.
J-Lo Said: I didn't lose an ounce of sleep saving you.
Randy Said: That was absolutely brilliant.
The Verdict:
Wow. So Casey gets his own trip to the barbershop for an extra video package introduction. It's not like the producers are trying their damndest to keep him around or anything. At least he ended up looking exactly the same afterwards.
Now how about that performance. This sounded like a father who grabbed the microphone at his daughter's wedding and said, "Listen everybody. I got a song to sing for my little girl!" and proceeded to embarrass his daughter for 2 minutes before the DJ wrestled the mic from him.
There's just nothing special about this vocal. It's flat in parts. He misses a ton of notes and there's really no interpretation – it's just a dull karaoke version of the song sung by somebody who can't sing. I've always dug Casey's tone, but that was entirely absent here – this was like a different singer than we've seen, and one that's much worse and far less interesting.
Grade: D+
Prediction: The judges were very bloated in their praise to the point of satire. Yes, they're trying everything to keep him around, so I think he'll be safe.

Jacob Lusk sang "Sorry Seems to be the Hardest Word"
Jimmy Said: When Jacob goes to the over-dramatizing he can blow the whole thing.
Steven Said: Both halves of the song were equal. (Huh?)
J-Lo Said: That last note? You don't see that every day.
Randy Said: Just give me one spot where you go all the way up.
The Verdict:
Uh-oh. After a few weeks off, bad Jacob has reared his over-singing head. This time it's not so much in Jacob singing 87 notes for each quarter beat, but instead him gaudying up the song to the point that it sounded like a torch song at the end of Stephen Sondheim's first act.
I almost expected a set to come crashing down around him at the end of that song as the music soared to overly bombastic heights and Jacob counterpunched by stretching his voice to the point where he was nearly shouting and contorted his face in ways that were a bit disturbing.
This one was without that Lusky soul stank that's really brought his performances to the next level and instead reeked of musical theater to the point that he needed half-a-mask and a cape to really complete the vibe. Not his best stuff.
Grade: C-
Prediction: Of course, he'll get through. People like him for reason's I can't begin to comprehend.

Haley Reinhart sang "Bennie and the Jets"
Jimmy Said: She moves great. She has great tone and great style when she sings. She doesn't always bring all three, but tonight she will.
Steven Said: You're a shining star.
J-Lo Said: That was it, Haley!
Randy Said: Best performance of the night, right there!.
The Verdict:
The most alarming trend on this show so far this season is this insistence by some of the girls on singing songs like a Vegas lounge act in 1959. I'm not sure where the clamor for that type of singing is or where these singers even developed that style. Maybe they  had their musical awakening in those five weeks where the Cherry Poppin' Daddies were popular.
And that leaves us with Haley's performance. It wasn't half-bad considering it was one of these lounge-act performance. I dug the rawness in Haley's voice and her fearlessness in committing completely to the song – it was probably her best vocal.
Still, it was a lounge act performance. A lounge act performance! It can't be that good.
Grade: C+
Prediction: Could the pimp spot be Haley's salvation? It's either that or Randy saying, for some reason, that this was the best of the night. Looks like we'll be seeing more of Ms. Reinhart.
Final Thoughts:
It's nights like this that make me question my negative attitude toward the restrictive theme nights. You don't get much more restrictive than limiting the contestants to one artist, and especially one like Elton John who recorded almost exclusively piano-based singer/songwriter pop.
That should have been hugely limiting, but instead these contestants used John's great music to their advantage and delivered probably the most consistently good night of the year so far.
But even when it's so good, there has to be some bad, and somebody to get eliminated.
I thought Casey was the worst of the night, but after the hype over his save and the producers' incessantly clamoring for him to be noticed, I don't think he's in any real danger – even if he got voted off last week.
But the rest of last week's bottom three are: Thia and Stefano just didn't do anything to really stick out in this crowded, so they'll both be on the bottom.
They'll be joined by the reggae queen Naima, who continues to show that this competition just isn't right for her. Everything she does just doesn't really fit with "Pop Music Idol" and I think now's the time she finally hits the road.
But who will join her? I'll say Thia, if only because I'm still of the opinion that there's some bit of heartthrob factor with Stefano.
What did everybody else think of last night's show?