'American Idol' Recap: Ellen Degeneres Is Finally Here

And she's finally here. It's strange to think this was the most anticipated moment since '
American Idol
' first began, I mean it didn't involve singing in any way, and this is supposed to be a music competition, but at long last the Ellen finally landed, and the early returns are good.
Ellen
definitely brings a brand new vide to the proceedings. Gone is Paula's insane ramblings, and here to stay is somebody with the potential to be funnier than Simon, while maintaining the positivity that actually made Paula worthwhile.
This is still a competition; however, and there were a lot of prospective pop stars who had their lives change last night. Let's take a look at each, shall we?
The Contestants Who Are Moving On
Katie
- She led off the evening singing "For Once in My Life". Nice easy-flowing soul performance with some real depth. A very confident performance from the start, and when she started to belt it only got better. She showed great poise to handle both the large and small parts of the song.
Andrew
- He did a very cool rendition of 'Straight Up' that sounded like a Damien Rice record remixed by Pharrel. Plus he has an excellent voice. Gritty pop soul. He's going to go far, like
Kris Allen
with a better mind for music. Kara definitely agreed, complimenting him for awhile, and it only made me hate her more.
Janell
- She doesn't have the best voice - it's not very rich and she has trouble holding her pitch, but there's something about her delivery - the attitude, the confidence, the feistiness - that makes it so her voice doesn't matter. Like a solid bar singer that would never let any naysayer get in her way.
Haeley
- Wow. That was incredibly polished, especially for a 16-year-old. Like Colbie Calliat giving the best concert of her life. Super smooth, very slick, and sounded absolutely great. It's so cool to see somebody play so far against type and do it so well. That just shows how much she really means it.
Mary
- I remember not liking her at all during the audition, but this second shot is making me look like a fool. Singing 'Sober' by
Pink
, she hits the big notes and lets her voice soar. A lot more control and a better tone than she showed previously. Though judging from her post-performance interview, she may have ruined her speaking voice.
Lilly
- She sang 'Lullaby of Prarieland" by
Ella Fitzgerald
, and I'm going to make this declaration right now. Lilly is going to win. That was beyond phenomenal. An amazingly pure and unique voice. Incredibly confident stage presence and a real knack for making a song her own. I don't think I've ever been anywhere close to this impressed at this point in the show.
Michael
- This was the guy who was missing the birth of his first son so he could audition for the show. And, on a side not, I agree with his decision. Does it really matter that you aren't there at the actual moment of birth? He has entire life to be with his son, but this may be his only shot at his dream. He won't have this moment again, and he'll have thousands of future moments with his son. Moments his son will remember.
As for his audition, he Actually made me like a
John Mayer
song. Finding the soul in it with a great tone and an easy flowing arrangement. Just smooth all the way.
Tim
- This was the audition that I would not have let through. He sound like he was somebody embarrassed to sing out loud and was just kind of quietly singing to himself. As the song got going he let his voice free a little bit and hit some good notes, but was a bit sour on some of the parts as well. Still, the judges let him move on.
Casey
- This is the guy I really liked from the first-round auditions, but the judges thought didn't have enough personality. He showed more personality in this audition, coming out like a Kenny Wayne Sheppard clone. He's probably the best guitarist who's ever been in the competition. Didn't flash a great voice, but overall the package really worked well.
Didi
- Once again, somebody sounds exactly like Colbie Calliat, except this time not on her best night. Still it's pretty good, she definitely does a great job of connecting with the song and is not afraid to really let it all hang out as she sings.
Crystal
- First of all, nothing says class like a chin piercing and getting your son's name tattooed on your back in the tattoo shop that flashes by during the '
Entourage
' opening credits. Oh wait, she also sang. Yeah - she did an excellent job with that.
The Contestants Who Are Going Home
Skiibosky
- I'm on the record as really liking this guy. In this audition, he's almost good. Has a nice tone but doesn't really know how to control his air. Comes off a bit flat because he doesn't know how to support his voice. It's not a big surprise he's going home, though I still like the idea of somebody who's super-cocky making a run on the show.
Vanessa
- This is the bridge jumper from Tennessee. She's so nice that's it hard to say it - but that was absolutely awful. It would have made one of the lowlights from the first-round show. Sounded like a little girl struggling to remember the alphabet as she shouted it in front of a school assembly at her pre-school graduation.
Cornelius
- This is the guy who split his pants at his first audition. He tried to sing 'Cowboy Take Me Away' and just screeched it.
Amadeo
- This is the big gregarious Italian with the huge family. He sounded like he was gargling asphalt when he sang during Hollywood Week.
Jay
- This is the beatbox guy. This time he was really, really awful. Just sounded like he was spitting into the microphone like Sylvester the Cat as he was singing. Kind of gross actually.
Justin
- Just absolutely screamed the first part of the song. Then sort of moaned the softer portion with a voice, tone and look that came across as nothing less than creepy. I really felt kind of icky after watching this audition.
Maddy
- This was the dismissal I didn't agree with. She had a very rich and mature voice. A great smoky and deep tone. Kind of like a pop singer who was originally trained to sing opera. Just a great voice. Even though Simon was right about the song choice - it was a little boring - she didn't deserve to go.
The Best of Simon and Ellen
Ellen was so good in her initial outing that we have to include her.
In a montage, Simon let out three bits of his typical snark, saying, "I hated everything about that" "That was painful" "Wrong wrong wrong".
In her own montage, Ellen hit the contestants with some foul truths: "I'm tired as it is and that almost put me right out." "It was crazy I think. In a bad way."
To Skiibosky, Ellen let loose, comparing him to "a leopard in a cage, and telling him there's a fine line between sexy and scary."
Finally, Ellen played a bit of musical contestants with one of the decisions - moving the prospective Idols all over the stage until telling all four that they were moving on.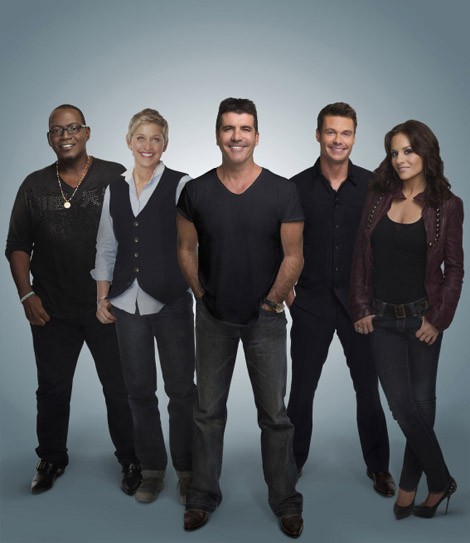 Image © FOX
And Finally. . .
The best note I wrote to myself was actually about the two minutes of "
Past Life
" that I caught as I was reconciling my notes (DirecTV records every 'Idol' episode with a fifteen-minute overrun, presumably because it's usually live and so many people missed the end of episodes.)
Anyway, I thought "Past Life" looked like, "A Lifetime Original Series that was produced, written and directed by a high school A/V class that won an Internet contest."
Story by
Andrew Payne
Starpulse contributing writer