'American Idol' Recap: Elise Testone Goes Home + Final 5 Power Rankings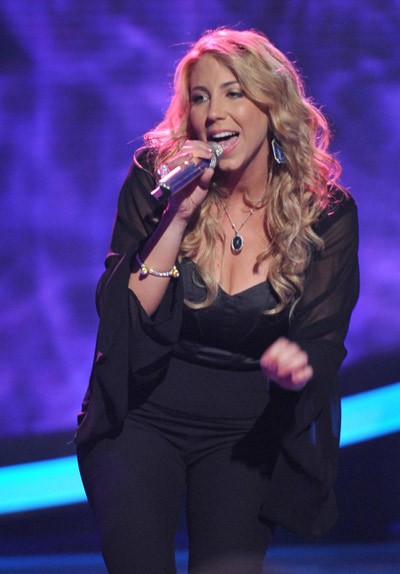 It's rare that a contestant commits the three mortal sins of 'Idol'. In the world of shilling for America's votes, there are three ways to fall into the doghouse. Three separate kisses of death that have seen many an 'Idol' contestant along their melancholy way to the strains of whatever former contestant the producers have chosen for that season.
They are:
Talk back to the judges – Time and time again we've seen those that complain go home. It's always best to just smile and nod.
Pick the wrong song – A surefire way to get voted off. Picking an obscure song, one that doesn't match your voice, or just isn't a singer's song. Of all the mortal sins, this is the worst.
Simply give a bad performance – This should go without saying, but sometimes the first two matter much more.
On Wednesday, Elise managed to pull off the rare hat trick. She picked not one, but two awful songs (a non-singer's and one that nobody's ever heard of), performed both of them terribly and then yelled at the judges for questioning her song choice.
And, of course, she went home. Finally. Elise was not long for this competition given her repeated tendencies to make at least one of the aforementioned mistakes. Maybe it took the hat trick to finally make her go home.
The final five would be wise to avoid those in the future, lest they fall down the power rankings.
Power Rankings:
1 (Rank Last Week: 1) - Phillip Phillips
This was by far his first week and he didn't even hit the bottom three. If anything proves he's this year's winner, it's that..
2 (4) - Joshua Ledet
I know I probably shouldn't do this, but Joshua is so clearly the best contestant and that means I just have to give him the best shot at the upset. America could get this right. Right?
3 (2) - Skylar Laine
With a second trip to the bottom three, I'm starting to think the country crooner is vulnerable. In fact, maybe Southern Boy Phillip has actually absorbed some of that voting bloc. She's definitely no longer a lock for the top three and not even a lock from week-to-week.
4 (3) – Jessica Sanchez
Never forget, no matter how many times she's safe and how big the raves, that she actually got voted out once this season. These big-voiced girls just don't win this show anymore.
5 (6) – Hollie Cavanagh
Speaking of which, Hollie is definitely the second choice among those sirens. I'll be surprised if she doesn't go home next week. She's the only contestant left without a chance of winning.