'American Idol' Recap: Duets Are Great, Solo Performances Fall Flat On Movie Night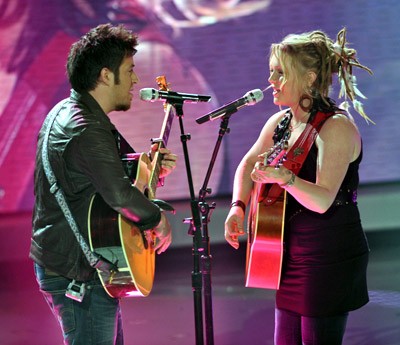 By now we all know this season of "American Idol" is a dud, and a few duets aren't going to save it.
But rather than belabor the point or add another column to the substantial list about how "Idol" may have officially gone over the hill this season (Last week's ratings were its lowest since season 1!) I'm going to give you chance to make a difference.
If you follow this link, you'll be taken to a survey where you can evaluate the season.  This survey supposedly goes straight to the producers which means you could improve the show for next year which means we'll never have to suffer this torment again!
My only suggestion is that you be especially harsh in your criticism of Kara. Because if I have to watch her make one more critique about nothing more than calling attention to herself my body is going to explode. And I'm sure you don't want that. Right?
Anyway, let's recap the actual show, shall we?
Random Thoughts While Waiting for the Actual Show to Start
Y'know, there's always something amazing bout the "Idol" makeover patrol and the magic they're able to work.  That's never been more apparent than with Crystal this year.  Her total transformation certainly nets her the Clay Aiken prize for Best 'Idol' Makeover this year.
Great insight from Jaime to start.  He goes with "Music is the Soundtrack of Our Lives" - which is the slogan for Dick Clark's restaurants - then goes with the "These are great songs" assertion.  Thanks for that.
Hmmmm, Jamie with the T-Shirts. Melikes this time. A nice definitive way to grade each Idol - Kara could learn a lot.
And, on with the show.  .
Lee Dewyze Sang "Kiss From a Rose" by Seal
Jamie Said: Artist
Randy Said: You did nothing with that song. It was pitchy in spots.
Ellen Said: There could have been more done with the song, but you're so good.
Kara Said: The song is difficult to sing and you got lost a little.
Simon Said: That was verging on karaoke.  Tried too hard to sound like the original.
The Verdict:
An "Idol" standby from Lee - and the performance came off in that similar vein - very safe.  Just a nice middling performance that sort of rolled along.  He struggled mightily at the beginning with the softer notes - some voice cracking and major problems with being too flat - but recovered in the larger portions of the song.  His performance echoed Quasimodo with a guitar rather than bell clapper - just hunched over and a bit ashamed-looking.  Not the best Lee effort.  not by a longshot.  Just very mundane.
Grade: D+
Prediction: Did you hear those screams of adoration?  He's not going anywhere.
Big Mike Sang "Will You Be There" by Michael Jackson
Jamie Said: Contestant
Randy Said: I didn't love this for you. It never took off.
Ellen Said: It's weird that your goal is to get in the top 3. It was very predictable.
Kara Said: (Kara said she was thinking of other songs he sang. Once again, please fill out that survey and voice your displeasure for her).
Simon Said: I can't connect a whale called Willy and what you just did.  At least you gave it 100% and I felt that you meant it.
The Verdict:
I've never heard this song on the show before - and I find that a little shocking as it is a great singers song.  That is, it features the vocal much more than any aspect of the song.  This is the type of song every "Idol" should choose.
Having said that, I really don't know about this arrangement.  It almost sounds like a disco track with the way it's sped up.  I'm not sure why this was the way big Mike chose to sing it.  The result is something of a mess..  Big Mike trying to keep up and failing, while never letting his voice take hold.  It was kind of like somebody trailing in a race who trips over himself in a weird frenzy of a mad dash to keep up.
Grade: D
Prediction: Simon may have just saved him from certain doom. He'll still need to do well on his duet though.
Lee & Crystal Sang "Falling Slowly" by Glen Hansard and Markéta Irglová
The Verdict:
Randy Said: What a difference a couple of moments makes. That could be a hit right now.
Ellen Said: God, that was great!
Kara Said: One of my favorite moments of the entire season.
Simon Said: I don't know that I'd call that a good song. I'd call it a fantastic song. (Yes, that's true - but what about the performance, Simon?)
Well, you can't go wrong with this song.  Nope, a couple of monkeys could sing this and it would be great.
I'm not sure I need to say much beyond that. This was going to be very good no matter what, but hats off to the power anthem arrangement and Lee's vocal in particular.  Well done all around.
Grade: A
Prediction: That probably just put them both in the final two.
Casey James Sang "Mrs. Robinson" by Simon and Garfunkel
The Verdict:
Jamie Said: Artist
Randy Said: It was kind of a cool laid-back version of the song.
Ellen Said: I wish you would've gone further with changing the song.
Kara Said: (I have no idea what Kara said. again, dear readers, the survey.)
Simon Said: I didn't think the song or the the performance had the substance required for this night.
Casey James channeling Tiny Tim with the ukulele and the seat amongst a bunch of fans. Well, his voice is certainly better than Tiny Tim, but that's about all we can say about this performance. Just another dull effort out of Casey, like somebody had forced him to sing his least favorite song and he's trying to get through it as quickly as possible.  The arrangement isn't bad, but it would have been nice to see Casey sell it even one iota.
Grade: D
Prediction: Looks like it's either mike or Casey.  their duet may decide it.
Quick Commercial Tangent: If you are over the age of eleven and are not taking somebody eleven or under to see the movie and you go see "Marmaduke" I don't think you should be allowed to vote in general elections anymore.  Seriously, I would love for there to be a government official outside of every theater with the sole duty of stopping people over the age of 11 and asking them to produce proof that they're there seeing the movie with a kid.  If they aren't there go your voting privileges.  Just my way of improving America.
Crystal Bowersox Sang "I'm All Right" by Kenny Loggins
Jamie Said: Artist
Randy Said: It wasn't my favorite performance, but at least you tried to switch it up.
Ellen Said: I think you took the song and make it better. (No, she didn't. No she didn't at all)
Kara Said: I agree with Ellen. You made the song better. You're an artist. (Once again: no, she didn't and no, she isn't)
Simon Said: You are back in the game.
The Verdict:
This actually sounded a lot like what I imagine a Lindsay Buckingham version of this song would be.  Except that it was remarkably phony.  It was exactly like this: You're at a coffee shop.  You've just suffered through the fifteenth Jeff Buckley song in a row and then suddenly someone comes up and says, "I'm gonna mix it up, everyone."  So they rip into a folked out version of "Parents Just Don't Understand" and everyone congratulates themselves on the irony they just witnessed while applauding its musical merits.  This was almost the same exact thing as Crystal performed with a look on her face that seemed to be saying, "Remember, I'm credible. Please think I'm credible!  Please!"  You're not and it wasn't.  Sorry Crystal, I just don't buy it.  Stay in your lane.
Grade: C-
Prediction: Seemed the judges and the audience disagreed with me. I imagine America will as well.
Big Mike & Casey Sang "Have You Ever Really Loved a Woman" by Bryan Adams
Randy Said: You guys sounded really good.
Ellen Said: As a matter of fact, yes I have loved a woman. (All right, Ellen. That comment almost made your inclusion on this show worthwhile - Kind of your Kara in a bikini moment).
Kara Said: The duets were incredible. They were better than the solo performances.
Simon Said: Let's give Jamie's Artist T-Shirt to the duets. That was great.
The Verdict:
Hey, Big Mike took my song suggestion! Kinda.
Since this was essentially a battle between the two to see who's stay, I have to review this performance with that in mind. And, strangely, I have to say that Casey did better. Stupefyingly, he seemed more connected to the song than Mike, and his voice was better as well. Plus, you can't beat his skills on the guitar.  I have to give the edge to Casey here.
Overall, it was pretty good too.
Grade: B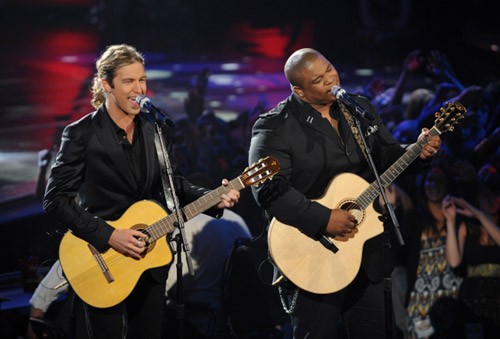 Final Thoughts:
Wow, that was just tortuous.  When a C- is the best individual grade the contestants can muster you know you just suffered through a bad night.  Thank goodness for "Falling Slowly", though I can't give them tremendous credit, because I could have dueted on that with my vacuum cleaner and it would have still been good.  It's just that good of a song.  And the vacuum would easily be the stronger singer of that duo.
As for the predictions, I think I detailed it above, but I'll do it one more time: Big Mike, adios. That means we're one Casey away from a Lee/Crystal final.