'American Idol' Recap: Dexter Roberts Goes Home In A Shocker + Power Rankings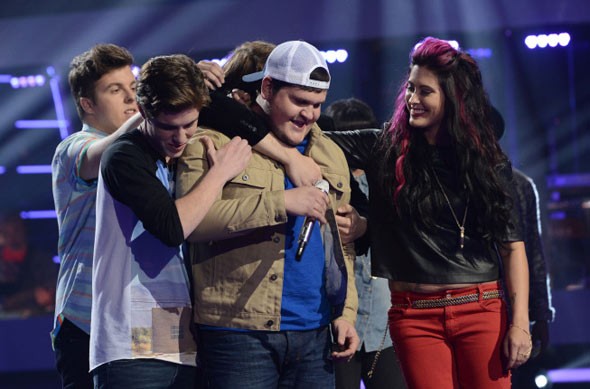 Well...this is embarrassing. It seems the Power Rankings have become about as useful as one of Keith's comments.
Yes, this season's favorite, Dexter Roberts, went home last night in a result that left me flabbergasted. He was a guy with a guitar. He sang country. He clearly was more popular than Sam Woolf who'd already been voted off previously. How exactly does this guy go home so soon?
It's a mystery that shows this series is getting more unpredictable. Likely spurred by the lack of unified voting base - it's not just tween girls texting, it's likely that weird middle-aged guy with a moustache who voted for Dexter that's making up the normal voting group this time around - and who the Hell knows what those guys want?
Certainly it wasn't Dexter, and that really shouldn't be as much of a surprise as it was. Dexter was boring. He was one country twang-fest after another as he spiraled into nonsense mediocrity. We've seen dozens of times before the act without versatility wear thin because it just becomes boring to vote for the same exact act each week - Scotty McCreery notwithstanding.
So we're in a brand new world here on the results recaps. With nothing else to talk about from last night's show (Again, no music - just Kevin Bacon and his odd middle-aged hipster hair to introduce the show for some reason), let's just get on to some topsy-turvy power rankings, where nothing is any longer as it seems...
Power Rankings:
1 (Rank Last Week: 2) - Alex Preston
With Dexter gone, I think this show has become Alex's to lose. He's got the guitar thing down to a science and is actually the best contestant on the show by a fair amount. Could we finally get a contestant to win who's also the most deserving? Blasphemy!
2 (3) - Caleb Johnson
Caleb may be a bit high here: I think he may be the next Dexter Roberts in that he wears out his welcome with too many similar performance. He did survive the leadoff spot on a two-hour show, though - so clearly anything's possible for him.
3 (6) Jena Irene
I'm now officially a Jena believer after her performance of "Creep" and think there's even a chance she could win this show. A girl getting through the rest of these guys seems tough, but if she delivers like she did this week, I don't see its being impossible.
4 (4) - Sam Woolf
Common sense would say the cute kid who's improving will ultimately come out with the prize on this show, but I can't get over the fact that he's been voted off once already - It'll happen again.
5 (5) - Pink Hair
Pink Hair went country and...hit the bottom two for the first time all year. Maybe this is just an anti-country crowd? Or maybe Pink Hair's on her way out.
6 (7) - CJ Harris
CJ missed the bottom two this week. It won't happen next week - he's got to go home then. Right?