'American Idol' Recap: DeAndre Goes Home + Power Rankings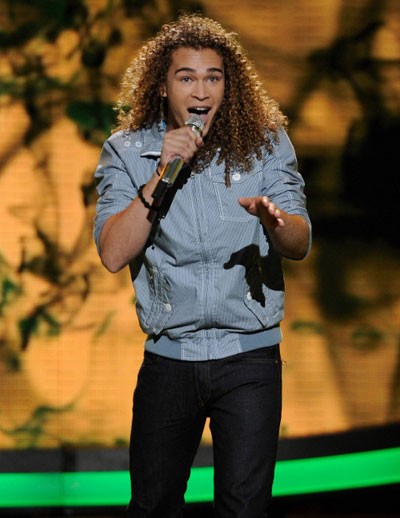 When I don't predict it, I get it right. All year I've been saying that each results show would be DeAndre's last. He never seemed to get traction, he was never very good, and he just didn't stand out. I never saw him sticking around, yet, every week, he kept surviving.
Well, no more.
Fake Terence Trent D'Arby is finally hitting the road. Which means we no longer have to struggle to understand why J-Lo loves him so much and the other judges tolerate him. I never got DeAndre. I thought he was too young. Too inexperienced. Like he was a kid impersonating a soul singer. Because that's what he is.
It's no wonder I always had him at the bottom of my power rankings. Well, no more. That honor goes to…
Power Rankings:
1 (Rank Last Week: 1) - Phillip Phillips
Everybody swooned just at the sight of his brining his brother onstage. That was it. It's clear he can do no wrong.
2 (2) - Colton Dixon
I'm starting to waver a bit on Colton as a top-two lock. He's a bit too emo. A bit too creepy. A bit too not-enough-of-a-cute-guy. He's certainly not on the level of Phillip on the last spot. I have him here at Second, but barely.
3 (3) - Skylar Laine
I was ready to drop Skylar after her bottom-three trip last week as she was beginning to seem like a performance-repeater, and they usually go home because it gets boring to vote for them. After this week, as she totally changed herself up, I now have her firmly at three. Almost moved her to two.
4 (4) - Joshua Ledet
He's clearly the best on the show, but when was the last time the best singer actually won? Especially when that singer is a soul guy that doesn't appeal to the vote-texting set. I think he's going to get the judges' save. Then he'll lose a week or two later.
5 (5) – Jessica Sanchez
She's kind of the stand-out at this point, but we've seen this happen so many times where the big-voiced girl goes home too soon. It's going to happen to her too. She's just not going to win.
6 (6) – Hollie Cavanagh
Hollie's getting worse each week and the judges have now totally turned against her. It's going to be too tough for her to shake it off enough to last around a few more weeks, let alone win.
7 (7) – Elise Testone
I think tonight was the last time Elise survives the bottom three. There's just not enough people left for her to vault the next time she's down there. I'm not saying she's next to go, I'm just saying her next substandard performance is her last.