'American Idol' Recap: Curtis Finch Jr. Stands Out In Top 10 Men Semi-Final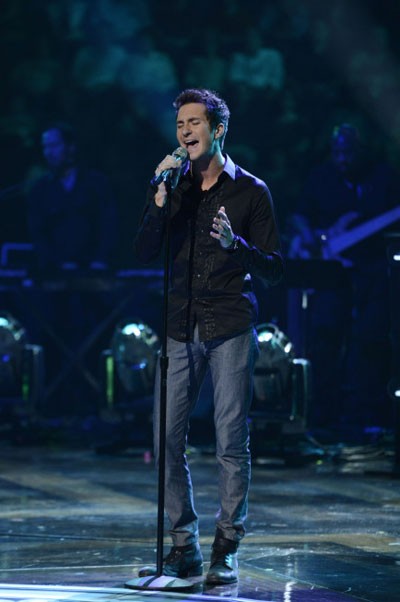 Paul Jolley Sang "Just a Fool" by Christina Aguilera with Blake Shelton
Keith Said: I think you could ease a bit into it a little more.
Nicki Said: I thought it was a solid performance. I didn't have a problem with it.
Randy Said: The beginning was amazing, but you strain a bit when you try for the big stuff.
Mariah Said: You have a very strong instrument, but you're a bit too theatrical.
The Verdict:
Jolley's been an easy punching bag thus far with his ridiculous clown smile and terrible performances, but this one isn't quite ready for his usual beat down.
Here, Jolley comes out with a cool country tone that fits this song so well. This didn't seem like his lane in previous performances, but now maybe he's found a little niche he can hide in until he gets voted out in about three weeks.
He's not long for this world because he still has trouble maintaining his control and hitting those big notes and he's still about as gawky as somebody in need of a pocket protector when he tries to strut around the stage a little bit.
Still, this one wasn't so bad. Even if he does want to be the male Taylor Swift.
Grade: C
Prediction: He's right on the verge. If the country voters come for him, he'll be fine, but he may not have really won them over with this performance.
Lazaro Arbos Sang "Feeling Good" by Nina Simone
Keith Said: Everyone starts to connect with you as soon as you start singing.
Nicki Said: I loved it. I love you. It's almost like you got an album out already.
Randy Said: He thinks he's in it to win it and he is!
Mariah Said: I felt like this song was a bit too low for you.
The Verdict:
He can't sing. He sounds like a drag queen performing a burlesque routine. He looks like a lounge singer from a lost episode of 'The Love Boat'. He hits a few good notes, but they get lost in a ton of bad notes because he can't control his instrument.
This kid just doesn't have it. Even if the audience screams for him like he's Ricky Nelson every time. Of course, Ricky Nelson would still be more current.
Grade: C-
Prediction: The audience loved him. The judges dug him. He's safe.
Curtis Finch, Jr. Sang "I Belive I Can Fly" by R. Kelly
Keith Said: We just had a sermon in Vegas!
Nicki Said: You raise the bar every single time.
Randy Said: The competition started right here.
Mariah Said: Thank you for that performance.
The Verdict:
The one serious singer among the boys came out and showed again why nobody of the male persuasion can touch him in this competition. He's a pro playing a game with a bunch of amateurs. And some novices.
Curtis is basically Gerald Levert. He's to that simple little soul voice that he just works the sex out of in every note that he sings. He knows how to connect to a song. He knows how to let a performance develop. He just flat can sing the crap out of whatever he chooses.
If anybody's going to spoil the producers' plan to have a girl win this year, it's this guy.
Grade: A-
Result: He can't possibly go home after that.
Devin Velez Sang "It's Impossible" by Perry Como
Keith Said: You are such a good good singer.
Nicki Said: I thought it was muy bien. Perfecto.
Randy Said: I love this dude!
Mariah Said: That performance was incredible.
The Verdict:
An 18-year-old kid in 2013 with one shot to make an impression on America in a nationally televised singing competition chose to sing a Perry Como song. It doesn't matter if he was good or not (He wasn't. At all), that song choice is just completely inexcusable. Even if he try to contemporize it a bit by switching to Spanish half-way through. (Okay, that part was kinda good, but still…Perry Como!?
Grade: F
Prediction: With that kinda love near the end, he's definitely safe. Hopefully he'll choose something by an artist born after World War I next time.
Vincent Powell Sang "End of the Road" by Boyz II Men
Keith Said: I felt like tonight nerves got on top of your talent, but you can sing like .
Nicki Said: You wasn't sitting on it right tonight.
Randy Said: It wasn't one of your best performances, but you're one of the best singers in this.
Mariah Said: For me it was beyond. I want America to vote for you.
The Verdict:
Vincent has himself a little problem. He's got somebody in the competition who does everything he does a little bit better. He just can't touch Curtis and they're basically the same type of singer in the same genre.
He tries. Wow does he try. He flashes some great runs, he moves like he owns the stage, there's nothing bad about what he's doing. He's just not as good as Curtis and having to follow him just won't ever work out for him. He'll always seem like the opening act, and that's where he needs to be: Before Curtis.
Tonight, he maybe tried a little too hard, but the performance was still pretty solid and he made it clear he's got a huge massive ball of talent with which to play. Just not as big as Curtis'. (Wow, that sounded bad. Time to end this.)
Grade: B-
Prediction: The judges were lukewarm at best. In the pimp spot, it's a toss-up for Vincent.
Final Thoughts:
Curtis. That's all that really needs to be said about the guys' night. It's Curtis and everybody else. If the producers are trying to stack the deck in the girls' favors, last night proved they did a great job as nobody but Curtis really deserves a spot in the top ten.
There will be four more though, and this is an exceptionally easy choice. Clearly Devin, Lazaro and Burnell are in. They had the perfect combination of judge love and audience screams that always presage a quick scoot to the top ten.
That leaves but one spot and while it's kind of a stretch, Elijah looks set to come all the way from the first one-hole to the top ten thanks to his being kind of this year's cute guy with the guitar despite not having the guitar.
The producers better hope he doesn't pick up a six-string or their hopes of a female winner may be dashed.