'American Idol' Recap: Curtis Finch, Jr. Exits + Power Rankings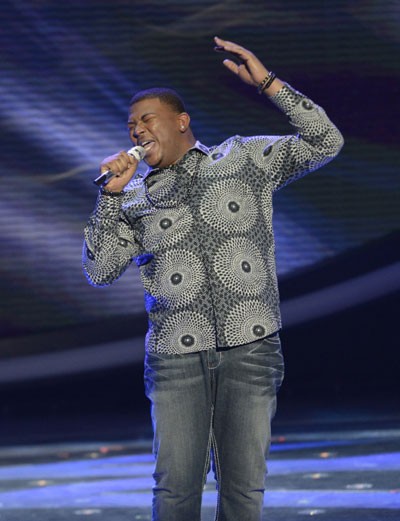 One week in and the producers' definitely got their wish.
This season it's very apparent that the creators of 'Idol' and all concerned behind the scenes are desperate to get off the Cute Guy With Guitar treadmill and finally get a female back to the top of 'Idol' mountain for the first time since Jordin Sparks beat that beat box guy so many years ago.
The producers only had one real problem in their quest for a winner without a Y Chromone: Curtis Finch, Jr. – the best male singer by far. His smooth soul voice and slick stage presence may have been enough to spoil the ladies' party, and the producers were going to make sure that didn't happen.
How? Stick him first in the first week. The one week where leading off makes a singer the most vulnerable. Stick him in a shirt that looks like it was made out of a couch from a Restoration Rake's sitting room. Don't wait for his biggest champion (Nicki Minaj) to get unstuck in traffic before he goes so she's not there to give him high marks.
Crying conspiracy is a bit over the edge, but with all the coincidences happening in order to eliminate the best male singer, it's hard to think some sort of game was afoot in seeing Curtis' ouster. It's a shame to see him go, as a very shallow season just lost one of its few reasons for tuning in each week.
Last night's show provided very few reasons to check out the results show. Even if we got to see Charlie Askew sing an original song and actually sing somewhat decently, there just wasn't a whole lot of fun to be had. Yes, Phillip Phillips and Bon Jovi don't really cry fun. Unless of course you're a 45-year-old mom from Nebraska, then this was probably the night of your life!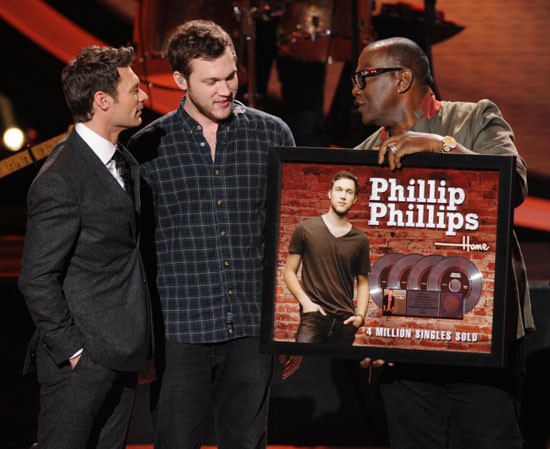 Ugh. Let's just get to the power rankings.
Power Rankings:
1 (Rank Last Week: 1) – Angie Miller
She made the top three ('Idol' actually released the full voting order, actually stealing from 'X Factor' – more on that later) and hasn't shown a flaw yet. The only reason not to think she's going to win at this point is a few other girls raising their games to catch up with her.
2 (5) – Candice Glover
The number one contender after a stunning bit of soul domination this week. She's got the chops to be a winner. Of course, Jennifer Hudson and Melinda Doolittle can tell you just how far those big soul chops get you on this show.
3 (7) – Kree Harrison
Separating herself further from Janelle as the top country cowgirl this season, Kree should see a pretty easy ride into the final four. She probably doesn't have the charisma to overtake Angie, but in this genre she could get enough support to topple the favorite.
4 (2) – Devin Velez
He bottom-twoed this week, but he may have just skated through on the worst performance he's going to give this season. Of all the guys, he's the one most likely to carry the young female voters who dominate this show. He's going to have to really improve if he wants to rally that base to a win though.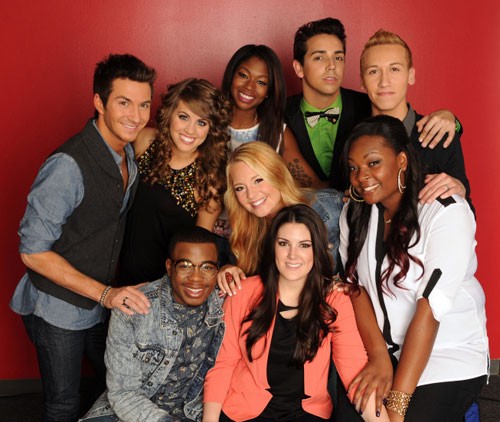 5 (10) – Amber Holcomb
A few years ago, I called Scotty McCreery the first out and look where that got him. This year, it's Amber's turn to prove me wrong. She got the pimp spot in week one and that's not going to happen again for awhile so she's got her work cut out for her there, especially when it comes to needing to unseat Candice as the top female soul singer. And Angie as the best singer overall. The judges were effusive last week, but she's going to need to continue to be perfect to take a crack at the top three.
6 (3) – Lazaro Arbos
At this point, it's clear Lazaro flat can't sing so that's going to doom him eventually. However, he's got Vote for the Worst behind him, and that's likely to carry him through a few more weeks at least. He can't really win though. Can he?
7 (6) – Paul Jolley
The country guy gave his best performance so far this season and…ended up in the bottom three. Even the genre doesn't seem like it's going to save him. It's just a matter of time.
8 (9) – Janelle Arthur
Another country singer, another low vote total. She just can't compete with Kree and will likely only last another couple of weeks.
9 (8) – Burnell Taylor
The producers' likely next target and I honestly don't really remember his performances at all from week-to-week. None of that's a good sign.
Voting Order:
1-3. Kree, Candice, and Angie in an unknown order
4. Lazaro
5. Amber
6. Janelle
7. Burnell
8. Paul
9. Devin
10. Curtis