'American Idol' Recap: Contestants Take On Country And Rock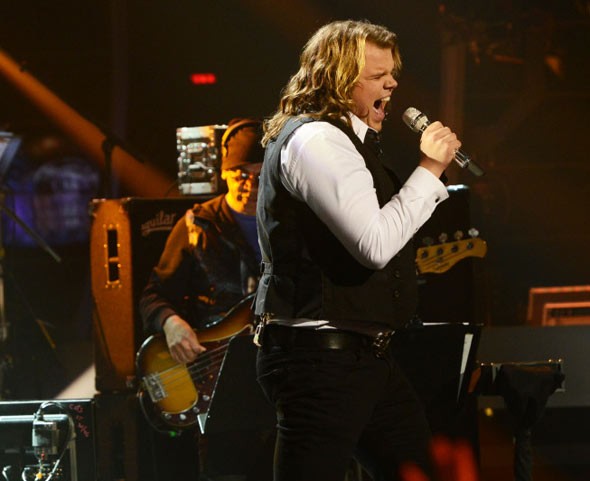 It's one of the biggest weeks of the season on 'Idol' as the contestants finally get to stop singing those atrocious duets and group numbers and, instead, get two solo shots to wow the judges and the audience.
In the first night of doubles, the contestants took on two different genres: First rock and then country.
ROCK
Jena Irene sang "Barracuda" by Heart
Keith Said: You set the bar really high.
J-Lo Said: Anything extra you can do to really complete your performance is what's going to help you win.
Harry Said: You have such a strong voice and it's such a perfect match for that song.
The Verdict:
Pretty solid rocker her from Jena. Nothing spectacular like last week, but she definitely sounded authentic singing a classic rock radio staple.
The one odd takeaway from the performance was her dueting with her backup singer. Never a good idea to allow yourself the possibility of being upstaged by somebody 20 feet from stardom.
GRADE: C+
Sam Woolf sang "It's Time" by Imagine Dragons
Keith Said: There was a gravitas and a weight about your performance.
J-Lo Said: I got goosies on that one.
Harry Said: It was a perfect song choice. I could hear you singing that on your record.
The Verdict:
Singing Imagine Dragons is never a good idea. It's boring garbage music that doesn't feature vocally or do anything but bore the audience.
Sam may have done it one worse with a pretty mundane vocal delivered with the aplomb of somebody being forced to sing the Hellman's jingle in a ransom video.
His voice is atypically flat as much of the richness in his tone seems absent and his forced clapping doesn't undo just how wooden and lifeless he is on this tune.
Though, I suppose it fits the song choice.
GRADE: D
CJ Harris sang "American Woman" by The Guess Who
Keith Said: Think about somebody you're angry at and you'll have a place from which to sing that song.
J-Lo Said: I really think you did pull it off.
Harry Said: I think it was a good song choice, but you still struggle with singing in tune.
The Verdict:
CJ's always had a lot of sides - he's a little soul, he's a little country - now he's a helluva lot rock 'n' roll.
He sang a pretty dead-on Lenny Kravitz version of this song, but put a cool groove to it that made it his own more than seemed possible when the song choice was announced. CJ was a legit guitar-wielding rock star on this performance and was more comfortable and effortless than he has been on any of his gravel-digging soul choices.
GRADE: B
Alex Preston sang "Animal" by Neon Trees
Keith Said: I just wanted you to release a bit more. You weren't quite dominating.
J-Lo Said: It felt like there was a little bit something missing.
Harry Said: It wasn't your best but it proved you could do an upbeat song.
The Verdict:
It's a wise choice for Alex to mix it up and go for something electric after his string of Damien Rice performances.
Even more wise as he pulled this off as well as he had his acoustic tunes. Almost.
There's definitely a level of comfort Alex gets from stripping his songs down and kicking his leg up while he stares at his shoes to draw in the crowd. Here, he's a little more shouty and a bit out of his element - a bit too much like a high school kid rocking his talent show - but, since it's Alex, in a way that absolutely lights the room on fire.
Also, staying straight on the record is a disappointment from somebody who does such an excellent job reworking songs every week.
But it's still Alex so it can't be bad - it just wasn't up to his usual par.
GRADE: B
Caleb Johnson sang "Sting Me" by The Black Crowes
Keith Said: Despite that big crack in the performance, you spackled right over it, my man.
J-Lo Said: That was some real rock 'n' roll...stuff right there.
Harry Said: When you take a perfect song choice and couple that with an excellent performance, it's virtually impossible to beat.
The Verdict:
So it's unclear if this was an audition to be the next American Idol or to take Chris Robinson's place in the Black Crowes should the time ever come.
Caleb's got a great mix here. He's a little bit authentic, he's a little bit old-school, and he's a little bit Jack Black in 'School of Rock' in that he's holding nothing back while exploding with endless energy to spare.
Caleb's been pretty repetitive on this show so far this season, but this was a new gear of his usual act.
GRADE: A-
Pink Hair sang "Somebody to Love" by Jefferson Airplane
Keith Said: I'd still like to see more release.
J-Lo Said: You want the energy of your body to match what's coming out of your mouth.
Harry Said: You stood and sung and delivered rhythmically. It was strong.
The Verdict:
This is a big-time Vegas tribute act performance from Pink Hair. She'd be right at home somewhere on the strip on in some nightly show I can only assume they have at The Rock 'N' Roll Hall of Fame, singing old tunes and making people with too much money feel nostalgic for when they had none.
There's just no originality or authenticity here. She's doing an impression of a rock vocalist rather than becoming one in her own right. Her vocals certainly aren't bad, they're just boringly above average.
GRADE: C-