'American Idol' Recap: Colton Dixon Goes Home In A Mild Upset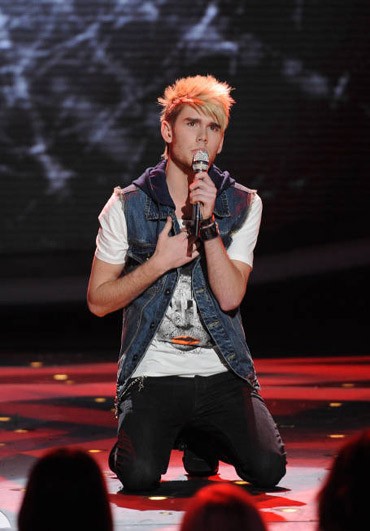 When is a surprise not actually a surprise?
Last night's "American Idol" elimination was a shocker on paper: A seemingly popular contestant with a big following goes home after never being in the bottom three before. Colton Dixon had the look, the girl voters, the piano, and all you'd expect to make a deep run and then he's out at seventh.
Yes, this should have been a major upset. Except for the fact that he was horrible last night. Yes, nobody is truly safe on 'Idol' (Unless you have same first and last name this season) and Colton proved with his early elimination that voters always seem to go week-to-week.
So when is a surprise not actually a surprise? When an emo crazoid butchers Lady Gaga with a bizarre performance and then absolutely buries a bundle of joy from Earth, Wind and Fire. Yes, it can disappear that quickly on this show, and Colton definitely sealed his fate with those two duds.
Still, this is ostensibly a surprise. It's not very often that somebody goes from never being in the bottom three to out all at once, so I guess we should take a moment to reflect on the fact that 'Idol' can still deliver a few upsets from time-to-time. Even if they're not really upsets.
So, remember, no matter how high up I have them, nobody is truly safe…
Power Rankings:
1 (Rank Last Week: 1) - Phillip Phillips
It's almost becoming unnecessary to support this from week-to-week. Phillip is simply this year's winner. And he's actually improving. That's a mortal lock situation.
2 (2) - Skylar Laine
Skylar is getting better and winning favor with the judges and Jimmy. Plus, she's in the country wheelhouse that garners so many votes on this program. And she has it all to herself. I think she's in the final two with a chance at this point.
3 (3) – Jessica Sanchez
The "Critic's Darling" of this year's show, Jessica had the hiccup last week but now has more buzz on her side. The judges kind of grade her unfairly and Jimmy has gone off the reservation with his criticisms of her, so that can hurt, but I think all the positive notoriety she has surrounding her is going to carry her for awhile, and if she can live up to the hype, she's actually a threat.
4 (5) - Joshua Ledet
Joshua hit the bottom three last week but showed his ability to wow the audience enough to avoid it in a shallow field this week. He's the best on the show, and that should count for something. Too bad it seldom does.
5 (6) – Elise Testone
Speaking of, the least popular contestant left just barely avoided another elimination but couldn't keep out of the bottom three. She's going to have to be perfect just to survive each week, let alone make a deep run. I think it's more likely that she's the next one out.
6 (7) – Hollie Cavanagh
The pint-sized vocal wunderkind just keeps hanging on. She's now gotta go up against five contestants who are clearly more popular than her. I don't think she has the ability to go head-to-head, week-to-week with who's left.