'American Idol' Recap: CJ Harris Goes Home + Power Rankings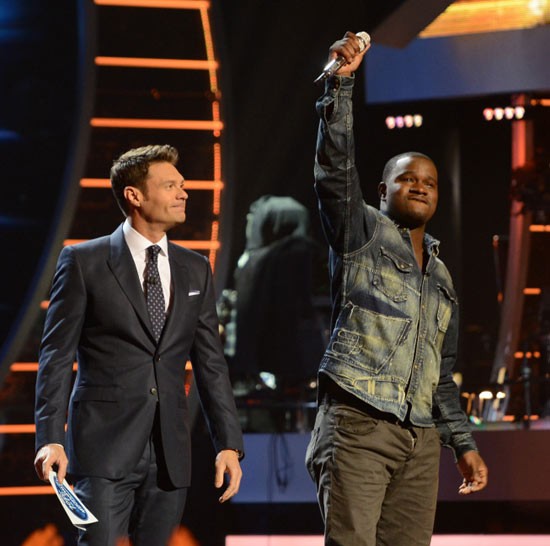 It happens every year, and this year an annual dubious honor falls to CJ Harris.
CJ's unique archetype is quite simple: The performer who seems insanely talented in the early running and then ends up boring, repetitive, disappointing and out before the top five.
The best example ever of this was Andrew Garcia who, on season nine, delivered a version of 'Straight Up' by Paula Abdul that was so good he seemed like the winner after Hollywood Week. After that, he got lost in a string of bad covers, boring performances and the judges continuing to bring up his one great performance.
CJ is this year's Andrew Garcia. After the early rounds, he appeared to be the rich man's Ray LaMontagne with some extra soul and flavor thrown in on top.
Instead, he was a poor man's LaMontagne imitator, and one without a real musical voice of his own. CJ flitted between styles and never mastered any. Instead, appearing sonically lost as he shuffled through Harry's comments on how good his ears were without every hearing the tips that would have ultimately improved his performances and helped him live up to his initial promise.
Instead, he ends up in sixth - right in the middle. Pretty fitting for somebody who turned out to be a pretty forgettable 'Idol' contestant.
Power Rankings:
1 (Rank Last Week: 1) - Alex Preston
This is one of the haziest years in recent memory. Alex seems like a favorite, but it wouldn't be surprising to see him going home after any week. It's a pretty diverse group of singers and performers left on the show, but I'm going to stick with the most talented guy, especially when he's playing guitar, to end up winning.
2 (2) - Caleb Johnson
Mr. Consistent seems incapable of giving a bad performance. He's also so consistent that he's incapable of giving a performance that's any different from the previous week. That sort of repetition typically dooms contestants after awhile, and he'll need to do something different to overcome that for a win in the end..
3 (3) Jena Irene
Jena's looking like the sure bet for finishing runner-up in this competition. Almost every year one of these guys with guitars won, there was a big-voiced girl next to them at the finale, scooping up the fewer number of votes after the texting is done. That's Jena's fate this year. Count on it.
4 (5) - Pink Hair
Pink Hair keeps surviving and her early popularity foreshadows some voting goodwill to come down the road, especially now that all her country competition is gone with Dexter and CJ's ousters in consecutive weeks. To picture her winning is a bit crazy though.
5 (4) - Sam Woolf
Sam was a clear favorite early on as he fit the archetype so completely of the guys who usually triumph on this show, but he's really starting to seem out of his depth at this point and won't last much longer. He certainly won't overtake the guys at the top.