'American Idol' Recap: Casey Goes Home On Homecoming Night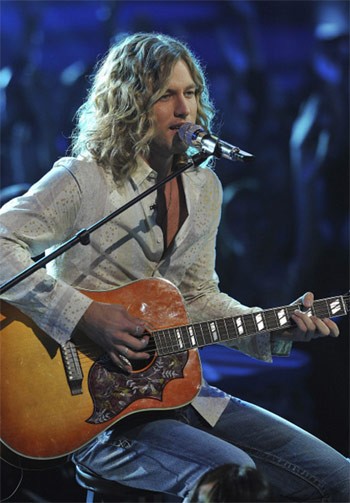 On Tuesday I completely lost faith in "American Idol".
It wasn't hard to do.  When we watch the producers, judges and everyone else involved clearly favoring two contestants with enhanced production values and raves entirely without base, it's only natural to become a bit jaded about the real purpose of this show.
Then there are nights like last night which reaffirm what makes this show great – how, like how they do it or not, "Idol" plucks people out of obscurity and makes their dreams come true.
The journey home episode always hammers this aspect of the show home.  While these contestants are more or less in a harried cocoon the entire time they're on the show, this episode lets them back out into the wild, and among there fans.  More than that, we see where they came from and where they now are at the same time.
Be it Lee Dewyze welling up at his old paint store, Casey James getting what had to be his entire hometown to fill up a high school football stadium, or Crystal singing a hackneyed original tune at "BowerStock", it's hard to ignore the star making power of this show.  Even if the show doesn't always choose its stars based on merit.
The Results
Again, it's no surprise that Casey went home last night.  No matter what he did, the judges were dead set on taking down his performance and raving with passion about whatever Lee and Crystal did.
So try as he might have, Casey is now only a few weeks away from touring Honky Tonks across the Southwest.  Though something tells me he's completely happy with that result.
The Performances
I have no idea who this Travis Garland is, but it seems Perez Hilton discovered him.  Sounds like somebody's making an early push for Simon's job.
Perez introduced him as being better than Justin Timberlake.  Well, that wasn't anywhere close to being true, but Garland is certainly a tremendous dancer.  He also gets bonus points for definitely not lip synching – as nobody would make a final recording of that vocal track.
Then there was Bieber on tape.  His two songs and two performances basically mirrored his efforts on "SNL" with the added twist of a drum solo at the end.  Tiny Canadian Phil Collins?  Who knew?
The Power Rankings
This is easy.  Lee is going to win and Crystal is going to finish second.  End of power rankings.