'American Idol' Recap: Casey Gets Saved + Power Rankings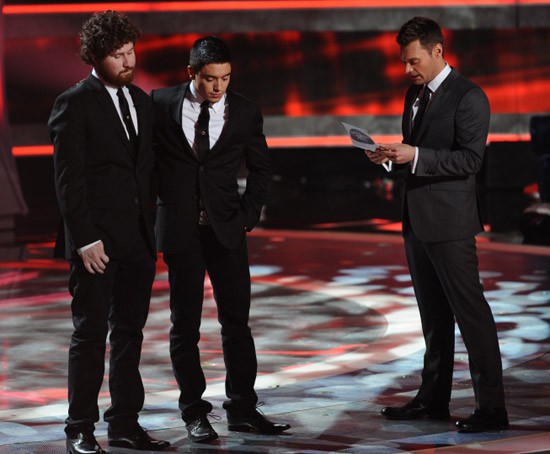 I knew it was coming, but it still twisted my stomach when it did.
Last night, I thought my 'Idol' nightmare was over. I thought we were rid of the overrated self-indulgence factory that is Casey Abrams. I thought I wouldn't have to see why having a beard makes you an artist, why being herky-jerky gives you credibility and why not picking pop songs gives you a sense of musical depth that would make James Murphy jealous. I thought I wouldn't have to write a single word about that any longer, but I couldn't help but think that as he sat in the bottom three that the judges would save him no matter.
Sure enough, they did, and I have to put up with this nonsense for a few more weeks.
Now this may sound like I hate Casey, but that's not true at all. I've never met Casey, he seems like an affable fellow, I'm sure we'd get along and I'd probably like him. What I can't take is people being overrated. I just cannot stand such an egregious misperception of a person's ability or an item's quality. It's why I cannot stand how Derek Jeter is perceived (no range, no power, hits for average, that's about it), or the reception of 'Little Miss Sunshine' (solid comedy, a B or B-, no reason it should have won all those awards and been nominated for Best Picture) and it's why I took to writing 'Overrated/Underrated' columns for this site for the better part of a year (and why it may now be time to bring them out of retirement). The overrating of anything immediately makes me think less of it, and colors my perception a decided shade of "meh".
And that's what has happened with Casey. Don't get me wrong, Casey's got a decent voice, a cool tone and some musical ability. He's just not Thom Yorke or Noel Gallagher, though I swear every time he gets up on stage the judges would swear he was either one of those two or John Lennon – they just can't make up their minds.
Either way, he'll be around for a little while longer, and I hope he takes this time to lose the ludicrous Nirvana covers, the hackneyed dancing, and become a rich man's Taylor Hicks – because that really is his ceiling.
Thoughts on Last Night's Show:
As expected, we started out with a lip-synched Motown tribute to start the show. What was unexpected was a visit from Stevie Wonder. That should have been a special moment, except for the fact that I feel like I've spent my entire lifetime watching Wonder "surprisingly" appear on awards shows, concerts and PBS telethons with his keyboard singing whichever hit his co-performers are deciding to ruin that night. It's kind of like a baseball player who signs thousands of autographs. When you sign everything, your autographed wares go down in value. That's like Stevie appearances, they happen so often that they've started to make me yawn.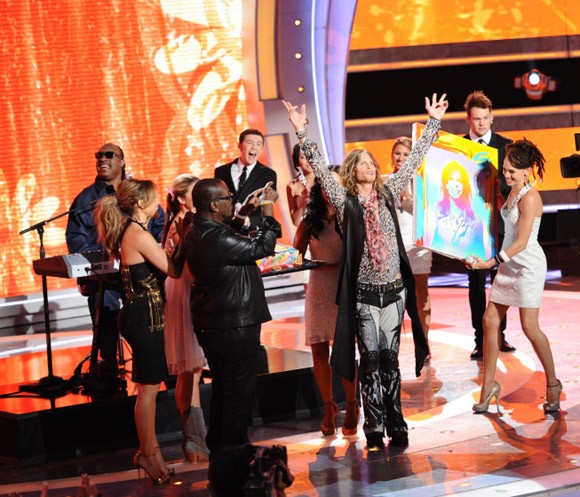 Now I've heard a lot about Sugarland, but I haven't really heard any of their music since I'm not much of a country fan. This was their coming out party to me and I'd prefer it if they stuck them back in. Really? "Stuck Like Glue" this is the cliché lyric you choose to sing about 15,000 times over a 90-minute (approximately) song? This song was something out of Sharon, Lois and Braham, with the simplistic melody to match. Needless to say, I'm not impressed.
It really shocks me sometimes when I remember that this is by far the number one show in America. Last night's episode was mostly filled with footage of grown people wrestling on couch cushions, Hulk Hogan pretending to punch Ryan Seacrest and the presentation of a psychedelic cake to one Mr. Steven Tyler. These are things that  you could find in old home movies. Couldn't they come up with something a bit more…professional to fill time? Or, I don't know, Go back to 30 minutes!
Every time I'm reminded that Jennifer Hudson won an Oscar, I'm filled with a rage that goes right back to my whole overrated rant at the beginning. Jennifer Hudson is an abysmal actress and that performance was nothing better than Midwest Summer Stock, but somehow some know-nothing critics got it in their heads that she's brilliant and overrated her to the point that she now has an acting award that Peter O'Toole still hasn't won. Still, she went up against two non-English performances in "Babel", a small child from "Little Miss Sunshine" (again, an overrated film), and Cate Blanchett in a movie nobody saw and who'd just won two years prior. I guess she kinda had to win, but I'd prefer it if they just vacated Best Supporting Actress that year.
Oh yeah, she also sang last night. And she was really pretty good.  A much more convincing diva in real life than she ever was on screen. I dug the song, and I dug the throwback vibe. Plus I really enjoyed seeing George Huff as a backup singer – he was probably my Molly Dewolf Swenson of season three. In that he was my favorite contestant that year, not that I consider him to be the most heavenly creature on the planet. That honor is all Ms. Molly's.
And speaking of favorites, let's get to the power rankings, shall we? Though not before I remind you to follow me on Twitter @paynehumor.
Power Rankings
1 (Rank Last Week: 6)  Scotty McCreery
So it's come to this. My basement dweller in week one who I said was the only contestant with a 0% chance of winning is now topping the power rankings. I feel like a fool, and Scotty has made me look like a fool by routinely giving solid performances and even skating right through Motown night. His following is growing and I think he's the one to beat now.
2 (4)  Jacob Lusk
I'm not sure how much America is catching on to this soul man, but you can only go so for so long giving what the judges keep describing as "The best performance ever on 'Idol'" before your following grows very large.
3 (2)  James Durbin
Durbin kinda feels like the favorite, right? But I just feel like his performances are continually repetitive. Enough that he'll have one bad song choice and go out early unexpectedly like Tamyra Gray or Daughtry. That's my predicted fate for the Sultan of Scream.
4 (5)  Pia Toscano
Girls have not fared well in a very long time, but I think Pia might be good enough that she's different. Not enough to make her a favorite, but enough to make her a threat.
5 (1)  Stefano Langone
Stefano's negative-charisma performance this week has me questioning his ability to make the young girls swoon. I thought that was his greatest weapon, but now I wonder if he even has that asset. Either way, I'm dropping him from the top spot.
6 (3)  Casey Abrams
He's got a big following now, but I think it's only a matter of time before his ludicrous act wears thin with voters. As shown by his actually getting voted off last night.
7 (7)  Paul McDonald
He attempted to co-opt the "guy with guitar" role last night, but I think the new rules will only allow him to do that so many times, and he didn't really make the most of it. He's quirky, but I don't think he has widespread appeal.
8 (8 & 9)  Thia Megia and Lauren Alaina
Our first-ever tie in these rankings. Why the tie? Because these two young girl singers are essentially the same person with very similar followings. I'd give the edge to Lauren except that Thia gave the best performance of them both, so I don't which way to go. One will have to go farther, but I think each has the same shot at winning.
10 (10)  Naima Adedapo
Her dance breakdown allowed her to survive the axe this week, but this competition just isn't right for someone of her ilk. Her days are numbered to as few as 7.
11 (11)  Haley Reinhart
Haley just keeps sticking around. I'm not sure how, but it won't happen very much longer. And unlike Scotty, I'm extremely confident when I say that she's the only one left with zero chance of winning.