'American Idol' Recap: Casey Abrams Goes Home + Power Rankings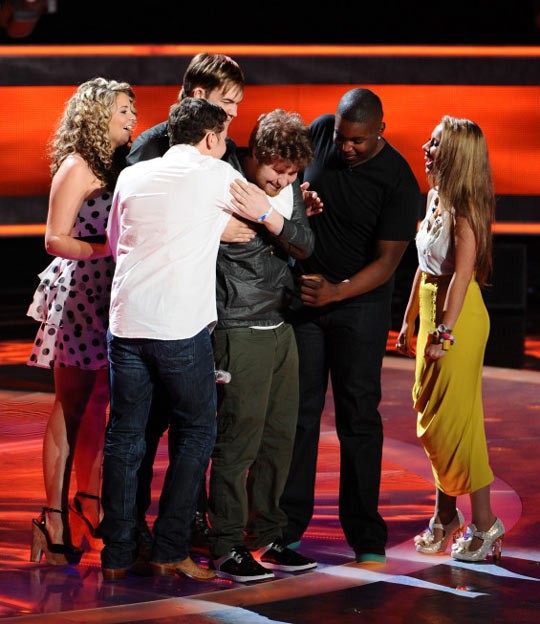 At long last, my personal 'Idol' nightmare is over.
I feel a bit bad reveling in the fact that Casey's dream died last evening. At least I would if I actually thought it was his dream. Casey's definitely a guy more comfortable dodging smoke rings in a leatherette-festooned lounge than he is on the 'Idol' stage. But why wouldn't he be on the show? No matter what your taste or style, it's hard to deny the stage. And even if it's not an opportunity Casey would necessarily want, I'm sure he's disappointed.
So should I gloat? Should I pile on Casey in the wake of his being ousted from the biggest show on television? Even if that honor probably doesn't mean that much to him? Nah, that'd just be cruel. I'll spare him one last virtual assault.
Either way, I now no longer have to suffer through one more his fake-jazz bits of self-indulgence. The performance shows just got much more palatable.
Thoughts on the Rest of the Show
One of the great innovations made by the producers this year is the way they've tricked up the results show to make it more watchable. Tonight, we got the added bonus of Jimmy Iovine critiquing the contestants' performances the evening after. If they combined that with the separate duets and performances before individual results, this show would actually be something I look forward to watching.
It's only fitting that last year's Casey, Crystal Bowersox, would come came back the night of Casey's departure. I felt my 'Idol' anger coming full circle when she took the stage, but something strange happened when my nemesis of last year sang her new tune – I kind of dug it. Sure, it was watered-down wannabe 60s garbage, but it was pleasant watered-down 60s garbage with a half-decent hook. Plus, I always love me some slide guitar.
Also, Bruno Mars rhymed the words "Snuggie" and "The Duggie" That is all.
Let's get to the power rankings!
Power Rankings:
1 (Rank Last Week: 1)  Scotty McCreery
Remember the results were "random" and Scotty was not actually in the bottom three. I'm sure they just stuck him at the end to create some extra bit of drama. Scotty's still the major favorite in this competition.
2 (2)  James Durbin
He's inching closer to Scotty – he's at least within shouting distance now. But he's going to need a whole lot more than just his signature scream to make a serious run at Mr. McCreery.
3 (3)  Lauren Alaina
If the judges keep fawning over her, she just might have a shot. Plus she's certain to get the girl vote to herself sooner or later. But all that amounts to a hill of beans in McCreery-land.
4 (5)  Jacob Lusk
I think he's the best one left, but I also think he's the most vulnerable contestant week-in-week-out. The producers don't seem to like and the judges just don't give him the love he deserves. He won't get far with that stacked against  him.
5 (6)  Haley Reinhart
She just keeps sticking around, but I still contend Haley's the one left with the worst chance to win.