'American Idol' Recap: Candice Crushes Kree In The Finale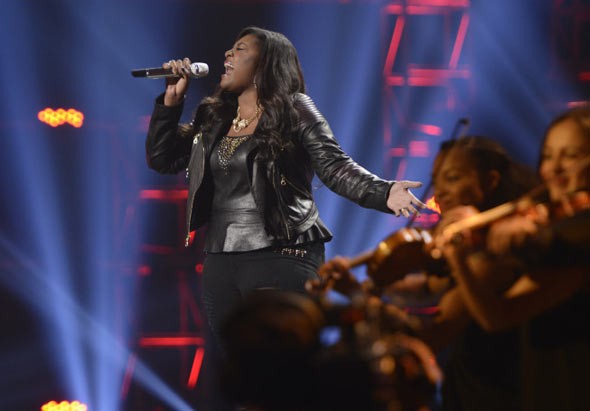 This is the finale recap that I never thought I'd write. One that didn't include Angie. One that didn't include the girl that was number one on my power rankings all year long.
It doesn't feel right. It feels like this year's victory will be tainted. Like Ang Lee's Oscar win this year after Ben Affleck's not getting nominated. That each of these girls should realistically be playing for second while Angie crushes them once again.
That isn't how it turned out, and I suppose their careers will tell if that's how it really should have happened, but, as far as I'm concerned here's how the battle for second played out…
ROUND ONE:

Kree Harrison Sang "Angel" by Sarah McLachlan
The Verdict:
I wonder why nobody bothered to wake Kree up for her performance. I mean it feels like a terrible disadvantage for Kree to be forced to sing this song while still snoozing in her hotel room. Surely this has to be some sort of rules violation to for her into somnambulism onstage.
Wait? She was actually awake? Her eyes were complete open and her body wasn't in a state of complete slumber?
Completely confusing because that performance was about as boring as…well…a Kree performance. Even she seemed more disinterested than usual with her half flaccid arms forcibly attempting to make something resembling a human movement as not to trick the audience into thinking one of the holograms from the opening became self-aware and took over the stage.
So…yeah…so far we're missing Angie desperately.
Grade: D
Candice Glover Sang "Chasing Pavements" by Adele
The Verdict:
Suddenly 'Chasing Pavements' is a 70's Soul Ballad originally sung by Gladys Knight? Could've fooled me, but Candice certainly made it feel like Adele's sad bastard ballad was meant for soul glory.
Candice didn't feel the need to overpower the song here. No oversinging. No disconnected vocal gymnastics. No vacant Candice belting as the song plays in what may as well be another zip code.
Here she flowed easily with the melody and rhythm and for the first time actually felt like she could have written the song. Or at least had heard of the song prior to performing it onstage (which we've learned is a rarirty).
This wasn't one of those big Candice blowaway roof-exploding vocals, but it didn't need to be. And the performance was actually better for it.
Grade: B
Mariah Said: Wow. I mean really. Wow.
Randy Said: I'm not sure either of these songs were the right choice, but I gotta give the edge to Candice.