'American Idol' Recap: Candice And Angela Own The Top 10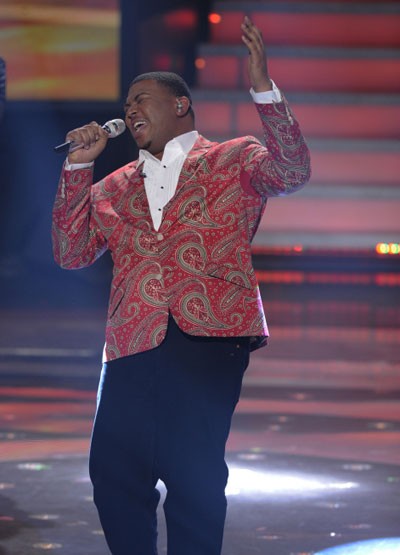 Tonight should have been the 'American Idol' producers' dream come true.
Was every performance spectacular? No. Did they manage to book a huge special guest? No way. Did Ryan Seacrest and Simon Cowell reveal they'd secretly been having an affair this entire time? Not even that.
No! Nicki Minaj was late! That means they had the opportunity do what this show does best: fill, Fill, FILL!
The possibilities were endless. Ryan could have recited a poem about each contestant, Randy could have seen how many women he could call "dude" consecutively, Keith and Mariah could have a competition to say something somewhat interesting. It was all in play. Traffic on the 101 made it all possible.
Instead the producers…started the show? That's not 'American Idol'. That's not the show that stretches a three-contestant result show into one hour. That's not the show has six contestants sing once over two hours when 12 performances would easily fit. That's not the show that spends a lot of time watching Ryan Seacrest just walk to opposite sides of the stage.
What a wasted opportunity. Surely the producers won't be able to live with themselves tonight. Let's see which contestants will suffer a similar fate:
Curtis Finch, Jr. sang "I Believe" by Fantasia
Keith Said: You've got so much personality but watch your adrenaline.
Nicki Said: (She Missed this performance)
Randy Said: A couple things were great but I would caution you to try out new things.
Mariah Said: I was glad to see you with the choir.
The Verdict:
Reviewing Curtis' performance is clearly missing the point here because his tuxedo made out of a Baroque couch is clearly the star of this portion of the show. Who knew that Ethan Allen made clothing? And such formal evening wear at that. Too bad they stopped at the jacket and didn't get to the tie, I feel like the ottoman would have made for a perfect bow to top of the ensemble. Yikes.
Oh, Curtis also sang. This was probably his worst performance so far. Just a mediocre vocal from a guy who'd been killing it every week. None of the cool Curtis runs or deep soul that had him looking ready to travel back to 1975 and make a killing selling records.
It's not that it was bad, it just wasn't the typical Curtis cool that's separated him so far this season. Now he's taken a moonwalk back towards those who he'd previously made look like they couldn't carry his mic stand.
Grade: C+
Prediction: At this point in the show, that wasn't bad enough to put him in any real danger of leaving, but in the lead off spot, he could being in the bottom three.
Janelle Arthur Sang "Gone" by Montgomery Gentry
Keith Said: You were burning it up up there.
Nicki Said: I want to hear you sing songs that show the pretty part of your voice more.
Randy Said: I don't know if it was the greatest song choice for you.
Mariah Said: I'd like to hear something that let your voice sing and do its thing.
The Verdict:
This was like somebody doing an impression of a country singer. A 'Saturday Night Live' desk piece with Aidy Bryant as a drunk country diva talking about the new pope. (Hey, free pitch, fellas).
In other words, there was simply nothing original or unique about Janelle with this performance. The typical country twang, the typical vocal that doesn't have to step an inch out of a specific lane. Just plain, boring country.
That's not to say all country is boring, it can be quite interesting. But this certainly was not.
Grade: D
Prediction: Almost a universal slaughter from the judges, but I don't think this country girl is in danger yet.
Devin Velez Sang "Temporary Home" by Carrie Underwood
Keith Said: That was not one of your better performances. The wrong song choice.
Nicki Said: To me this is you. You look like a professional and sound great.
Randy Said: I thought it was way too safe. You underplayed yourself.
Mariah Said: For the competition, this is the wrong song choice.
The Verdict:
It's unclear if it was Devin's flat missed note to start the show that threw him off, or the weirdo lighting not working with his sunglasses, but the immortal Ray Chew Live hit a wrong note on the piano at the opening of this song. For that, and that alone, Devin should be seen as a weird curse on this show that must be eliminated.
A bit harsh, but if he did leave it would certainly make it easier to keep from nodding off after the third performance. Apparently there was just far too much charisma on the stage before Velez came out because he was clearly only there to be a charisma vacuum, there was no other real use for him on the stage.
Not as a singer. No, he undermined that with several more missed notes and a terrible finale that sounded like he'd stepped on hot coals while still trying to sing. Definitely not as an entertainer because the whole of his performance was a slow walk to the edge of the stage while he stared over his microphone with dead eyes.
Jimmy praised his restraint in the opening, while that's fine vocally, restraint isn't good when it's applied to seeming like a living human being.
Grade: D+
Prediction: Mega danger for Devin. Not only did he get obliterated, but this performance was totally forgettable. That's almost certain doom on this show.
Angela Miller Sang "I Surrender" by Celine Dion
Keith Said: You're such an artist. You can take a song from any era and make it feel now.
Nicki Said: You're just to me perfection on every level. It is a thousand-billion percent on point.
Randy Said: America! The competition starts now! This girl is in it to win it!
Mariah Said: Stellar.
The Verdict:
The cute girl with the piano steps out from behind the ivory and goes for 80s diva (complete with the hair and eye makeup) and hits it right on Aquanet Nozzle.
Yes, it was a total karaoke performance. She said in the intro that she was poised to put her own spin on some parts, but that never really happened: basically the record as the record was recorded (record for saying the word record properly? Thanks Guinness).
However, karaoke can work when you absolutely own the song. Angela made it her own not by covering the song, but simply by singing it flawlessly and staying totally connected to the song every note of the way. It's like she wrote it, and it's almost impossible to make it seem like that when you sing it just like a record that's been played millions of times. Yet she did it so easily it almost felt like it was a reflex for her.
She remains the one to beat.
Grade: B+
Prediction: Completely safe.
Paul Jolley Sang "Amazed" by Lonestar
Keith Said: You just need that voice. You don't need all the other stuff.
Nicki Said: This is the first time you've stimulated my sexual appetite. I really thought you did the song justice.
Randy Said: I think it was a great song for you, man.
Mariah Said: I love that you're aware you were oversinging, but now forget about them and let yourself go.
The Verdict:
In the opening package, Jimmy correctly ripped Jolley for oversinging too much to this point in the competition and clearly he made an impact because Broadway left Jolley's veins and in flowed a little bit of authentic Nashville.
It was adult contemporary country night on 'Idol' suddenly as Jolley gave the audience a rock solid vocal that sounded fresh off the vinyl. Completely connected to the song, he never got in his own way by trying any vocal theatrics or "look-at-me" nonsense. Just a steady-rolling performance that, while safe, was exactly what he needs to do on this show.
It wasn't in the Angela Miller realm of singing basic karaoke (he did absolutely nothing with the song) and making it still feel like yours, it was more that he sounded like the lead singer of a really good Lonestar Tribute band that people would pay to see.
Okay, nobody would pay to see a Lonestar tribute band, but the point remains valid.
Grade: B-
Prediction: The judges certainly dug it. He's a safe bet to go through.