'American Idol' Recap: Caleb And Jena In The Final Showdown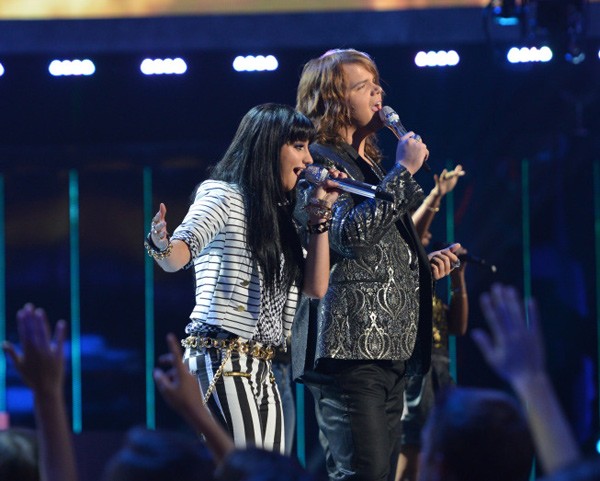 Caleb vs. Jena isn't exactly the best of 'American Idol' finales, but it certainly promised to be one of the most compelling with two very similar singers competing and neither having established themselves as the clear favorite.
So who got the better of this close matchup? Read on to find out.
Jena Irene sang "Dog Days Are Over" by Florence + The Machine
Keith Said: The way that you owned the stage is a sign of a true pro.
J-Lo Said: It was a really good start. I could see the heebie-jeebies, but you loosened up.
Harry Said: That was fantastic. I hope you put that song on your record.
The Verdict:
Jena comes out struggling from the first note and is never able to recover. Through the first verse she sounds like she has a frog in her throat as she breaks on several notes and cannot really connect with the song. She certainly wasn't able to belt like the original.
She goes for the big moment as the song goes forward but goes back to the old Jena trick of just shouting instead of singing. So it was a half-shouted, half-broken performance.
Not how you want to lead off the show.
GRADE: C-
Caleb Johnson sang "Dream On" by Aerosmith
Keith Said: You had me at the opening phrase of that song.
J-Lo Said: That song. That may have did it right there.
Harry Said: It was phenomenal.
The Verdict:
Absolutely devastatingly good song choice for Caleb here. He's struggled with becoming a one-note hair rock screamer only seldom showing signs of being able to sing the ballads, and here he gets a chance to do both in one song.
Predictably, Caleb absolutely owns. There isn't a section of the song that isn't brilliant as he masters its slow crescendo and builds to a moment only Caleb can create with the signature scream at the end.
Round One to Caleb and it isn't close.
GRADE: A-
Jena Irene sang "Can't Help Falling in Love" by Elvis Presley
Keith Said: You inspired somebody else to do this song.
J-Lo Said: It's overwhelming when you do that song.
Harry Said: It was absolutely beautiful.
The Verdict:
I gave this a middling review the first time she did it because I'd just seen Ingrid Michaelson do it a hundred times better in person just an hour before I started recapping the show.
Now that I have some space between, I can recognize its merits, but I can also recognize that Jena did this a lot better on her first attempt. This one is far more uneven as Jena struggles with control and fails to stay connected to the song. Instead, she takes whatever chance she gets to start belting - almost as if she feels compelled by Caleb's voice to compete with him on that level even when it doesn't make sense for the performance.
It's much more captivating for her to create a beautiful small three minutes and she distracted from that too much with her unnecessary flourishes.
GRADE: C+
Caleb Johnson sang "Maybe I'm Amazed" by Paul McCartney
Keith Said: Don't get caught up in the vocal gymnastics.
J-Lo Said: Your power is so undeniable, but the soul needs to come through.
Harry Said: I think Jena won the second round.
The Verdict:
It's classic rock radio for Caleb here as he rocks the AM dial with a performance that will make most viewers of my age flash back to driving around in their mother's minivan with the local soft rock/oldies station blasting through the half-broken speaker.
Caleb is that classic rock guy and he's not much else. He does a solid job with this song as he did before, but it's really starting to feel out-of-context to see him singing like he should be on a reunion tour.
Of course, that means he's good enough to command a reunion tour.
GRADE: B
Jena Irene sang "We Are One"
Keith Said: It was perfect for you.
J-Lo Said: I thought it was really good. It suited you.
Harry Said: Just as strong as when you did it in the studio.
The Verdict:
As expected, they give Jena a song that sounds like Demi Lovato rejected in the early stages of her album and it fell down the vine until it wound up an 'American Idol' single. In other words, the song is ungodly horrifically unlistenable.
Jena does what she can with it, meaning she just starts belting without even paying attention to the lyrics. When there's a horrible melody and words nobody knows, it's probably the best strategy to at least try to sound good on it, which she does.
It's not really her fault, but this just wasn't good.
GRADE: C-
Caleb Johnson sang "As Long As You Love Me"
Keith Said: It's been an amazing night. Congrats.
J-Lo Said: You put it all out there and you sounded good.
Harry Said: All I can say is, "Good luck, America".
The Verdict:
Look, everybody! '.38 Special' is back together again and making new music! Oh, wait. This is a contemporary singer in his twenties, you say?. Could have fooled me.
I guess Caleb can't really go much beyond the classic rock style, but it's very weird to see a song like this tagged as "new". Nobody's been writing music like this for thirty years unless it's some sort of a throwback shtick.
That's not necessarily a bad thing, but the fact that they couldn't find Caleb anything remotely contemporary-sounding to sing for a single just shows how limited a talent he is. He's great at what he does, for sure, but what he does is very specific.
GRADE: B-
Final Thoughts:
The judges seemed very reluctant to pick a winner, likening it to a heavyweight fight that was even on all cards, but I don't agree at all. This was an absolute knock out for Caleb in every aspect. From song choice, to performance quality, to going last - it all worked in his favor last night. I just don't see him losing.