'American Idol' Recap: Burnell Taylor Exits, Power Rankings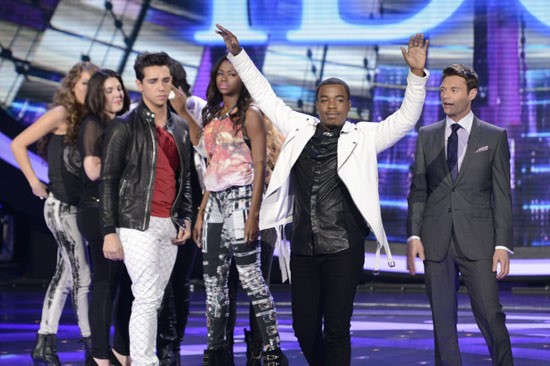 Not much to report here, just another results show on "American Idol," meaning another guy has been sent home from the big stage. Four-in-a-row with no sign of letting up.
Of course, there is that one slight sign: Lazaro somehow sneaking into the top three. Is this backlash against a show so obviously rigged from the start for a girl to win? Is Vote for the Worst's final season really having an impact and could they finally reach their ultimate goal? Do people actually like Lazaro?
Nah, after he nearly went home last week, it seems like more of an aberration after the first performance of his in weeks the judges didn't lambaste. Look for him to hit leadoff next week for a quick and easy exit and the 'Idol' producers can have their all-female final five and say, "See, we're not just a show where a white guy with a guitar wins every season."
Yes, they had to stack the deck and make it the theme of the season to accomplish that, but at least they're going to get done what they wanted.
And with that, here are some quick power rankings:
1 (Rank Last Week: 1) - Angie Miller
Still the presumptive winner and the judges' clear favorite. She's never been in any danger and actually comes closes to cute guy with guitar of anyone this season.
2 (2) - Janelle Arthur
Showed some inconsistency this week, but she still seems like the country girl best bet this year.
3 (4) - Kree Harrison
Another top three for Kree and a clean sweep of the judges' ballots. Somehow she's catching on, but she's gotta wear thin at some point.
4 (3) - Candice Glover
It's been shown dozens of times: The best pure singer never wins. That's Candice this year.
5 (5) - Amber Holcomb
Or maybe it's Amber, either way...