'American Idol' Recap: Breaking Down the Top 24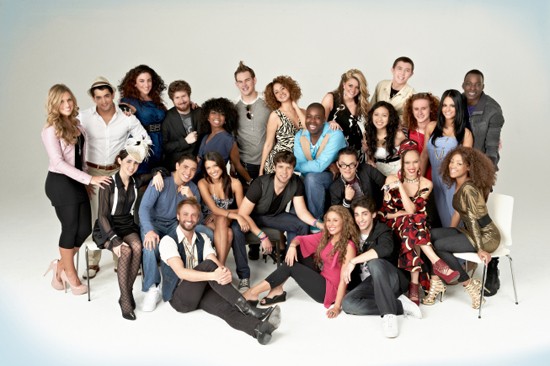 I'm supposed to be objective, but I can't help it. Every year, I have an 'Idol' favorite. I don't know how it happens, but once I see the contestant, I'm usually all in. Sometimes it's about their raw talent, other times it's just a certain aura they project. I never know how it happens, but it always does.
It also seems that every year my favorites suffer worse and worse fates. The first season, my favorite was Kelly Clarkson, and she won the damn thing. Last year, my favorite was Lilly Scott and she didn't make it to the top 10 despite being the most talented contestant by a long shot. In between, my favorites have seen every type of fate, but lately being picked as my favorite has been something of a curse.
This year, it was worse than it's ever been in both ways.
Firstly, I encountered my favorite contestant of all time: Molly Dewolf Swenson. She hit my like a favoritism tidal wave with an indelible mix of overwhelming beauty, a whip-smart wit, a cool jazzy voice and a way of carrying herself that just screamed class and brilliance. Yes, I fell 'Idol'-hard for Ms. Molly and I'm afraid I may have doomed her to an unfortunate lack of camera time and an exit before the live shows. It seems the more I like a contestant, the sooner they go out and I think I liked Molly more than all the other favorites combined. We'll miss ya Molly, you're certainly the 'Idol' crush to end all 'Idol' crushes.
But, we have to move on. After all, the top 24 are here and I need to pick a new favorite. The person I secretly root for while remaining objective in my analysis, but ultimately write a sad obituary to once they're inevitably voted off (the curse of being my favorite).
But who to choose? Let's break it down…
Ashthon Jones
Good singer, but a bit of dud personality wise. We're way too early to pick a favorite.
Molly Dewolf Swenson Scale: 5/10
Brett Loewenstern
Brett sang an "original" song with lyrics somewhere along the lines of "When I look in the mirror, I see a stranger". I don't know how original that is when it's the most cliché lyric ever. I just can't get behind that.
Molly Dewolf Swenson Scale: 2/10
Casey Abrams
This is the jazz guy with the stand up bass who loves to scat like he needs dark shades and a fedora. I go back and forth on him. At once he's oozing with talent then suddenly his self-indulgence becomes a bit annoying. The jury's still out, but he's definitely not my favorite at this point.
Molly Dewolf Swenson Scale: 5/10
Clint Jun Gamboa
Everybody's favorite karaoke host. This guy has a huge voice and can absolutely tear the roof off some songs, but his cockiness leaves a bad taste in my mouth. Kicking poor Jacee to the curb means you just can't be my favorite.
Molly Dewolf Swenson Scale: 5/10
Haley Reinhart
She's got a cool throwback lounge singer smoke out voice (wow that was a lot of qualifiers) but she's a bit too theatrical for me. Reign it in, Haley!
Molly Dewolf Swenson Scale: 7/10
Jacob Lusk
This guy reminds me of Blake Griffin: Huge raw talent, but no idea how to control it yet. Charles Barkley keeps saying that when Blake Griffin learns how to play basketball and stop going 100-miles-per-hour all the time he's really going to be great. When Jacob Lusk learns how to sing rather than flash every inch of his pipes even when it's not called for he could be an excellent recording artist. Right now, it all just seems a bit annoying and self-indulgent.
Molly Dewolf Swenson Scale: 6/10
James Durbin
I had him winning early on. Then I found out he likes to sing songs about whores. Show a little class, James. You can't be my favorite being that disrespectful.
Molly Dewolf Swenson Scale: 4/10
Jordan Dorsey
A guilty pleasure for me. Dorsey is cocky certainly, and doesn't really have the skills to back it up, but I can't totally hate somebody who hears for seconds of Scotty sing and dismisses him like he has leprosy or something. That's assertiveness I can get behind. Can't wait to watch him talk back to the judges.
Molly Dewolf Swenson Scale: 7/10
Jovany Barreto
Ah, Jovany. You have such a great voice. Such a slick style. You seem like a classy guy. Oh. Wait. You pulled a 'Situation' by ripping your shirt off at your audition. You can't be my favorite with moves like that.
Molly Dewolf Swenson Scale: 5/10
Julie Zorilla
Now here's how you be my favorite. Have an ultra-cool back story (family escaped from Colombia) be a total knockout (though only about 60% of Molly's overwhelming radiance), and have versatile musical chops that see you putting a unique stamp on any song. She's a strong contender, but not quite my favorite.
Molly Dewolf Swenson Scale: 8/10
Karen Rodriguez
I honestly have no idea who she is. Ha she even sung on the show yet? Supposedly she auditioned on MySpace. I can't dig on that.
Molly Dewolf Swenson Scale: 2/10
Kendra Campbell (Chantelle)
Are you Kendra Campbell or Kendra Chantelle? Make up your mind! Too confusing. Plus she has way too many glamour shots of herself on YouTube singing bizarre pop songs.  Boo.
Molly Dewolf Swenson Scale: 4/10
Lauren Alaina
Whatever. She's like 10-years-old, cries a lot and sang a mediocre version of "I Don't Wanna Miss a Thing." I'm bored just remembering this.
Molly Dewolf Swenson Scale: 2/10
Lauren Turner
Big voice, but too frightening an attitude for me. She's too intimidating to be my favorite.
Molly Dewolf Swenson Scale: 5/10
Naima Adedapo
My favorite thing about her? She looks exactly like the woman who works behind the desk at Putumayo on 'The Millenium' episode of 'Seinfeld'. Seriously, they're doppelgangers. She's got a killer voice too. But she's not my favorite.
Molly Dewolf Swenson Scale: 8/10
Paul McDonald
I'm sorry? Is he a person? Because he's just so ultra-sensitive with his lilting singing that I can't tell if he's the shy/melancholy emotion manifested as a hologram.
Molly Dewolf Swenson Scale: 3/10
Pia Toscano
Here's a strong candidate. Total pop pro. Effortless voice and a ton of class. She's close, but we're not quite there yet.
Molly Dewolf Sweson Scale: 8/10
Rachel Zevita
Another TV doppelganger. This one like Luke Danes' daughter April on 'Gilmore Girls'. Except grown up right. Her fashion sense is enough to make her a strong contender as she's a serious threat to come out in a cape on any given week. She's a bit too much of a drama queen though to really be my favorite.
Molly Dewolf Swenson Scale: 7/10
Robbie Rosen
Gotta like this guy who rose out of a wheelchair to walk onto the 'Idol' set and give a string of solid performances. However, I'm completely biased against people under the age of 18. They're just not ready yet.
Molly Dewolf Swenson Scale: 7/10
Scotty McCreery
Gotta love the one-trick country pony that is Scotty. I'm very happy they're doing away with the ultra-restrictive theme nights from a competitive standpoint, but the fact that it's denying my watching Scotty attempt to sing disco means his being my favorite has diminished as well.
Molly Dewolf Swenson Scale: 6/10
Stefano Langone
Humble guy with a great voice and charming personality. Another solid sob story, that he doesn't dwell on. He seems to take it in stride and is here to compete and win. Definitely like him, but he's not my favorite.
Molly Dewolf Swenson Scale: 7/10
Tatynisa Wilson
She definitely wins the award for best first name. That thing has more syllables than T.S. Eliot stanza. However, every week I thought her performances were going to see her winding up on the scrap heap, but she kept squeaking through somehow. I can't attach my favoritism to someone who's gotta be going out in a split second.
Molly Dewolf Swenson Scale: 4/10
Thia Megia
Anybody who takes part in my favorite non-Molly 'Idol' moment of this season (being verbally berated by The Vocal Coach From Hell) gets major points with me.
Molly Dewolf Swenson Scale: 7/10
Tim Halperin
Ding! Ding! Ding! We have a winner. Quiet, unassuming and chops like a smoother Matt Giraud. Best of all, since he's a guy, making him my favorite means we can keep things strictly platonic and Molly can remain my 'American Idol' girlfriend.
Now there's a favorite I can really live with.
Molly Dewolf Swenson Scale: 9/10
That's it for the Top 24 breakdown. Check back next week for the first live show recap as the competition really begins.