'American Idol' Recap: Breaking Down The Top 13 With Idol Power Rankings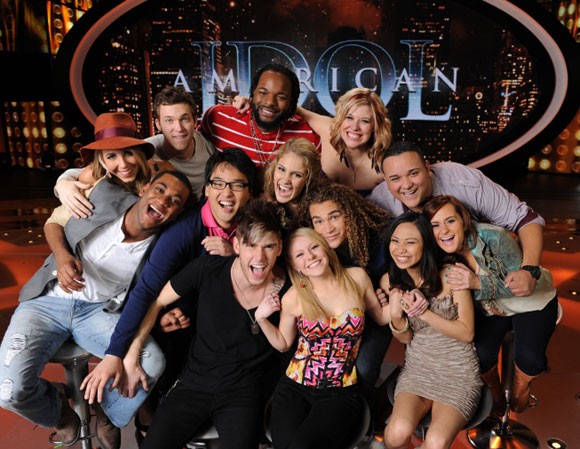 Let me just start off by saying Enough with the Adele! Enough with the Adele! Look, I like Adele as much as the next guy. She's got some great tunes on "21", but after Brielle Von Hugel became the fourth top 24 contestant to sing Adele in three short nights, I'm really beginning to worry that this show is going to become the Adele Hour every single week. I mean on Wednesday two girls sang the exact same Adele song.
Okay, I got that off my chest. The top 13 were chosen last night in an unnecessarily long results show that saw six different contestants sing for their lives. I always like the sudden death stuff, but having to see Reed Grimm one last time was far more than I can handle. At least he didn't get to stick around.
Also, I have no idea why Creighton Fraker, after giving one of the five best performances of the top 24, was not given a chance to sing for his life. I was surprised he didn't get through, let alone not even getting a save-me shot.
That brings me to my predictions. I'm not sure how excited I should be by the fact that I got 8 out of the top 13, when I only actually predicted ten of them. I probably could have gotten the other three wrong. But I also could have gotten them right, so I'll take this as a win for prescience.
Speaking of which, let's predict the whole season with the first installment of 'American Idol' Power Rankings:

1 – Phillip Phillips
I called Lee DeWyze in week two a couple years back and felt pretty good about it. This year, I'm going with the double Phillip from the very beginning. He just so perfectly fits the mold of what usually wins this completion. He's got the looks. He's got the guitar. He's got the growly voice. That's what voters seem to crave. He's the clear favorite for me.

2 – Colton Dixon
This is the one guy who could topple him. Colton's kind of in the same boat as Phillip as he goes for the easy-paced rock and cute-guy act as well. The difference is that he doesn't have that rap, and he doesn't hold his guitar at a weird angle. Ask Kris Allen and Lee DeWyze why that's so important. He's a threat, but he'll have to really out do Phillip.

3 – Joshua Ledet
And here he is, the best singer in the competition by far. Seems like he should be the frontrunner then, right? Nope, it never quite works that way. Phillip and Colton just have more of what the masses crave – the soul act just has never quite worked on this show. Although, the last singing competition we had ('The X-Factor') saw Melanie Amaro beat out middle-of-the-road guys. So he has a chance.

4 – Skylar Laine
She's the only real country singer left standing and she had the judges behind her. Lauren Alaina took the country girl motif all the way to the finals last year, and while Laine isn't as good (shocking) she also doesn't have any real country competition. Country singers always seem to last awhile here and sometimes they win. She probably doesn't have what it takes to win, but she's got a good shot at sticking around awhile.

5 – Heejun Han
Call this wishful thinking, but I think my favorite is actually a darkhorse in this competition. He's a sneaky good singer and performer and people are just going to really start going crazy for how funny and self-deprecating he is. If he really ingratiates himself, he could actually win.

6 – Shannon Magrane
I feel like Shannon's got a little something up her sleeve as evidenced by her picking a song nobody's ever heard of on the first show. She's already been hyped up a lot so she's bound to have a fanbase and girls usually vote for the younger girls if they're going to vote for any girl. If she improves, she can be a threat.

7 – Jeremy Rosado
He's got the big personality, but I don't know that he quite has the voice to carry him through. The sign that he didn't make the top 10 by America's votes is very telling here. He's young, so there's going to be a night where he really lays an egg. I don't think he can fade that.

8 – Elise Testone
She's kind of a wild card in this competition. She's clearly got the chops, but I don't think she appeals to the main 'Idol' voting base at all. She's kind of the opposite of what they want. She's old. She's not country or pop. Those types of singers don't bring in the texts and the tweets. She's got the talent but I don't think she's the right "type".

9 – Jessica Sanchez
As good as she's been, girls like this tend to get swallowed on this show. Every year there seems to be a girl coming out of the top 13 with a really big voice and stunning chops who just fades out early. I think Jessica is going to be that girl this year.

10 – Hollie Cavanagh
She definitely showed a champion's ability to connect with the song on Wednesday night, but she's such a shrinking violet that it's going to be hard for her to stand out. She's the type of singer who needs to be perfect every single week to win. I don't think she's up to that task.

11 – Jermaine Jones
Jermaine has a great personality and people are bound to like him, but I just see his being overshadowed every single week by Joshua's blowaway performances. It's never good to be the second best at what you do on the 'Idol' stage.

12 – Erika Van Pelt
When you can't even truly rock it with a Heart song, you're not going to be long for this world. She just doesn't have the voice to carry her much farther.



13 – DeAndre Brackensick
If buzz around the Internet is any indication, I wasn't the only one who didn't understand the judges' obsession with Brackensick's voice. He's kind of goofy. He doesn't sing the type of music voters really dig on. He didn't make America's top ten. I don't see him having any sort of a chance.