'American Idol' Recap: Ben Goes Home & Power Rankings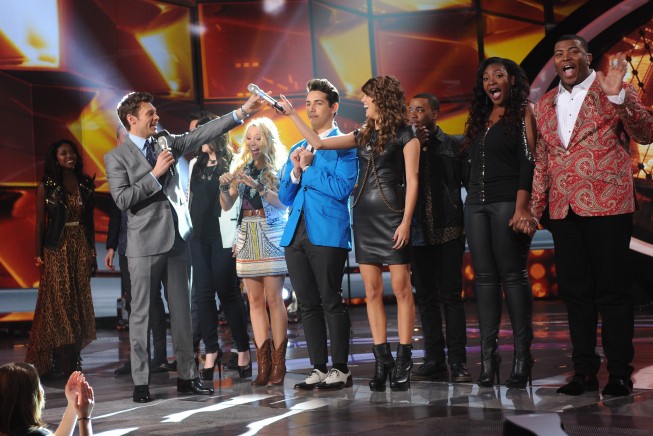 For the last few weeks, Ben Briley showed himself to be 'American Idol's' chameleon. He vacillated between country, pop, rock and blues with complete ease. It seemed every genre came naturally to Ben as he made such a variety of songs his own.
This was his downfall.
On 'Idol', we've seen it's far better to stay in a specific lane. Lock down a niche of voters and help to absorb a rival's as the competition grows shallower. Briley had a great chance to lock down the country/frat boy crowd and take it away from the less talented Dexter early on. He could have become this year's cute guy with the guitar. It was all there for him.
Instead, he became impossible to pigeonhole. He was an enigma of an artist and that led to his inability to create a fanbase and, thus, an early exit.
That's why you have to stay in your lane on this show.
Speaking of lanes, Harry returned to his last night, showing why he's qualified to judge contestants with an impeccable jazz performance complete with his large band. I feel like if Harry just performed a mini concert on every results show then we'd finally get something worth watching on Thursday nights. Other than the return of "Hell's Kitchen", of course.
Let's take a look at some more qualified contestants...
Power Rankings:
1 (2) - Dexter Roberts
It's time to anoint a new king of these power rankings. These audience-vote shows have skewed way more country in recent years and Dexter is the only pure country guy left. With nobody to stop him and Sam looking a bit vulnerable, he's the guy to beat.
2 (1) - Sam Woolf
Yes, he bottom-threed this week, but it was a short-lived (and possibly phony) stay on the stools. Plus, he led off the show last week and that's tough for anybody to overcome when there's still 11 performances. He's not going anywhere in the near future.
3 (4) - Alex Preston
Yes, guys with guitars continue to top these rankings, but I can't put the most talented one at the top. Why? Because he looks kind of goofy and doesn't play straight-ahead pop or country, that's why. What a ridiculous question.
4 (7) - Caleb Johnson
With Ben out, Caleb has the rock crowd all to himself - also the 'very small goofy-dudes who are somewhat caricatures of themselves' division.
5 (8) - Pink Hair
She missed the bottom three on two really bad performances. Plus, she has the ability to go back to country. She seems to have a fanbase and has the opportunity to just keep growing it if she starts choosing the right songs.
6 (6) - Malaya Watson
She's starting to find a groove, but she's bound to have a big slip-up given her age. Once that happens, she's gone.
7 (5) - Majesty Rose
Almost gone after singing a Disney song that everybody loves. Things aren't looking well for this belter. She doesn't look to have a shot at winning.
8 (9) - CJ Harris
Along with Alex, he's the most talented performer in this competition. He's also the biggest wild card. He has the ability to try to steal some of Dexter's country thunder and lock down the soul vote too -he's multi-faceted. Of course, we saw what that did for Ben Briley.
9 (10) - Jena Irene
Three episodes in, and I still don't know who she is.
10 (11) - MK Nobilette
I was quite wrong in thinking she'd go home this week: She didn't even hit the bottom three. Still, I think she's one more nerve bundle performance away from heading back up the coast.