'American Idol' Recap: Awful Song Choices, Bad Performances & A Beatles Desecration

Now it's time to get serious. We are in the final four of
American Idol
, meaning it is time to do away with the sophomoric ramblings as we wait for the show to begin. Instead, we get our game faces on along with the contestants and attempt to avoid falling bits of the set.
Last night's theme was classic rock, a tremendous departure for a show that's always turned up its nose at the harder-edged stuff. Because big band is apparently more relevant. It was also a big change for the mentor segments. Tutor
Slash
took the Idols into the Roxy with a full band backing their practice performances. It looked really cool - it may have been better to have made those the actual performances on show night.
This was also the night that will probably go down in infamy as the evening that duets first appeared in the competition. A horrendous choice that added zero to the competition and served as nothing more than a time-filler. None of the contestants actually attempted anything memorable in these pairings, striving simply to blend in as not to damage their chances with an out of place note when they weren't just singing for themselves.
But more on that later. How about those performances?
Adam Lambert Sang "Whole Lotta Love" by Led Zeppelin
Slash said: Adam's got some pipes.
Randy
said: You're a rock star tonight!
Kara
said: You are more than a rock star - you are a rock god!
Paula
said: You're a whole lotta perfect.
Simon
said: One of my favorite performances you've done. Nobody can top that now.
The Verdict:
No need for any wild similes on the Adam Lambert ensemble this evening. He looks like a girl. Plain and simple.
This is a very good song choice for Adam, and he's wise to play it relatively straight - doing nothing with the melody at all and instead opting to let his wild vocal range stretch out within the confines of the original version. He doesn't quite have
Robert Plant
's voice, but he does manage to approach those Rock God levels. More than you can say for probably anybody else on the planet.
Grade:
B+
Prediction:
He's the only one who's absolutely safe tonight.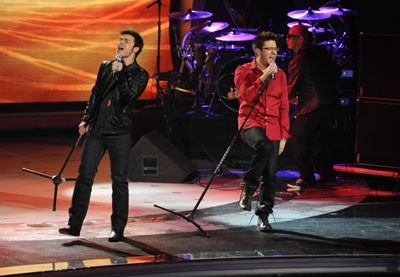 Allison Iraheta Sang "Crybaby" by Janis Joplin
Slash said: She's got a natural rock 'n' roll mannerism and swagger.
Randy said: This wasn't that great for me.
Kara said: (Just recommended other Janis songs)
Paula said: If they ever do a biopic on Janis Joplin you've got the role. (Because Janis was Latina?)
Simon said: I thought you had complete confidence - I thought it was a great vocal. Tried too much to sound like the original.
The Verdict:
Somehow Allison manages to make a dirty little Janis Joplin song into an inspiring rock standard from late AM radio. A very pure voice that still maintains the required grit to pull off this number while making it more pop-friendly. She didn't change it that much, but just enough to improve upon the original and show her amazing talents. This wasn't the spectacle of Lambert, but the control and maturity she showed in her vocals made her more compelling.
Grade:
A-
Prediction:
She didn't get much love from the judges, but the performance was good enough that she may overcome that. Plus, her later praise after the duet should let her sail on.
Danny Gokey and Kris Allen Sang "Renagade" by Styx
Randy said: Loved the harmonies.
Kara said: The sum of the parts was better.
Paula said: It was powerful and compelling.
Simon said: Danny, you were better than Kris.
The Verdict:
I'll say straight off that I really wish somebody had attempted the scrotum-incinerating falsetto of the original. Danny came close at points, but never quite reached those heights.
This is an okay performance that doesn't really exceed a decent bar band at the club near the airport on a Saturday night. All they needed was some bad hair and a keytar to fully complete the ambiance. Really just a mediocre performance, that seemed very out-of-place on a competition night. More like the group number. Or Ford Commercial.
Grade:
C+
Kris Allen Sang "Come Together" by The Beatles
Slash said: If he manages to pick up the live performance that will help.
Randy said: I like you playing the guitar.
Kara said: Not a great performance.
Paula said: Your signature's all over it.
Simon said: It was rather like eating ice for lunch.
The Verdict:
Boring song choice. Boring vocal. Boring performance. Kris seemed totally lost and overmatched by such a simple song. He tried to turn it into some sort of Jason Mrazy new age low-key pop, but it just sounded like a cruel joke a sweater-clad coffee sipper was playing on everybody's ears.
Grade:
C-
Prediction:
Big trouble for Kris. The judges hated it and it was sandwiched right in the middle where nobody will recall his dull take on the Beatles. That was a short-lived run as the favorite.
Danny Gokey Sang "Dream On" by Aerosmith
Slash said: It could go either way.
Randy said: It was all right for me.
Kara said: You took it a little too far. (Then Kara said the following: "I see you more like early Aerosmith - 'Cryin'', 'Crazy'". Those songs came out maybe twenty years after "Dream On", which was on Aerosmith's first album and was their first song to enter the charts. In other words, this was as early an Aerosmith tune as Danny could have chosen, yet Kara thought that something from the early 90s would be more up the old school
Steven Tyler
line. In related news, Simon Cowell recently told Ellen that Kara will be back next year. Oh boy!)
Paula said: It wasn't my favorite choice of song.
Simon said: The last note was like watching a horror movie. It didn't work so much, but I still think you'll be safe tonight.
The Verdict:
Okay, that look Danny gave the circling camera at the open was very very creepy. Combined with the purple shirt - it was like some sort of really awful Roald Dahl villain.
As for the performance. Meh. Nothing here either. Another bad song choice with a flat vocal that adds nothing to the original whatsoever. Completely boring the whole way - Danny seemed completely out of place and confused at points as he struggled to seem relevant.
And that scream at the end? It was like a witch who just had her potion take form in the cauldron. Awful.
Grade:
D
Prediction:
If Danny hasn't gone out yet, he won't go out for this. He seems to have a larger voting bloc than anybody will give him credit for and that may carry him through for another week. Plus, Simon said he'll be safe.
Adam Lambert and Allison Iraheta Sang "Slow Ride" by Foghat
Randy said: Two seasoned rock stars in the house.
Kara said: Rock God, Rock Goddess.
Paula said: You guys should do a duet together - it's a beautiful thing.
Simon said: You win the battle of duets.
The Verdict:
Why would anybody sing this song? It was like watching two people get up and sing karaoke at a wedding after a bit too much champagne. This type of performance is why people hate this show and think it's nothing more than amateur hour - because that's what this seemed like.
Grade:
D+
FINAL THOUGHTS
What do we make of this night? Awful song choices, four bad performances, and the night duets reared their wretched heads.
Just disappointing all around. This was the first theme that basically promised us some good songs and instead we get "Slow Ride" by Foghat and a high school talent show attempt at screeching the end of "Dream On".
So who goes home after this classic rock hatchet job? Signs point to Kris with a performance that was so plain there is absolutely no way anybody remembered it. It's much worse to be forgotten than remembered for a bad performance. People will remember Danny's scream enough to vote for the salvation of their favorite, but nobody will remember Kris's Beatles desecration.
And like that, I've picked the man I pegged as the favorite last week to finish fourth. Funny how much can change in a week.
What did you think of last night's episode? Who should be sent home next? Who should win? Let us know in the comments!
Story by
Andrew Payne
Starpulse contributing writer