'American Idol' Recap: Ashton Is The First To Go Home + Power Rankings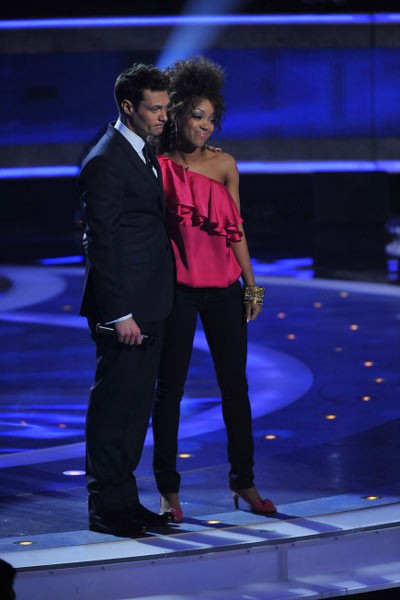 This year – it's really wide open.
As Ryan ran through the contestants last night, and I thought about my power rankings (which are listed below), I quickly realized something – there is absolutely no favorite this year.
You could make a case for up to 8 contestants to win this year, but I don't think it's because the talent is incredibly deep – I think it's because every contestant is flawed in some way. "Idol's" been boasting its vast talent pool all season, but I think what they've actually stumbled upon is a level of parity. There's no Adam Lambert. No Lee Dewyze. No David Archuleta. Nobody who's clearly distinguished themselves as a favorite this year. It's much like the NCAA season. With no great teams, comes
Of course, not every single contestant is great, and last night we lost one of the few without a real chance as Ashton bit the dust. I was a bit surprised that the judges even put her through this far, and their faith did not bear fruit as their diva-in-training failed her first test.
"Idol" can continue to try to create divas (which I think is the ultimate goal of this show), but Ashton just wasn't up to this task. She didn't have the voice; she didn't have the charisma and was definitely out of her depth as a Chaka Khan or Diana Ross type.
Thoughts on Last Night's Show:
Amanda Seyfried is just stunning and seems to have a self-effacing attitude that is very charming. Molly DeWolf Swenson, you're on notice as my biggest celebrity crush. Unless of course you grace the column with another Re-Tweet or comment, then we're back on.
My favorite moment of the premiere actually didn't involve Seyfried. It was when Ryan said in the voiceover that, "The stars were out" and then the camera cut to somebody named Max Irons. We couldn't have gotten Gary Oldman or Julie Christie in that edit? The best we could do was Jeremy Irons' son?
I dug Adam Lambert's performance. Whatever happened to MTV Unplugged? I think it's worth bringing back. If MTV still played music.
Diddy Dirty Money reminds me of an old WWF Tag Team when two solo wrestlers got together to add the Tag Team Titles Belts to their collection.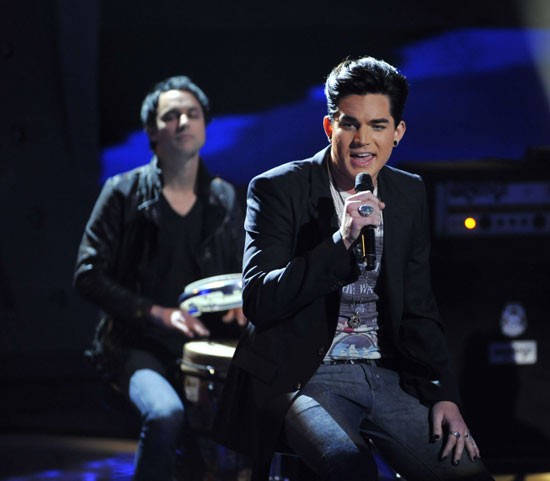 Power Rankings
1 (Rank Last Week: 3)    Casey Abrams
This competition is so wide open at this point, that it's almost impossible to tell who has the chops to go the distance. This week I'm going with the wildly offbeat Casey who seems to be growing a large fanbase. Unfortunately, it seems his health may be his undoing. But it also might help him win sympathy votes.
2 (1)    Jacob Lusk
He's a bit weird, and has the ability to throw in a performance that may be too scattershot for America at times, but his raw ability is as vast as anybody left.
3 (4)    James Durbin
He seems like Adam Lambert, which should be a good thing, except that Adam Lambert didn't win. However, if he embraces his rock side a bit more and gets away from the being so ostentatious, he just might have the best chance of anyone.
4 (5)    Pia Toscano
I feel like, on paper, Pia is actually the best contestant, and has the chops most closely resembling those of a top 40 recording artist. But she's a girl, and a woman hasn't won this competition since Jordin Sparks ran through the worst season in the show's history. I just can't believe in her chances too strongly.
5 (13)    Scotty McCreery
I'll take that plate of crow with a side of hashbrowns, please. Last week, I said Scotty had zero chance to win, then he looks like a real country star last week. Country singers have always enjoyed a large voting bloc, but only one has ever one. However, if Scotty continues to improve maybe he could just be the second winner. That'll really be embarrassing for yours truly.
6 (2)    Stefano Langone
I'm not ready to give up on Stefano just yet. He might not quite be filling my heartthrob role, and he might seem a bit over his head at times, but I still think he can put it all together and be a threat.
7 (10)    Naima Adedapo
Naima broke out of her quirky-jazz role in a big way this week, and may avoid becoming this season's Megan Joy. She's got an incredible voice, and if she can adapt that to something poppier and make it stick, she has a shot.
8 (6)    Karen Rodriguez
I think she has a pretty sizable fanbase, but I don't think she's good enough to really be a threat. Her bottom three visit shows that even with a strong voting contingent, Karen is a week-to-week contestant.
9 (7)    Thia Megia
I said it last week, and it came true this week – Thia might have a lot of raw talent, but she's too young and too inconsistent to perform at a high level each week. She layed an egg this week and got away with it. As the field thins, she won't be able to do that much longer.
10 (9)    Lauren Alaina
Ditto Thia's problems for Lauren. She might have a solid voice, but she's going to get swallowed up by her more seasoned competitors as the show wears on. At least she had the guts to admit when she wasn't good last week.
11 (11)    Paul McDonald
He's just too weird. People are going to grow tired of his act eventually, as charming as he may be. This has always been a show about big voices, and his quirky rasp doesn't fit into that mold.
12 (12)    Haley Reinhart
I'll make this bold prediction before even seeing the performances next week – Haley is going home after the next show. I still don't know how she made the top 13.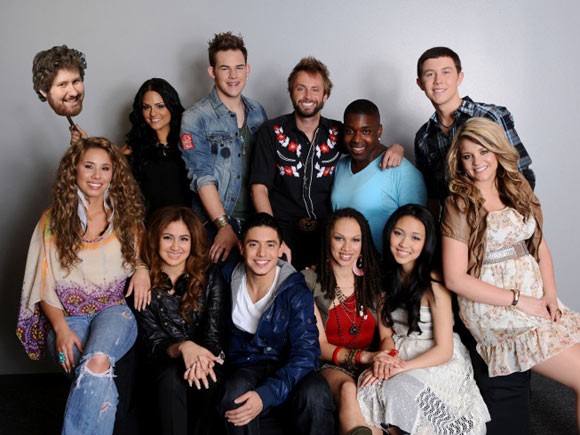 Final 12: Top Row L-R: Pia Toscano (holding Casey Abrams), James Durbin, Paul McDonald, Jacob Lusk and Scotty McCreery. Bottom Row L-R: Haley Reinhart, Karen Rodriguez, Stefano Langone, Naima Adedapo, Thia Megia and Laurn Alaina.