'American Idol' Recap: Another Guy Sent Home + Power Rankings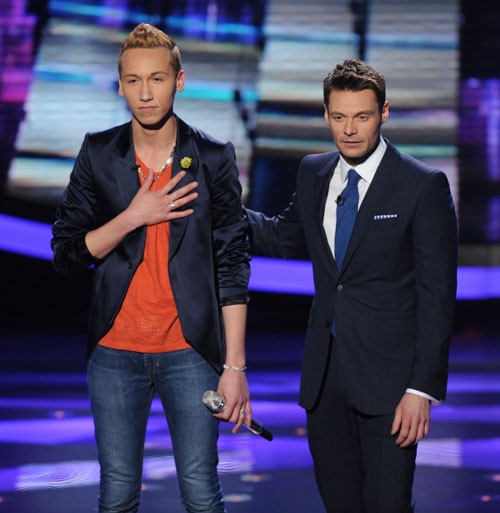 Another week. Another boy voted off. Just as the producers drew it up.
But this week it was more than that. It wasn't just that Devin Velez got the ax after bottom-twoing every single week we've had audience voting, it's that the bottom three was entirely comprised of males. Males without any chance at all of winning.
'Idol' had one goal this year. Break that cute guy with guitar trend. The predictability had worn thin among the bloggers and recappers of this show and it was time for a change. Apparently the producers thought stacking the field with five big-voiced girls and a bunch of lame duck guys was the way to turn it up.
Instead, it's just looking more like an abattoir as one more dude hits the slaughtering line each week until we set up a final five battle between the full roster of females before a guy even has a shot at making an impact.
And that's where we're going. An unprecedented female final five sweep. The producers planned this so expertly that there simply isn't any room for a male hanger-on. It's just a bunch of jobbers waiting for the faces of the show to do battle in the main event that's going to begin in two weeks.
Even poor Devin who seems like he's got a pretty nice voice but it goes along with the charisma of a doornail. Maybe that's what they were casting this year. Competent enough singers who didn't have the personality to carry votes. So it wouldn't look like too much of a conspiracy, but no guys would threaten the title either. That's how an all-female final five happens.
So with the fact that we're two weeks away from history in mind, it's time to make some column history here. Lazaro and Burnell are officially excused from the power rankings. Done. Over. There's just no point.
From the first judges promos for Hollywood week when it was declared "A girl is the one to beat," it's been so patently obvious that this show wasn't going to have anything to do with a guy winning this year. So why include two people in the rankings that simply will not win. It's a ranking based on chances of winning the show and Lazaro's and Burnell's chances are nought.
Yes, one of them might outlast a girl and squeak into the final five, but that won't matter. They're not actually going to run the table. So long, Lazaro and Burnell. It's just not worth the effort of typing to include you in the power rankings. And, with that, here are this week's abbreviated power rankings.
Power Rankings:
1 (Rank Last Week: 1) – Angie Miller
She seemed destined to be the token girl in the bottom three this week after an awkward performance that the judges actually savaged. Totally unlike everyone's favorite big-eyed siren. Instead, she scooted right through to a chair of safety without much drama at all. When you can coast after a bad performance that demonstrates a large following in your corner. The type she needs to carry her to ultimate victory.
2 (4) – Janelle Arthur
Suddenly, Janelle has displaced Kree at the top of the country heap and shown some chops on the guitar as well. The last few years the little cute country sweetheart has been as sure a thing as the cute guy with guitar. With none of those in her way, Janelle has the makings of a winner if she can keep improving.
3 (2) – Candice Glover
She's clearly got the best voice in this competition, but ask Pia Toscano, Melinda Doolittle, Jennifer Hudson, Jessica Sanchez, Adam Lambert, Carly Smithson, and Elliot Yamin how often the singer with the best voice ends up winning on this show.
4 (3) – Kree Harrison
She now has to catch up with Janelle just to lock down the country demographic – it seems like that isn't going to happen after Janelle's breakout this week. Also, Kree's smugness has to catch up with her sooner or later.
5 (5) – Amber Holcomb
She has as much ability as anybody ranked ahead of her, but she just hasn't caught on yet. She's the only one in real danger of losing out to one of the boys and preventing an all-female final five. For nothing more than the fact that she's getting lost among the other contestants.