'American Idol' Recap: Anoop & Megan Must Go

Random Thoughts While Waiting for the
American Idol
Contestants to Start Singing:
-It's amazing how four judges can combine to say absolutely nothing in the show open.
-What a strange theme. Why not just say, "pick whatever song you want"?. How does one define a 'popular' download? Conspiracy people!
-Just when you thought the product placement couldn't get any more shameless - Seacrest uses it to promote his own show!
-Wow,
Ryan Seacrest
plays drops of
Simon Cowell
and the "American Idol" theme on his show. Local FM Radio now seems like a bastion of creativity and wit.
And now, on with the show (that was so quick this week)!
Anoop Desai Sang "Caught Up" by Usher
Randy Said:
Vocals were good but not the right song for you.
Kara Said:
Played it safe - seemed like frat guys dared you to sing Usher.
Paula Said:
Vocals sounded really good - work on the stage presence.
Simon Said:
A complete and utter mess.
The Verdict:
This jacket looks like a cross between
Michael Jackson
's formal wear and the uniform of a futuristic space fleet. At least it has an epaulet chain. Whatever that's for.
This performance is the epitome of mediocre karaoke. Anoop is letting the song completely overwhelm him as he struggles to find his rhythm and pacing alongside some ill-advised dance moves. If he sings this at a college bar on Saturday night, the drunk girls are screaming, but on this stage he just seems like an amateur.
Grade: C-
Prediction:
Anoop is in real danger this week. Getting bad reviews from the judges in the first spot of the night is essentially a death sentence. It doesn't help that he started almost throwing a tantrum onstage afterwards.
Megan Joy Sang "Turn Your Lights Down Low" by Bob Marley/Lauryn Hill
Randy Said:
Like watching paint dry.
Kara Said:
I think you're in trouble. Irritating in parts.
Paula Said:
Beauty develops in areas that are uncomfortable (apparently she's auditioning to write fortune cookies).
Simon Said:
The song was boring. Indulgent and monotonous.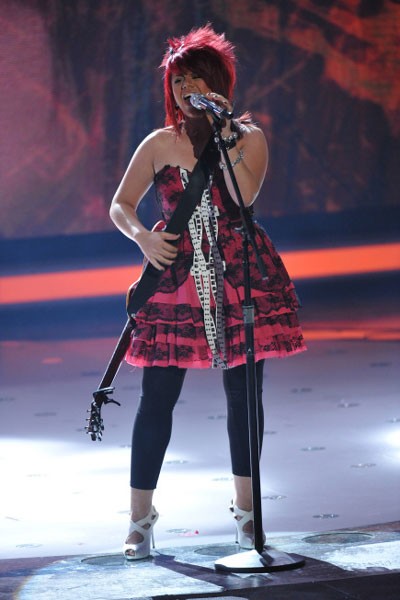 The Verdict:
Megan sounds like a mixture of
Nelly Furtado
and
Corinne Bailey Rae
on this track. She may have more necklaces than Zales, but they aren't doing anything to restrict a pleasantly smooth vocal delivered with the breeze of an easy summer evening. A very pleasant performance but in the end not a whole lot about which to get excited.
Grade: B-
Prediction:
She still has Vote for the Worst in her corner, but the judges absolutely tore her to shreds. This may actually get her sympathy votes, and she handled their criticism with class. Bottom three for sure though.
Danny Gokey Sang "What Hurts the Most" by Rascal Flatts
Randy Said:
The show starts right here.
Kara Said:
You moved everyone in this room emotionally.
Paula Said:
You leave me wanting more.
Simon Said:
I thought it was your best performance so far.
The Verdict:
What do we make of Danny Gokey's hat in the video? It seemed both ghetto and preppy at the same time. Is that even possible?
Danny struggles with the faster lyrics in the opening verse - just not a good choice for singers, too many words and not enough notes. He flips this country song a bit into the realm of adult contemporary with a fiddle that keeps its down home roots. Gokey builds the song gracefully, bringing some heavy power near the end and letting his voice soar. He ends a bit demurely but never loses his vocals. A bit awkward at first, a bit boring while we waited for it to build, but paid off in spades in the end.
Grade: B
Prediction:
His biggest raves yet from the judges to go with swells of screams from the crowd. He's not going anywhere anytime soon.
Allison Iraheta Sang "Don't Speak" by No Doubt
Randy Said:
What is with that outfit?
Kara Said:
The rock in you comes out of you. (Somebody should introduce Kara to Brian Dunkleman)
Paula Said:
Skating by right to the finish line.
Simon Said:
Like dressing up and pretending to be a rock star.
The Verdict:
So Allison's hair. Does it look like Animal from the Muppets stuck his finger in a socket or a punk rock character from Candyland? Could go either way.
This just isn't a good song choice. There's not a whole lot you can do with a No Doubt song. Allison tries to put her signature snarling rock and roll tone on the ballad hitting some good notes near the end and injecting some energy, but it all just seemed strangely out of place.
Grade: C+
Prediction:
Mixed reviews from the judges but the audience seemed to love her. Allison probably has a large voting contingent, and they should carry her though, but she's vulnerable.
Scott MacIntyre Sang "Just the Way You Are" by Billy Joel
Randy Said:
One of the best of the night.
Kara Said:
I love the new look. (Somewhere Thomas Dolby just got excited)
Paula Said:
The sentence she spoke was the most awkward way possible to say she's impressed with him and not just because he's visually impaired.
Simon Said:
Your best performance by a country mile.
The Verdict:
A new haircut for Scott. Now he looks like a weird cross between the lead singer of
Flock of Seagulls
and somebody from "
American Graffiti
".
Not a whole lot to say about this performance. There were a few stray notes, but he performed it very well (good decision to go with just the piano and no orchestra), hit a lot of excellent big notes and really demonstrated his prowess as a pianist. His best since they've been on the big stage.
Grade: B+
Prediction:
After that praise and the great performance, Scott doesn't have to worry about being in the bottom three again this week.
Matt Giraud Sang "You Found Me" by The Fray
Randy Said:
Just the wrong song for you.
Kara Said:
You have to commit to either the rock or R&B side of pop.
Paula Said:
Went away from what we loved about you.
Simon Said:
I didn't get it at all. Somebody trying to be somebody else.
The Verdict:
Let's go on record and say this is just an awful song. We've got that sorted? Good. Now on to Matt.
A nice innovation to perform this in the middle of the "Mosh Pit" they have set up. It's not saying much, but this is definitely much better than the Fray's version. He tries a bit too hard at points to inject some of the passion he was hell bent on putting forth into the performance, moving away from his normal smooth soul. That makes it a little bit awkward at points and his vocals suffer for it. Still, they aren't too bad and the superb piano is there as always. Not Giraud's best but certainly better than "Viva La Vida"
Grade: B-
Prediction:
Is Matt in real trouble? He was in the bottom three last week and now a lackluster performance with scathing reviews. He could actually go tomorrow night.
Lil Rounds Sang "I Surrender" by Celine Dion
Randy Said:
You got some unbelievable vocal skills.
Kara Said:
When you go up there it's unbelievable.
Paula Said:
I don't want to see an Adult Contemporary Lil Rounds.
Simon Said:
Similar to a wedding performance.
The Verdict:
Lil's hair and makeup just isn't her. It's almost like she's trying to look like a 40-year-old woman, and it's actually making her performance seem out-of-date.
It starts off very awkwardly with some breathy stumbles through the opening verse in which she seems completely lost. Combining that with her look this evening and she seems like a washed-up lounge singer.
Then, all of the sudden, Lil's vocals exploded and she hit every single note like Whitney Houston at the Super Bowl. This was looking like trouble for a while but turned out to be pretty good in the end.
Grade: B
Prediction:
She'll get through again, but sooner or later the bad song choices are going to burn her.
Adam Lambert Sang "Play That Funky Music" by Wild Cherry
Randy Said:
Definitely in the star zone.
Kara Said:
It was like Studio 57 up in here. (I think she meant Studio 54. They can't just fire her mid-season?)
Paula Said:
She actually compared him to Mick Jagger - that's frightening.
Simon Said:
It was original.
The Verdict:
It's weird, because the judges always rag on performers for seeming too show-y, too cabaret, too much like they're in a musical and that's exactly what this is. It's nothing more than a college theater troupe filled with non-creative singers who think they're being clever by staging some cheesy pop songs onstage and end up with some cheap laughs from their parents.
Sure Adam has some unreal vocal ability, but when you continue to apply that to lame novelty performances, what's the point? Sing some friggin'
Def Leppard
, man!
Grade: D
Prediction:
Nobody goes home with that level of judge love.
Kris Allen Sang "Ain't No Sunshine" by Bill Withers
Randy Said:
So Creative. So Cool I'm lovin' you.
Kara Said:
That is artistry.
Paula Said:
Your best performance to date.
Simon Said:
Very clever, very cool. Best performance so far.
The Verdict:
So Kris looks like a matinee idol, has a hot wife, and now we find out he plays more than one instrument! Why don't I hate him?
Oh, maybe because he continues to bring the fire, breaking away from his being a Jason Mraz clone to a completely original version of a soul classic that sounds like a mix of Coldplay and Dashboard Confessional. Yes, that was a compliment even if it could just as easily be an insult. How many weeks in a row has the best performance come at the end of the show?
Grade: A
Prediction:
There's literally nothing I wouldn't bet on his staying around next week.
FINAL THOUGHTS
As somebody who continually rallies for less restrictive nights, I couldn't be more disappointed with the mediocre and often poor performances tonight. Everybody except for Scott and Kris picked the wrong song in some capacity despite being able to choose basically anything they wanted.
Also, I'll never get Adam. I do not understand how a competition that is supposed to find the next pop star continues to rave about somebody who is destined to headline a show in Henderson, Nevada or star in Dinner Theater. Adam simply isn't a pop star, and I don't know what has to happen for the judges to realize that.
Enough ranting, time for a final prediction.
It's pretty clear that Anoop and Megan will end up in the bottom three. The judges eviscerated them both and they led off the show - a bad sign even for good performances.
Unfortunately, Matt Giraud will probably join them on the uncomfortable stools. He took it on the chin from America last week, and now the judges gave him the same sucker punch.
He shouldn't worry though, because Anoop is on his way out this week. It's impossible to overcome leading off the show with a bad performance and Megan still has Vote for the Worst's blessing which should carry her a few more weeks.
See ya Noop Dawg. The judges are not going to save you.
What did you think of last night's performances? Let us know in the comments!
Story by
Andrew Payne
Starpulse contributing writer