'American Idol' Recap: Angie Miller's Shocking Exit + Finale Preview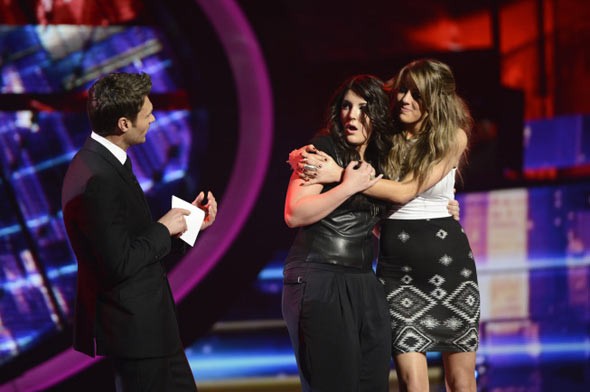 Since Kelly Clarkson, it's only happened once and this season it isn't going to happen again.
'American Idol' has developed a curious pattern over the years: That of never getting its winner right. Every year a clear winner emerges early, and every year that clear winner goes home before the finale. It doesn't pay to be the best in this competition.
After years of seeing this happen, it's become clear why the best contestant never wins: It becomes boring to vote for them. They peak too soon and after months of being on top and the clear favorite, it just seems unnecessary to keep voting for them.
Not only does that explain why the best contestant never seems to win, but it also explains the two times they did win. (This does not include the Carrie Underwood season where she transcended all rules to become the only contestant to defy conventional logic).
The only seasons where the best contestants won were the first season (Kelly Clarkson) and the seventh season (David Cook). What was unique about those seasons was that each had a clear favorite who wasn't the best.
In the first season, Justin Guarini dominated the coverage. Simon Cowell went so far as to say that America had the wrong Justin (as a reference to Timberlake) the kid had become so popular. Eventually, America realized its mistake and Kelly Clarkson came back.
David Cook ran a similar gamut in his winning season. That year, David Archuleta had the young girls swooning and everyone declaring him the presumptive winner after he sang a half-decent version of "Imagine".
In each case, the incorrect favorite suffered a fate similar to the actual favorite in each of the other seasons (Pia Toscano, Joshua Ledet, Adam Lambert, and so forth).
Last night, Angie joined that dubious club as yet another favorite went down after a season on top. There's just not a lot of fun in voting for somebody that you're supposed to, a contestant that doesn't seem like she needs your vote, anointing the already anointed.
So advice for future contestants is to save your peaking for later. Sneak in, start slowly and roar home. It seems like the only way to win on this show.
And, sadly, you won't have The Dawg to declare your being "In it to win it" anymore.
As for those who pulled off the feat of getting into the finale, here's a preview:
Both these contestants are so boring, unlikable and vanilla in their talent that there's no reason to either stump for or predict a winner. It's basically the same contestant versus herself. One big-voiced boring singer versus the other in what's sure to be a finale filled with belting while the one true talent this season sits on the sidelines.
It's a sad fate, but a winner must be chosen from uninspired duo. I'll choose Candice because she's the only one capable of really blowing the roof off with her voice and that seems to be what's winning this season.