'American Idol' Recap: Angie Miller Separates Herself From Rest Of Field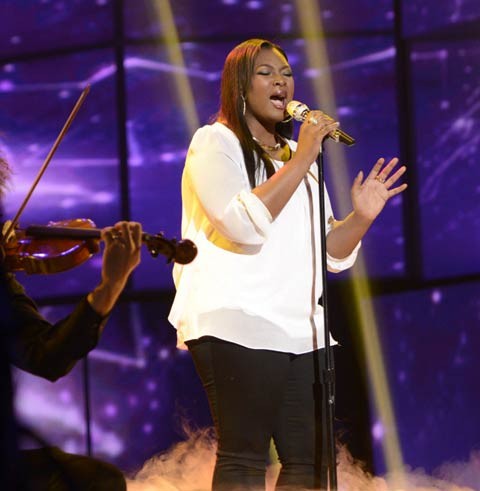 Sorry, I'm far too distracted by Nicki's massively weird cleavage and the prospect of Jimmy appearing on the live show to waste time on an intro. Let's just get to it!
Candice Glover's First Song: "Straight Up" by Paula Abdul
Keith Said: It's like the slow wink one gets across a bar.
Nicki Said: Once again you showed you're the boss.
Randy Said: You are now so in the zone, it's like, man, you're just letting it flow.
Jimmy Said: Candice should have done a song with a bigger vocal range that shows off her full capabilities.
The Verdict:
Very cool arrangement of this little pop nugget – it's kind of like Andrew's from Hollywood week several years ago when everyone thought he was going to win, but this is by somebody who can actually sing.
Candice manages to do her normal self-indulgent over-singing but making her voice actually fit the cool slowed-down version of this song and come across with a real authentic jazz vibe.
This is a brilliant cover sung extraordinarily well.
Grade: A
Candice Glover's Second Song: "When You Believe" by Mariah Carey & Whitney Houston
Keith Said: You didn't just pull out the stops. You ripped them out and annihilated them.
Nicki Said: Yes, ma'am, diva. Yes.
Randy Said: That's the best vocal of the night!
The Verdict:
This is a total musical theater performance. More than that, it's a Disney princess performance. Everything from the arrangement, to the vocal, to the staging just seems like it's supposed to exist in a cartoon world with a princess singing it.
Nothing seems authentic or radio-ready here. It's like a torch song from a kid's show. And show is the operative word. It's very much a stage show performance rather than an R&B performance of real authenticity.
That would be great on the top of a float, but on 'Idol' it just felt out-of-place and pedestrian.
Grade: C-
Prediction: She's so locked in with voters at this point, that she can easily overcome the leadoff spot.
Janelle Arthur's First Song: "When I Call Your Name" by Vince Gill
Keith Said: That song is more about emotion and I didn't feel it.
Nicki Said: When you have the guitar onstage you're so much more comfortable and take us into your world.
Randy Said: The song brought you back a little bit for me. Janelle's back where she belongs.
Jimmy Said: She just wasn't strong tonight. It just wasn't enough.
The Verdict:
If you don't' remember seeing this song (or the rest of the show for that matter) because you dozed off, it's not surprising at all. This was as boring a song choice and as dully delivered as a song could be on this show.
The country twang is there in full swing, but that's about all she got out of herself for this performance. Beyond that, she just sort of stood there, as lifeless as the fake leaves behind her, and karaoke'd the song until it mercifully ended with the audience in a stupefied sleep-trance.
Not the most thrilling of performances.
Grade: D+
Janelle Arthur's Second Song: "Dumb Blonde" by Dolly Parton
Keith Said: Song choice is everything and this wasn't it.
Nicki Said: Ultimately, I do think you're in jeopardy of going home tomorrow.
Randy Said: I thought it was a fun song for you, but vocally it didn't really show anything different.
The Verdict:
Just when Janelle is ready to cash out with boring and poorly sung songs for three weeks running, she bursts back into those flashes of fun we saw a few weeks back when she started to turn the corner.
But it's just flashes here. Mostly at the beginning when she comes out with some good ol' country fun and actually seems alive again.
However, she quickly loses her way and the track here as the words get mangled, lost and she struggles with her phrasing and the pitch.
This spirals out back into the boring old Janelle where the fireworks at the end of her song seem almost ironic, they're so out-of-sync with what's going on vocally and performance-wise from Janelle.
Grade: C-
Prediction: Nicki said it all: It looks like curtains for Janelle.
Kree Harrison's First Song: "She Talks to Angels" by The Black Crowes
Keith Said: Your voice is so fine and beautiful.
Nicki Said: That was the best performance of the night. Absolutely by far.
Randy Said: I love all the naturalness (not a word) and spirit in your voice.
Jimmy Said: This song just wasn't strong enough for Kree's vocal.
The Verdict:
This is a lot less Kree than usual. That is to say, it's not nearly as self-indulgent and oversang as her normal "Look-at-me" nonsense.
Still, it's Kree which means there's absolutely no emotion and the inherent smugness that comes with a Kree performance. It continues to be well-sung, but there's zero connection to the song. She actually rolled her eyes several times during the song. Sincerely rolled her eyes while she was singing a song about trying to understand a drug addict.
Good thing she didn't come to her intervention – otherwise she'd have felt even lower.
Beyond that, she still sounds as good as ever – just good with that strong touch of arrogance.
Grade: C+
Kree Harrison's Second Song: "Have You Ever Been in Love?" by Celine Dion
Keith Said: You're going to inspire girls who want to get into country music with your grace and poise.
Nicki Said: You're not country. You're worldly. You're iconic.
Randy Said: You can sing anything. You are that good.
The Verdict:
Elevator music sung by the most annoyed elevator in the history of the world.
Kree hits firmly in the bulls eye of the boring soft rock target here, with a solid adult contemporary vocal that can't help but be as boring as a solid adult contemporary vocal can be.
This belonged on some channel your mom listened to when you were driving around in the early 90s, and didn't seem like a modern and accessible singer at all.
And her face. I can't take it anymore. Would it kill her to seem like she's singing? Or at least interested in singing? Or in what is going on in the world as a whole?
Instead she sings with the tenacity of a comatose pigeon as she irritably trods through her performance without any life or connection to the material at all.
Yes, she's got a good voice, but so do tens of thousands. Shouldn't we want something a little more?
Grade: C-
Prediction: The judges love her too much for her to go home at this point.