'American Idol' Recap: Angie Miller Dominates Again & Ranking Mariah Carey's Judging Failure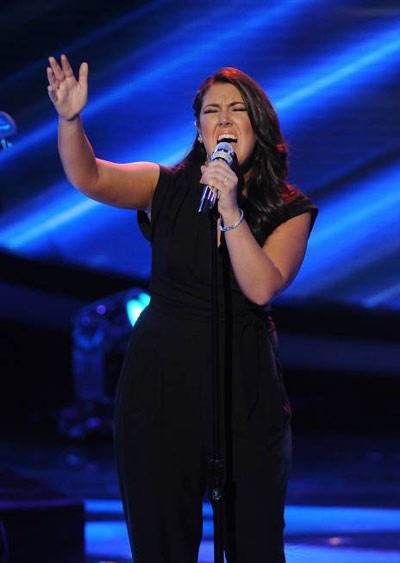 Kree Harrison's First Song: "It Hurt So Bad" by Susan Tedeschi
Keith Said: If you're gonna do a song like that you have to leave the emotion all out there.
Nicki Said: That performance is not going to give you what you need for next week. That was not a top-four-worthy performance.
Randy Said: Vocally that was tremendous, but I don't know if it's the best vocal I've heard from you. Parts were a little disconnected for me.
Jimmy Said: Kree is going to hurt herself with her song choice. That was the wrong song.
The Verdict:
It's become pretty clear by this point that Kree is the best country vocalist we've seen on this show since Carrie Underwood.
That's not a huge compliment since the country singers we've since are mostly of the Janelle Arthur variety, but it's at least worth pointing out that she can sing beyond the twang.
However, there was still something very sleepy about this performance. Like Kree was bored by what she was singing. She kills the vocal but in a way that almost seems out of rote. She's done it so often that it's a reflex at this point. Something she has to do rather than a passion of hers. That lack of passion is apparent in her face, her Raquel-Welch-from-Seinfeld dead arms and the absence of spirit in her vocal.
She's got the raw ability to sing as well as anybody, she just doesn't seem to want to harness it into a big deal.
Grade: C+
Kree Harrison's Second Song: "Whiter Shade of Pale" by Procol Harum
Keith Said: Pick a song that's going to really let you come out. The middle ground thing doesn't work at all.
Nicki Said: I loved that performance, but I don't think it's going to keep you out of the bottom two.
Randy Said: You redeemed yourself right there for me.
The Verdict:
If you ever wanted to see how an amateur cruise-ship-singer-in-training would just ruin a classic song with a garbage arrangement and a vocal that sounded like somebody being forced to sing by her stage parents in high school, well you were in luck! Kree gave us a really a bad version of that last night as she turned one of the most hauntingly brilliant tunes of the sixties into something that belonged on a Christian Kidz Bop album.
Nothing redeeming about this one and it's the song choice that did her in. This is such a simple song to do well and she somehow made everything that is good about it bad in one avalanche of terrible.
Easily the worst of the night. Probably the worst non-Lazaro performance in the last several weeks.
Grade: F
Angie Miller's First Song: "Who Are You" by Jesse J
Keith Said: You start uptight, but I like that you move into that looser quality.
Nicki Said: There's no one that compares to you when you are behind the piano. You sang like you were closing an awards show.
Randy Said: You made me feel like this was an Angie Miller performance. It's a ten out of ten out of ten. She's in it to win it!
Jimmy Said: Thrilled to see Angie get control of that powerful instrument she has. I have her neck-and-neck with Amber right now.
The Verdict:
Angie just got lost in this one. In the most wonderful way she could.
It's rare to see such a brilliant and firm connection formed between one of these connection and their songs, but it's becoming de rigueur for Ms. Miller as week-after-week it seems like she's writing new songs until we realize they're somebody else's original.
Tonight was no exception. The only thing exceptional was her vocal which rose to a level she hadn't reached yet. Candice and Amber were always the two with the best voices, while Angie was the best performer.
With this performance, at the piano, she outdid her completion both vocally and from a performance standpoint. Her voice was a ball of rich pure fire as she just seared her way through every stanza with the vocal mastery of a true recording artist.
If she can keep singing like that, there's no way anybody can topple her.
Grade: A
Angie Miller's Second Song: "Cry Me a River" by Julie London
Keith Said: Mystical and celestially powerful.
Nicki Said: You came out tonight to snatch some wigs off some heads, honey child.
Randy Said: The best of the night. Angie wins the night hands down. She's in it to win it.
The Verdict:
For some reason, our little singer-songwriter has decided to put together a full-on production number here with a torch song from a Broadway musical right in the middle of an 'Idol' performance show.
An odd choice for this stage of the show, especially for her. She's been so spotless the last few weeks and now comes out with something from the 1987 Tony's right when she's ready to separate herself.
Blame the song choice, blame the overly dramatic vocal, blame the graphics department. Whatever it was, this was probably Angie's worst ever on the show.
Grade: C-
Final Prediction:
The only one truly safe from last night is Angie. She had the best performance and then got big praise in the pimp spot – you don't go home with that formula.
The other three are all vulnerable. Kree the most so because she was plain bad both times while the other two had solid performances on which to fall back.
It's hard to say who will join Kree at the bottom, but Amber seems the most logical given her having to go first last night. Still, Candice wasn't exactly memorable either.
Ugh. It's too tough to decide. And with the judges' save rule apparently still in play, they'll probably save whoever goes out anyway, so it's probably moot.