'American Idol' Recap: Angie Miller Dominates Again & Ranking Mariah Carey's Judging Failure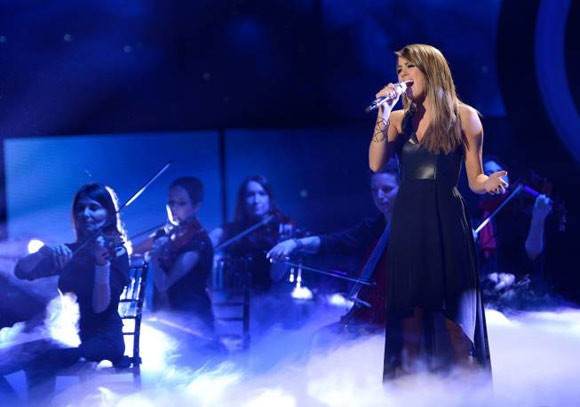 The Mariah Carey project is an unmitigated disaster. Everybody knows this, it's clear the producers have talked to her based on what she's said on air, she's definitely not coming back next season.
In fact, it's been so bad, that, according to reports published yesterday, the show's producers seriously considered yanking Mariah Carey during the season in favor of bringing Jennifer Lopez back. Obviously, this would have been a great decision as J-Lo is one of the best judges this show has seen and Mariah is easily the worst with her incoherent rambles that despite containing at minimum 1500 words each, never actually say anything about the contestant's performance.
It's been the worst part of the show this season and something that if the fans were able to vote on the judges, would easily have seen Mariah's ouster weeks ago.
Though it did make me wonder, since Mariah is clearly the worst judge ever on the show, where do the rest rank? Here's a power ranking of the best judges ever on 'Idol':
1. Simon Cowell
Not only is he the best judge on this show, but he's the best judge in the history of reality television. He basically invented reality show judging and his shockingly candid comments on the original promos made this a must-watch show in the first place. It's never been close to the same without him.
2. Jimmy Iovine
Not technically a judge, but his comments are the only ones worth paying attention to on the show anymore. So much so that they've tried to integrate him as much as possible without actually making him a judge. The less he's on the show, the more it suffers. The more they use him, the more compelling it gets. Waiting for his critique of the previous night's show actually made the results shows worth watching – and that's really saying something.
3. Jennifer Lopez
She started slowly, but by the end of her brief tenure she'd become the new Simon Cowell. Not in terms of the venom, but in terms of giving honest feedback that made sense and ultimately cemented the real verdict about the contestant's performance. She left too soon.
4. Nicki Minaj
The crazy madcap judge is exactly what this show needed more of. The nicknames, the non sequiturs, the eye-rolls, the showing up late – everything about her is perfect for reality TV. If only her words had a little gravitas.
5. Randy Jackson
He may have about fifteen words in his vocabulary, but the dawg held it down for 13 years so far. And "In it to win it" from him is like praise from Caesar.
6. Paula Abdul
The perfect super-nice foil to Simon's Darth Vader, Paula was never much in the way of actually judging contestants, but her acid trip sweet compliments were always worthwhile sound bytes.
7. Steven Tyler
A hard one to rank. Other than Simon, he was the best judge the show ever had during the audition rounds as his bemused statements were always the most entertaining part of the show. However, once the live shows started he totally disappeared, essentially saying nothing whatsoever. So he ends up in the middle.
8. Keith Urban
Almost a full season in and he's still yet to make any real impact. Snoozer.
9. Kara DioGuardi
Condescending, overly dramatic and rarely insightful. She's the person who makes  you think, "That's what's wrong with the music industry – that people like her are successful songwriters." luck
10. Ellen DeGeneres
Remember when this actually happened? Yes, for one painful year the producers decided they needed a fresh new approach to the judges' panel after Paula Abdul left and we got a talk show host with no singing or musical experience. She refused to criticize any of the singers, favoring unfunny pre-written gags. It didn't work and she didn't come back. Good decision for each side.
11. Mariah Carey
The most memorable thing she said last night was, "I would have given a standing ovation but my train was caught under my chair."
Speaking of last night…
Amber Holcomb's First Song: "Power of Love" by Celine Dion
Keith Said: That was an amazingly perfect song choice for you.
Nicki Said: You are so current. You are so ready. You don't feel like a contestant anymore.
Randy Said: You came in as a baby, you are now a pro.
Jimmy Said: The top end of her voice felt a strain, but that song will be very difficult to beat.
The Verdict:
Tonight, Amber finally got to where she's wanted to go this entire season. That is, a true vocal diva with the voice to really dominate the song.
Heretofore, she just never quite got on top of a song. She'd always felt like somebody who hadn't made it, and you understood why – she just didn't have that top-notch voice.
On this performance, she did finally flash that top-notch voice and sounded ready for the radio. This wasn't a pretender, this was a contender performance.
Grade: B+
Amber Holcomb's Second Song: "MacArthur Park" by Richard Harris
Keith Said: You're dominating tonight, baby. I thought that was an incredible performance.
Nicki Said: Out of the four girls in the competition, you are the one I'd want to get to know.
Randy Said: She's in it to win it, that girl right there
Jimmy Said: I didn't buy that song when Richard Harris sang it, when Donna Summer sang it and not when Amber sang it.
The Verdict:
Doing the pure Donna Summer version without a waiver from the record, Amber showed how limited she is as an artist. While Angie and the others are spinning songs out in their own directions, Amber can't do much more than mimic the disco diva for a throwback performance that didn't sound current or particularly great.
Though the throwback vocal matched the look of the performance as her fright pouf against the screensaver backdrop made it seem like a cheesier version of the videos promoting Whitney Houston's debut.
Somewhere an 80's shopping mall is missing its video coordinator. Or maybe he just graduated to the 'Idol' stage.
Grade: C-
Candice Glover's First Song: "Find Your Love" by Drake
Keith Said: I feel like you're finding yourself every week. I love the power in the quiet moments of your voice.
Nicki Said: I wish that you would have stuck to the melody. I don't want you to get lost in that old-fashioned bracket.
Randy Said: You don't have to use the church vocals all the time.
Jimmy Said: That was the second-best performance of the night.
The Verdict:
Candice slow jams the Drake here and it feels like slick velvet – and just as garish.
The slickness and smoothness comes from a real sumptuous arrangement that turns a hip-hop song into something of a jazz number. Complete with the lounge feel of how it was staged.
The garishness came from yet another self-indulgent performance as Candice did her best to show us how many notes she can hit while doing her worst to show us how she can forge a connection to a song.
It really felt like it didn't matter what the source material was. She could turn any song into that same little jazz number that saw her spinning vocal gymnastics across the stage. Just like how you can set any song to the tune of the 'Gilligan's Island' theme. Seriously, try it some time.
Grade: B-
Candice Glover's Second Song: "Emotion" by Samantha Sang
Keith Said: You didn't have a big moment.
Nicki Said: You're a superhero and I'm proud of  you.
Randy Said: Another great performance. The vocal is crazy.
The Verdict:
Finally, Candice leaves the vocal gymnastics in the locker room and just sings the melody. Finally she stops overdoing everything and focusing on the song. Finally, she sounds like a real recording artist than somebody majoring vocal performance delivering their thesis statement in three minutes.
This was an elegant vocal that just flowed out of Candice the way soul should. Soul isn't about singing nineteen different runs. Soul is about feel and authenticity and Candice finally forgot herself long enough to make her performance more about the feel and settled into a nice groove that finally felt like somebody singing a song rather than singing a bunch of notes.
Grade: B