'American Idol' Recap: Alex Preston Exits, Plus A Preview Next Week's Finale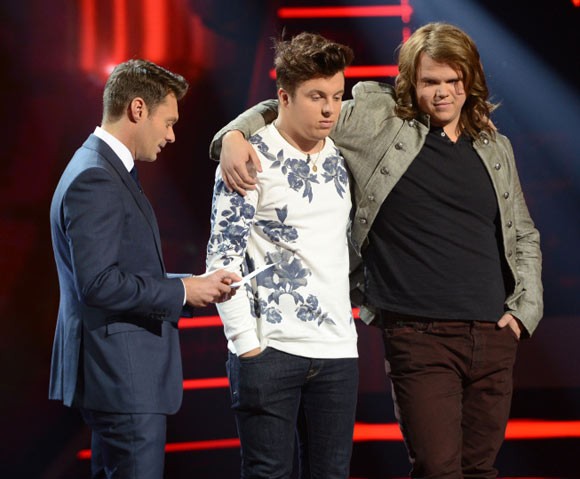 For the third straight season, number three is actually number one.
It's become an odd trend in recent years that the most talented contestant ends up missing out on the finale by one spot. It started two seasons ago when Joshua Ledet, the best contestant in the history of 'Idol' not named Kelly Clarkson, ended up third as Phillip Phillips and Jessica Sanchez moved on to the finale. Last year, the choice was even more confounding when surefire winner and clear best contestant Angie Miller inexplicably went home in third.
The dubious trend continued last night when Alex Preston took the bronze medal for this season of 'Idol'. Alex's early ouster is most likely due to his acoustic and introspective style. This previously worked for Phillips, Lee Dewyze and Kris Allen but they were more straight-ahead rock that must've got the teeny-boppers a bit more text-happy than they did for Preston. It's a third-straight shame because Alex is a superb talent who became the first contestant ever to sing an original song that didn't completely suck.
Somehow, it's become a badge of honor to finish third in recent years, so maybe Alex should be proud to join Miller and Ledet in this newly minted club. At least he can take solace in the fact that he gets to sing with Jason Mraz in the finale. (I was really hoping he would see that and exclaim, "Oh crap!")
Last night wasn't a total downer though. As is tradition, the final three got to visit their hometowns to get things like keys to their cities have days named after them and perform at their old high school. They pretty much ran the usual gamut, but there were a few unique wrinkles worth noting.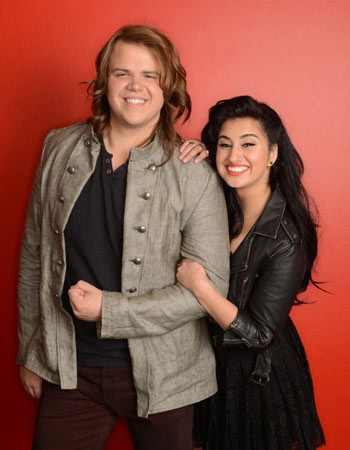 Jena was surprising because she essentially started her day by going back to work - waiting a few tables at Hercules Coney Island in Farmington, MI. Then, after the usual family and mayoral stuff, she went down to an empty living room to play the piano for a really long time. I'm not sure how she got left alone for so long amid the fanfare or why the producers let her do that, but it was an odd break from the usual fun. Also, why did her bedroom look like a hotel?
Alex went back to play with his old high school band. I always wonder about the level of "sell out" resentment guys like Alex incur from old band members, but they seemed pretty supportive. It must be a New Hampshire hospitality thing.
Caleb was predictably douchey in his return home. He strutted everywhere he went like he'd already won and put out several gold records. Just the pure arrogance of a rock star without any of the accomplishments yet to back up his swagger. He has an air about him that really makes me hope he loses on the finale and then washes out into oblivion in the next couple years. Rude, sure, but he's irritating.
Yet he will be competing in the finale against Jena Irene. It's all going to come down to song choice on the final show as these are two remarkably similar singers who both rely on their giant voices to create moments that wow the crowd and the judges. The singer who picks the song that creates the best moment is ultimately going to win. I give the edge to Caleb going into the finals, but he's vulnerable to somebody of Jena's talents.
Either way, it should be a lot of fun. So check back next week for my recap!