'American Idol' Recap: A Total Snoozer Of A Top 4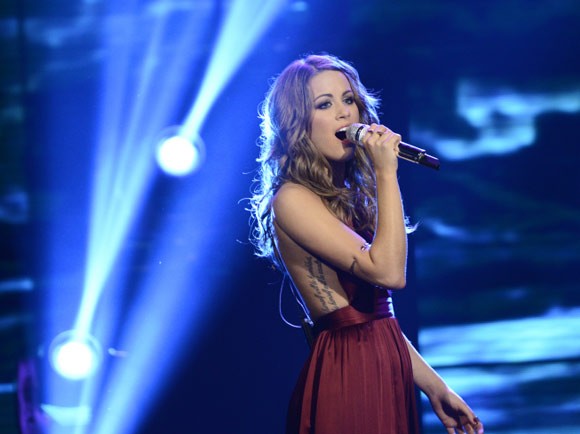 It's the final four all over again.
It doesn't happen in the College basketball. It doesn't happen at the US Open Tennis. It doesn't even happen on 'The X-Factor'. But with 'Idol' we get the Final Four one more time.
It doesn't make much sense, but it was kind of inevitable with the way this season unfolded: These were always the four best girls, so why not give them to us one more time?
Though, they should have done us one better. Why not have them just sing three more times? Make the voting cumulative over the last few episodes. Wouldn't that have been more entertaining? Rather than just making us watch two or three performers the last couple weeks, we'd get to see all four every night for a nice variety.
Plus, the competition is so close that it would really be tough to determine the standout going into the final show and it would make for a much more dramatic final vote.
They'd never do that though, because they're obsessed with the hometown show and obsesses with the one-on-one and original song aspect of the finale.
I'd rather see a deeper competition with more chance for a surprise on the final show.
Since that will never happen, last night was as much as we'll get. Plus Harry Connick, Jr. as our first (!?) guest mentor of the season.
Angie Miller's First Song: "Diamonds" by Rihanna
Keith Said: I didn't feel like that's the song to change it up the way you did.
Nicki Said: It was bland. It was lackluster. You can do a lot better.
Randy Said: Once you hit the chorus, that was it, but I didn't love it.
Verdict:
Again, Angie has hit the theatrical bent here a little too hard. Like Sarah Brightman in her prime with a sprinkle of Evanesence.
The arrangement is really weird. A goth ballad matched with some sort of Carribean beat, it doesn't really work and sounds totally out-of-context against each other. Like two songs playing at once.
All that badness aside, Angie continues to sound great and has the makeup of a star, but this is just again too far afield of the singer/songwriter she should be.
Grade: C+
Angie Miller's Second Song: "Someone to Watch Over Me"
Keith Said: It was beautiful.
Nicki Said: It was definitely better than the first performance.
Randy Said: This girl can sing. That was an amazing vocal.
Verdict:
Judging Angie's performance here is really burying the lead because the clear star of this performance is the douchebag guitarist who's jamming out like he's trying to get laid with a Dave Matthews set at a college bonfire. Full-on gesticulations as his gelled hair flops with each bob to the non-existent beat. All from his stool. Odd dude.
Ok, Angie was there too. This was another one her musical theater performances. Far too much of that lately as she continues to go further from the singer songwriter that dominated early. Maybe she's trying too hard? Maybe she's over compensating? Maybe she thinks the big-voiced competition is something to be matched?
I don't know what it is, but this isn't the Angie that's been topping the power rankings all season.
Grade: B-