'American Idol' Recap: A Lot Of Stalling On Motown Night With Top 8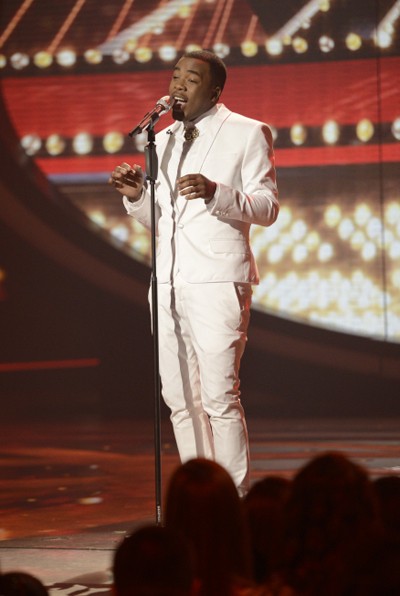 Burnell Taylor Sang "My Cherie Amour" by Stevie Wonder
Keith Said: I love everything about it. It was really good tonight.
Nicki Said: You reminded us why we fell in love with that voice.
Randy Said: The choices that you make are so smart.
The Verdict:
This is such a safe, predictable and mundane song choice that Burnell couldn't do anything other than come out and give a safe, predictable and mundane performance. That was a given.
What wasn't a given, though, was the fact that Burnell would take a vocal hatchet to this one. Vocals have never been his problem, just the theatrical way in which he delivers them. This time he takes out the theatricality in favor of a half-asleep cruise ship performer and dunks his vocals down 30 fathoms as he's pitchy, rhythmically out-of-sync and just off the whole time.
Still, sweet white tux.
Grade: F
Prediction: The judges loved him, but that seemed like the type of performance that sends somebody home.
Angie Miller Sang "Shop Around" by Smokey Robinson & The Miracles
Keith Said: You were all over the place.
Nicki Said: You tried to show a different side of Angie that didn't need to be shown.
Randy Said: It's the first time I ever heard you sound pitchy onstage. It's not  great tonight.
The Verdict:
A bit of a goofball performance here. Definitely show choir more than it was show business. Angela never seemed authentic or comfortable with this song choice and definitely not with the arrangement of the song choice. It all just felt so awkward as she tried to turn this into Pat Benatar-gone-soul for very confusing reasons.
Her vocal was solid (it always is) but even that wasn't her best. It was a little pitchy and she never really settled into her normal dynamic groove.
Every front-runner has an off performance each year. This will probably end up being remembered as Angela's weakest.
Grade: D+
Prediction: This could be a wake-up-call Bottom 3 for Ms. Miller this week.
Amber Holcomb Sang "Lately" by Stevie Wonder
Keith Said: You have this way of laying in a song that's just mesmerizing.
Nicki Said: It's really unmatched.
Randy Said: By far the best vocal of the night!
The Verdict:
This is just class all the way. A diva in her prime turning the lights down and slowing the beat to just kill a vocal and show the audience why they came to see her sing. Just a dominant vocal and perfectly poised performance.
There's two battles going in this competition. The two country girls (Kree and Janelle) and the three pop/R&B girls (Amber, Angie and Candice) – tonight Amber decimated her side of the competition by just absolutely owning a song and making it her own by doing nothing more than ripping into a transcendent vocal without an ounce of self-doubt or hesitation.
Grade: A-
Prediction: alkfjaljlajsflajsf
Kree Harrison Sang "Don't Play That Song (You Lied)" by Ben E. King
Keith Said: You're Kree and you sound like Kree and it's great.
Nicki Said: You're a queen.
Randy Said: The moments you had were just unbelievable.
The Verdict:
This performance was…kinda fun? Yep. Just kinda fun. Like somebody singing at a country-themed wedding. That level of fun and quality.
At least it started that good. Then it got boring. Painfully repetitive as the melody recycled itself and Kree did nothing to alter her vocals or make it more interesting. Instead she just sort of slowly deteriorated into a bungling mess that just became shrill by the end.
And Kree is just so smug when she performs. She sings with the type of unearned cockiness that just makes you want her to break a heel on her ridiculous shoes in the middle of her performance that causes the most embarrassing of tumbles.
Grade: D
Prediction: Too much love in the pimp spot for Kree to go home.
Final Thoughts:
After a pretty lackluster week for every singer except Janelle and Amber, it looks like it's Angie's turn to face the fire. She's not going home, but it's not going to be an all-boy affair at the bottom of the voting this and Angie was the one girl who got trashed a bit by the judges and didn't really own the stage. She'll be the token girl in the bottom three this week.
But not going home. Oh no. That's going to be either Devin or Burnell. Both forgettable, both with weird love from the judges. It's a tough pick, but Burnell seems like the one to go this week. Just way to forgettable.