'American Idol' Recap: A Lot Of Stalling On Motown Night With Top 8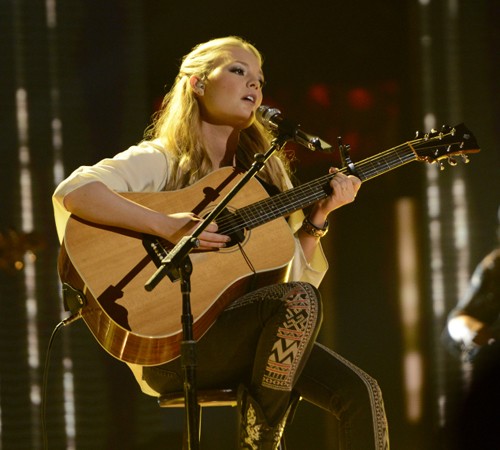 There's one thing very certain about this season so far. It's not that a girl is going to win. It's not that the competition is stacked in the female's favor. It's not that this is the worst season for talent since the Jordin Sparks year. It's none of that. No, the biggest certainty this year is that Mariah Carey is the worst judge on this show since Ellen.
It's not that what she says is wrong. It's that she doesn't say anything. The hardest part about writing this column this season is trying to pick a sound byte out of Mariah's insipid ramblings. She just never comments on the contestant, the performance, the song, anything. It's usually about how we love them, their outfit is nice and the world is grand. Nothing ever about singing.
So it's over. Its' all over. No more Mariah. She's banished from this column. Until she gets up and smacks Nicki Minaj or just passes out on live TV there is no reason to pay any attention to her any longer. She's earned the fast forward button on the DVR and there is no going back. That's where she is and where she'll stay.
Also, as always, I'll pay absolutely no attention to the ridiculous group numbers they trot out in the middle of the competition in order to do nothing more than fill time. They have no place in a singing competition and are routinely boring.
Now, for the actual singing competition…
Candice Glover Sang "I Heard It Through The Grapevine" by Marvin Gaye
Keith Said: You really raise the bar.
Nicki Said: I think it was good for people to see your rock/bluesy side. Good job.
Randy Said: Effortless. Just crazy good.
The Verdict:
A little indulgent here from Candice. She's proven she can really sing the past couple weeks, but here she showed just how much she thinks she can sing with an unnecessary jazz arrangement that didn't make a lot of sense other than it allowed her to sing fifteen too many runs more than she should have.
Yes, the voice is impressive and her skills are just about unmatched in this competition, but that performance was just all about her voice and nothing about the song or the melody – just a whole bunch of flash without any real substance making it all just feel empty and soulless.
Which really isn't good when you're singing a soul song.
Grade: C-
Prediction: She's enough of a favorite at this point that she'll have no trouble going through.
Lazaro Arbos Sang "For Once in My Life" by Stevie Wonder
Keith Said: That one didn't feel rhythmically comfortable for you, but vocally it sounded better for you.
Nicki Said: Fonzi, you gave it to me tonight.
Randy Said: I don't know if you completely redeemed yourself, but this is far better than last week.
The Verdict:
It's finally become clear what Lazaro is! At the Venetian in Las Vegas they have gondoliers who sing ridiculous songs and wear ridiculous clothes with really mediocre voices that don't belong anywhere outside of being a Gondolier. That's what Lazaro is! One of those singers! That's where he belongs!
Now get off the stage and stop trashing soul classics with your theme park vocals.
Grade: D
Prediction: This was probably his best of the live shows, so he'll probably keep keepin' on.
Janelle Arthur Sang "You Keep Me Hangin' On" by The Supremes
Keith Said: It brought out the angst in that lyric in a way I'd never heard before.
Nicki Said: Sometimes I don't think your voice is how it normally is.
Randy Said: I absolutely loved it. I thought it was incredible. She's in it to win it!
The Verdict:
Janelle's got herself a little confidence and rather than turning it into some level of annoying perkiness, she's channeled into a very cool blues/country version of a pop-R&B classic.
Somehow, the way she's altered the melody actually suits the song better than the original Motown groove. If this hadn't been recorded to such fame and acclaim previously, these words would have felt completely at home in this arrangement and coming from Janelle's country twang.
There's always those few rare special performances each 'Idol' season where a contestant covers a song so well that it seems new again and completely that singer's own. Who knew Janelle would give us our first such performance this season?
Grade: A
Prediction: She's definitely safe after that masterpiece.
Devin Velez Sang "Tracks of My Tears" by Smokey Robinson & The Miracles
Keith Said: Just relax into it cuz you've got style.
Nicki Said: That was an amazing job tonight. I loved every single choice you made.
Randy Said: I belive Devin is back tonight.
The Verdict:
This is a smooth throwback performance that's almost a little too much of a throwback. To the point that it verged on old-fashioned.
That's not to say it's all the way there. It's more retro than it is really old-fashioned, but Devin certainly didn't do anything to modernize it. Almost like a bad Bruno Mars wannabe who doesn't understand how to make something old new again while remaining classic.
While Devin may have gotten a bit stuck between Fabian and Justin Timberlake here, he sounded as solid as ever. The kid can definitely sing even if he is a total charisma vacuum with the moves of a mannequin onstage. A mannequin with a great voice.
Grade: C+
Prediction: Devin came back a bit tonight, but he's gotten so killed the last three weeks by the voters that he's still in danger.